2023 Palisade :
Three rows of first class.
2023 Palisade offers the perfect blend of smart technologies, advanced safety and luxurious features befitting a premium flagship SUV
Advanced new & upgraded features bolster extensive SmartSenseTM safety suite
5-star ANCAP rating
12.3-inch full digital instrument cluster & 12.3-inch multimedia unit now standard
Australian debut of Hyundai Bluelink® marks next step in connected mobility
Enhanced ride & handling underpinned by Selective Damping Control (SDC3) tech
2023 Palisade available now priced from $65,900 (MLP)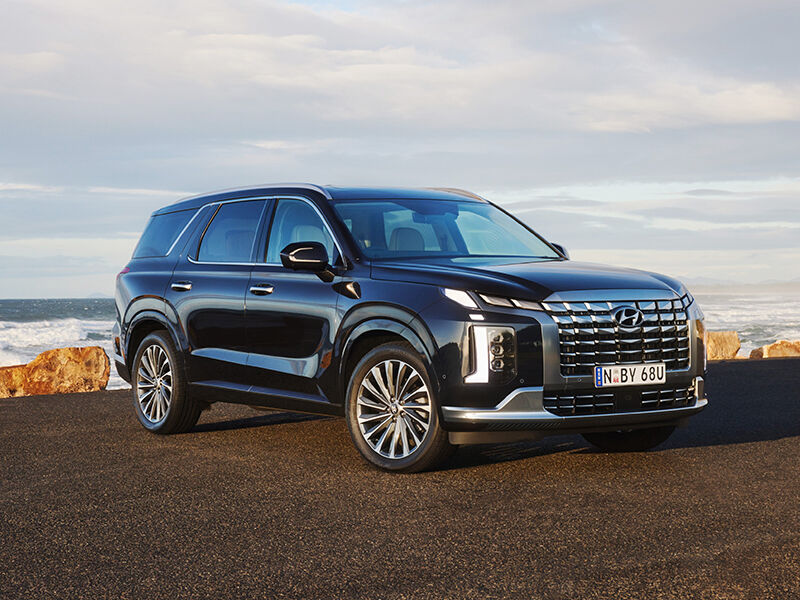 2023 Palisade is here, ushering in a bold new style, with advanced new safety, luxurious features and connectivity technology, including the Australian debut of Hyundai Bluelink®.
The seven- and eight-seater Hyundai flagship SUV builds on the model's extensive SmartSense™ suite for 2023 with an array of new and upgraded safety technologies.
A revised body structure, pioneering front centre airbag, and Hyundai first features such as the digital rear-view mirror, complete an exceptionally safe 5-star ANCAP rated package.
Headlining in the luxurious and refined cabin are a futuristic, crisp and responsive 12.3-inch full digital instrument cluster and 12.3-inch touchscreen multimedia system.
The safety, convenience and peace of mind of Hyundai Bluelink® is also standard in new 2023 Palisade with a complimentary five-year subscription.
Hyundai Bluelink® and accompanying connected car services make it easy to stay connected. With Bluelink® comes an Automatic Collision Notification, an SOS emergency call function, natural language server-based Voice Control, server-based Connected Routing Navigation and many other features.
Bluelink® also lets users connect to their Palisade from anywhere via their smartphone, and make sure it's safe, healthy, and ready to go. They can send planned routes from home to their car, receive emergency assistance automatically after an accident, and find, check and even remotely lock or start their car with their preferred climate settings.
Underpinning an even more refined, comfortable and enjoyable drive in 2023 Palisade is new Selective Damping Control tech (SDC3) teamed with revised spring rates.
Countless refinements throughout, including a revised eight-speed automatic transmission, the expanded application of sound insulation, and soft open/close electric windows, seal 2023 Palisade as a first-class experience for the whole family to enjoy.
"We are delighted to introduce our premium flagship Palisade in an upgraded and restyled design for 2023," Hyundai Motor Company Australia Chief Executive Officer, Ted Lee said.
"2023 Palisade builds on its family SUV credentials with additional safety, luxury, convenience and connectivity features, including the first application of Hyundai BluelinkTM connected car technology, to create an immensely appealing package," he said.
RANGE OVERVIEW
2023 Palisade is available in two trim grades - Elite and Highlander - to ensure customers can access a tech-focused SUV in a package perfectly matched to their needs and lifestyle.
Each trim grade is available with a choice of a 3.8-litre GDi petrol V6 with two-wheel drive or a 2.2-litre CRDi turbo-diesel with HTRAC all-wheel drive, both teamed with an eight-speed automatic transmission.
2023 Palisade Model Range

In addition, Palisade can be optioned with either a 7-seat or 8-seat layout, the former offering two individual captain-style chairs in the middle row as a no-cost option.
The freshly updated flagship brings strong luxury appeal across both trim grades underlined by striking new 20-inch alloy wheel designs, with exclusive touches setting the range-topping Highlander apart.
Key New/Upgraded Feature Summary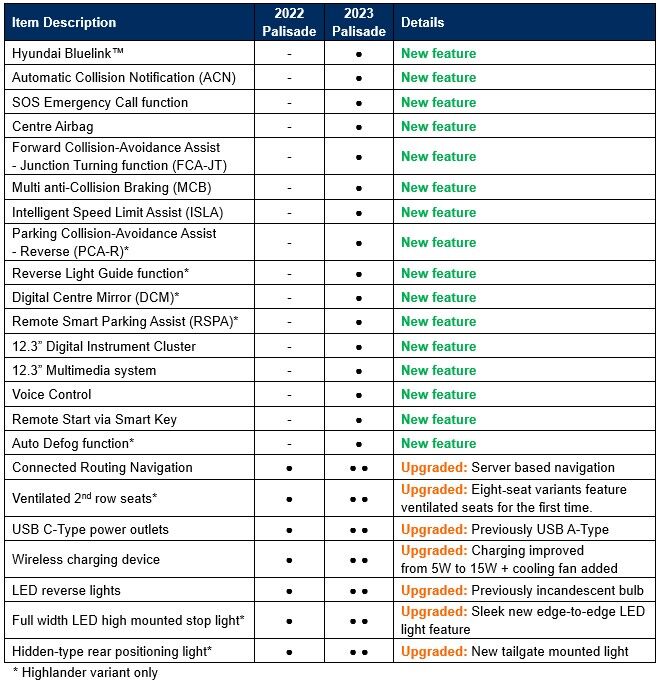 EXTERIOR
2023 Palisade ushers in a bold new look through a series of fresh design elements headlined by a new parametric shield grille design flanked by new vertically stacked LED headlights.
New premium skid plate designs, fresh 20-inch alloy wheel designs, new hidden-type turn signals, and square-shaped exhaust outlets complete the restyle.
In addition, the Highlander variant now features exclusive design touches, including a satin chrome finish parametric shield grille with matching logo badge and skid plate finishes, body-coloured cladding and exclusive 20-inch alloys in a sophisticated 15-spoke turbine design.
Highlander also receives exclusive front & rear skid plate designs, a full-width high mounted LED stop light, and a separated hidden-type taillight design.
2023 Palisade is available in a choice of nine exterior colours including the standard Creamy White mica and the optional premium Graphite Grey metallic and Sierra Burgundy, Moonlight Blue and Abyss Black mica.
New optional premium hues for 2023 include Shimmering Silver metallic and Robust Emerald mica along with Highlander-exclusive Olivine Grey metallic and Gaia Brown mica.
INTERIOR
Headlining in 2023 Palisade are dual 12.3-inch screens - full LCD digital instrument cluster and navigation touchscreen multimedia system - paired with a 12 speaker Infinity™ premium audio system.
A new four-spoke steering wheel features, with a Highlander-exclusive two-tone finish, and there is a full-width centre air vent.
Safety and security are enhanced with the addition of a front centre side airbag and a Bluelink™ SOS emergency call button.
Bringing extra convenience is the Digital Centre Mirror (DCM) utilising its own rear camera, a more powerful 15W wireless smartphone charging pad, and USB Type-C charging ports.
Additional luxuries for Highlander variants include heated and ventilated front and second-row seats now for both seven- and eight-seat variants, and wing-out aircraft-inspired second-row headrests.
Highlander variants also gain exclusive interior finishes, such as exclusive quilted seat inserts, exclusive quilted and perforated door trim inserts, suede headlining and stainless-steel front speaker grilles, and door/cargo area scuff plates.
2023 Palisade Elite variants feature black leather upholstery with premium quilting & Cross Line alloy look trim. While every Highlander variant is available with Black Nappa leather with luxury quilting & Gloss Black/Pinstripe trim, with the further options of Warm Grey and Dark Khaki Nappa leather with unique wood-look trim dependent on the exterior colour.
BODY STRUCTURE
2023 Palisade's chassis structure is updated and reinforced to improve body rigidity and safety. Collision performance is improved through the reinforcement of the side impact structure in key areas such as the side sill, floor and B pillar. By reinforcing the side and floor structures, occupants are better protected in the event of a collision.
SUSPENSION
2023 Palisade delivers enhanced ride and handling through retuned suspension that applies new, third-generation Selective Damping Control technology (SDC3). SDC3 implements a floating portion of the valving in the dampers and can adjust the oil flow rate depending on the input frequency.
This new selective frequency damping allows for smoothly controlled body and wheel motions resulting in a relaxing, premium ride.
2023 Palisade's spring rates are revised correspondingly to provide improved road holding and increased support during large body motions.
"The new damper technology that's been implemented in the 2023 Palisade has been designed to improve both the ride and handling," Hyundai Product Development Manager Tim Rodgers said.
"What this means in practice is that, in terms of damping control, high frequency wheel motions, say, over corrugations, can be managed separately to larger body motions.
"When these two damper frequency inputs are split, it allows you to fine tune the control of each separately to deliver an overall more refined driving experience," he said.
"Way back, when Palisade was first confirmed for RHD, the tuning team at Namyang R&D Centre were keen to get Hyundai Australia Engineering involved at a very early stage. We have been in constant communication ever since, provided feedback and recommendations to assist with the global tuning direction," Rodgers said.
"For 2023 Palisade we've applied the same principles and practices, but now with the benefit of more sophisticated dampers.
"We conducted extensive validation testing locally to ensure it works for our conditions and we were extremely happy with the results," he said.
The suspension improvements complement 2023 Palisade's enhanced interior ambience to create and even more inviting and luxurious family SUV flagship.
REFINEMENT
New 2023 Palisade's NVH performance has been further upgraded by significantly increasing the application of insulation materials.
This includes a noise-reducing cover around the upper cavity of the subwoofer and rear wheel arches and increasing the thickness of the insulation pad around the wheel guards, speakers, luggage side trims and bumpers to improve sound absorption.
2023 Palisade's rear door glass has also been thickened by nine percent, further reducing sound transmission. Wind noise has been reduced with the addition of an insulation pad to reduce wind leakage around the side mirror base mounting points.
In addition, the horizontal exterior door glass seals have an increased overlap where they meet the glass runner with an enlarged sealing overlap, improved flocking material and an enlarged end joint, all contributing to a further reduction in wind noise.
Additional measures to improve 2023 Palisade's NVH include revised steering rack bearings and improved rear differential front rubber mountings that minimise driveline vibration when travelling at higher speeds.
DRIVETRAIN

Transmission - Revised
2023 Palisade features a revised eight-speed automatic transmission that provides smoother operation and more refined gearshifts, with more intuitive shifting via the following enhancements:
Revised Shift-by-Wire (SBW) actuator
Revised input shaft & rear carrier material
Low-friction seals for reduced frictional losses
Lower viscosity oil for enhanced efficiency
Two-chamber torque converter reduces slip & control time to improve efficiency (3.8 GDi)
Multi-Terrain Control - Revised
For 2023, Palisade's Multi-Terrain Control system has been revised with improved Traction Control System (TCS) operation when selecting each of the off-road Terrain modes.
A revised Terrain Mode logic has been applied to aid off-road escape performance by improving the excess driving force braking control. This improvement has been implemented by optimising the estimated driving force and wheel friction coefficient when wheel spin occurs during off-road driving.
SAFETY
New 2023 Palisade builds on an already comprehensive suite of advanced active safety and driver assistance technologies with an array of new and upgraded SmartSense™ features, to deliver a 5-star ANCAP rating.
There are seven airbags in 2023 Palisade, with the addition of a front centre side airbag. Mounted in the left side of the driver's seat backrest, it can prevent or reduce the severity of injuries caused by collisions between the front occupants, or collisions between occupants and interior components, in the event of a side impact collision.
2023 Palisade comes standard with a full suite of Hyundai SmartSense™ safety technologies, including:
Multi anti-Collision Brake (MCB) - New
The new Multi anti-Collision Brake (MCB) function controls the vehicle braking automatically in the event of a collision that causes an airbag or seatbelt pre-tensioner to deploy, to reduce the risk of a subsequent collision.
Blind-Spot Collision-Avoidance Assist (BCA) - Revised
Blind-Spot Collision-Avoidance Assist (BCA) has been revised in the following areas for 2023 Palisade:
The warning symbol in the exterior mirrors has been revised from the orange vehicle symbol to a red hazard triangle
The dedicated BCA off/on button on the right side of the dashboard has been removed
The lane-change partial braking collision-avoidance function when detecting a vehicle in Palisade's blind-spot at speeds of 60km/h or above has been removed

BCA will still provide collision-avoidance assist when exiting a parallel parking space at 3km/h or below. If a potential collision with an approaching vehicle travelling at more than 5km/h is detected, the collision-avoidance system will apply braking force to help avoid a collision while exiting the parking space.
Blind-Spot View Monitor (BVM) - Revised
Blind-Spot View Monitor (BVM) in 2023 Palisade Highlander has been revised in conjunction with the new 12.3-inch digital instrument cluster. The blind-spot view when applying the turn signal now projects the live image in the respective left or right side of the instrument cluster, rather than on the previous 7.0-inch central display.
Forward Collision-Avoidance Assist (FCA) - Revised with Junction Turning function
The new Junction Turning (FCA-JT) function detects oncoming traffic travelling at between 30 and 70km/h when turning right at an intersection at between 10 and 30km/h (with the right indicator activated). If a collision appears likely, 2023 Palisade's brakes are applied to reduce the chance of a collision.
Lane Following Assist - Revised
A revised Lane Following Assist (LFA) function in 2023 Palisade is no longer linked to Smart Cruise Control. LFA now operates independently via the new dedicated Lane Safety button on 2023 Palisade's all-new steering wheel.
In addition, when Lane Following Assist is active, a revised infographic in the new digital instrument cluster depicts a solid green line in the centre of the lane, indicating that LFA is operational. On Highlander variants with the Head-Up Display (HUD) feature, LFA is also indicated as active when the revised steering wheel icon in the HUD turns green.
Lane Keeping Assist - Line/Road-Edge (LKA-L/R) - Revised
While the operation of the Lane Keeping Assist (LKA) function has not changed, the way the driver interacts with the vehicle to turn this feature off or on has been revised.
2023 Palisade's new steering wheel sees the introduction of the 'Lane Safety' button which replaces the previous dedicated LKA button on the dashboard. A long press of this button turns the LKA function either off or on, with the icon now orange when the system is off.
High Beam Assist (HBA) - Revised
A revised High Beam Assist function in 2023 Palisade now illuminates the instrument cluster indicator light white to indicate the system is active, changing to green at speeds of 40km/h and above to indicate the system is operational.
Intelligent Speed Limit Assist (ISLA) - New & Revised
Intelligent Speed Limit Assist uses live road traffic sign information from the windscreen-mounted camera and from the navigation system to inform the driver of the speed limit and warning signs that apply to the current road.
When driving at a speed of 1km/h or more above the displayed speed limit, the red speed limit indicator will blink and a warning will sound.
The warning will also sound every time a new speed limit is detected.
The system can also assist the driver to maintain the vehicle speed within the speed limit when operating Manual Speed Limit Assist (MSLA) or Smart Cruise Control (SCC), by informing the driver to change the set speed.
If the speed limit of the road changes during the operation of Manual Speed Limit Assist or Smart Cruise Control, an up or down arrow is displayed to inform the driver that the set speed needs to be increased or decreased using the + or - steering wheel button.
In addition, 2023 Palisade's ISLA receives the new function of 'Set Speed Auto Change'. When the vehicle's cruising speed is set the same as the recognised speed limit at speeds of 70km/h and above while using MSLA or SCC, the vehicle automatically adjusts its speed if the speed limit changes. When this function is active, the cruising speed indicated in the MSLA or SCC setting in the instrument cluster appears in green.
ISLA can be set to either 'Speed Limit Assist', 'Speed Limit Warning' or 'off' (icon turns orange). The system defaults to 'on' –- either to 'Assist' or 'Warning' function, depending on the last setting before the ignition was turned off.
Parking Collision-Avoidance Assist - Rear (PCA-R) - New
Parking Collision-Avoidance Assist - Rear (PCA-R) helps prevent low speed collisions with pedestrians or obstacles when reversing at speeds of up to 10km/h (pedestrian detection) or up to 4km/h (obstacle detection).
PCA-R utilises a high-definition wide rear-view camera, as well as the rear ultrasonic sensors to detect pedestrians or obstacles. If a potential collision is detected, the system warns the driver with visual and audible alerts, and assists with braking to help prevent the collision. PCA-R is available in Highlander variants.
Leading Vehicle Departure Alert (LVDA) - Revised
2023 Palisade features a revised Leading Vehicle Departure Alert (LVDA) function. No longer linked to Smart Cruise Control (SCC), the LVDA function now operates independently, all of the time.
LVDA monitors the vehicle ahead when 2023 Palisade is stopped in traffic. If the vehicle ahead drives away, and Palisade remains stationary, the system will sound a gentle chime to alert the potentially inattentive driver.
Rear Occupant Alert (ROA) - Revised
2023 Palisade features a revised Rear Occupant Alert (ROA) function. In addition to providing in-car alerts the ROA function, in conjunction with BluelinkTM, will now also send an alert to the Bluelink® app on the driver's smartphone if it detects motion in the vehicle via the roof-mounted ultrasonic sensors.
Parking Distance Warning - Forward/Reverse (PDW-F/R) - Revised
Adding further convenience to 2023 Palisade is a revised Parking Distance Warning (PDW) system, bringing option for the front parking sensors to auto activate, selectable through the settings menu in the multimedia unit. Previously, only the rear parking sensors would auto activate, with the front sensors only auto activating if reverse gear was selected first.
In addition, Highlander variants gain two extra front and rear parking sensors, which are also utilised for the new Remote Smart Parking Assist (RSPA) function.
Smart Cruise Control (SCC) - Revised
2023 Palisade's revised steering wheel brings with it a revised button layout for the Smart Cruise Control (SCC) operation.
To remove the need to switch the SCC 'On' with the dedicated Mode button and then press 'Set' with a second button, 2023 Palisade features 'one-touch' operation that combines both 'On' and 'Set', bringing its SCC operation in line with other Hyundai models.
2023 Palisade also gains an Overtaking Acceleration Assist function, which assists in acceleration if the system judges that the driver intends to overtake the vehicle ahead.
This function operates when SCC is in operation, at 60km/h and above, with the right turn signal indicator on and a vehicle detected in front.
Surround View Monitor (SVM) - Revised
Adding to the comprehensive viewing modes of the Surround View Monitor (SVM) system in 2023 Palisade, is a new 3D view function available in Highlander variants.
The 3D Surround View capability provides maximum convenience by allowing the driver to see a full 3D 360-degree view of the vehicle and any obstacles surrounding it.
In addition to the 3D view function, the SVM is now also equipped to be able to transmit the 360-degree view via Bluelink® to the driver's Bluelink® smartphone app.
Safe Exit Assist (SEA) - New applicability
2023 Palisade features the Safe Exit Assist (SEA) function across all variants - formerly a Highlander-only feature.

The SEA system lowers the chance of occupants exiting Palisade when the situation makes it unsafe to do so. The system works in conjunction with radar sensors on either side of the rear bumper to detect vehicles approaching from the rear. When the vehicle is stopped, the system scans the rear path of the vehicle and if an occupant starts to open a door while an approaching vehicle is detected the system will issue an audible alert and display a warning in the instrument cluster to check the surroundings.

In addition to SEA, the electronic child safety lock system now also fitted to Elite variants provides an additional layer of safety by allowing the driver to automatically lock the rear doors/windows via a switch, to prevent children seated in the rear of 2023 Palisade from inadvertently opening them.

Additionally, the electronic child safety locking system works with the SEA system to prevent accidental unlocking/opening of the rear doors when a vehicle is approaching from the rear. The driver will not be able to unlock the electronic child safety lock while a vehicle is passing 2023 Palisade.

Reverse Light Guide - New 2023 Palisade Highlander features Hyundai Australia's first application of the Reverse Light Guide function. When reversing, white LED segmented lights are projected onto the ground from the new LED reverse lights, to highlight the path of the reversing vehicle to warn pedestrians and other road users. The reverse light guides are especially effective for alerting pedestrians that could be potentially distracted by electronic devices such as mobile phones.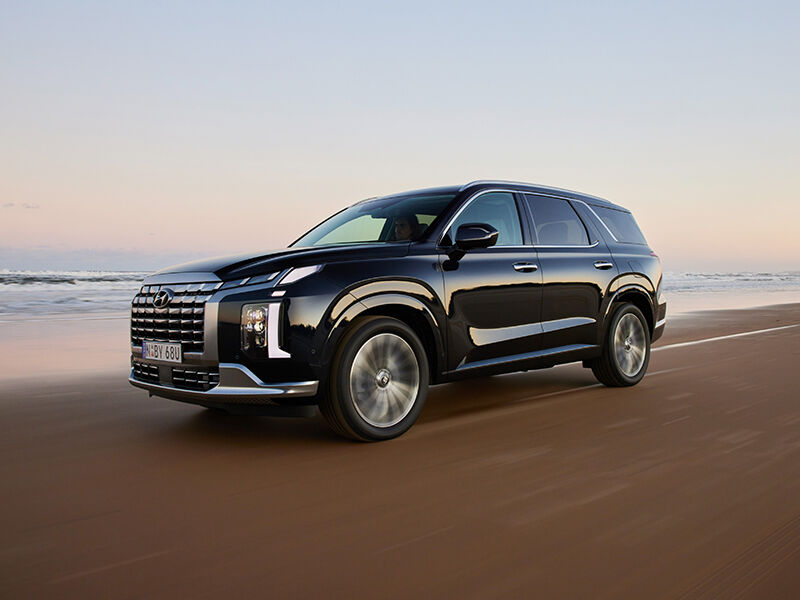 TECHNOLOGY & CONVENIENCE
12.3-inch full digital Supervision cluster - New
A futuristic, crisp and clear 12.3-inch full digital instrument cluster headlines in new 2023 Palisade. The cluster brings with it revised trip computer functionality, Turn-by-Turn navigation functionality and four user-selectable display themes (with the option of linking the display theme to the selected Drive Mode).
In line with recently released Hyundai models, vehicle settings are now accessed via the multimedia screen, while the multimedia system Blue Light filter function also applies for the new digital cluster.
Head-Up Display (HUD) - Revised
An upgraded Head-Up Display (HUD) system features a higher resolution 480P display, and a 44 percent larger LCD projection screen. The new system projects a windscreen image that is equivalent to a 10-inch display.
A revised graphical user interface (GUI) provides an uncluttered, modern layout for optimal legibility and provides additional functionalities such as lane-guidance for the Turn-by-Turn navigation. In addition, the HUD position can now be linked to the IMS system for two different drivers.
Digital Centre Mirror (DCM) - New
2023 Palisade Highlander features Hyundai Australia's first application of the new Digital Centre Mirror (DCM). This full-display digital centre rearview mirror uses a separate rearview camera mounted below the tailgate spoiler to allow the driver to clearly see behind the Palisade without the obstructions of passengers, cargo or even heavy rain.
The DCM provides a 44-degree rear view angle, which gives the driver a substantially better view compared with the 20-degree view angle of a conventional rearview mirror.
The DCM can revert to a conventional ECM rearview mirror with the flick of a lever and can also be adjusted for view height and brightness while automatically lowering the image (as the dipping side mirrors do) when reversing, for a seamless experience.
In addition, every 2023 Palisade now features a frameless rear-view mirror for a more premium look and an increased field of view.
Hidden lighting signature: front turn signals & rear lights - New
2023 Palisade's bold style is enhanced with the addition of hidden exterior lighting. At the front, LED turn signals are integrated seamlessly into the radiator grille elements, only becoming visible when indicators are activated.
Exclusive to Highlander variants, hidden rear parking lights form part of the lighting signature when switched on, but blend into the satin chrome tailgate trim pieces when switched off.
Further to the exclusive Highlander lighting features and adding a premium touch to every 2023 Palisade variant are the following revisions to the lighting system:
LED reverse lights replace incandescent type - moved to inner bumper area with full width reflector
Welcome function revised to flash the indicator lights followed by 'soft' activate the headlights
Glovebox compartment light changed from incandescent type globe to LED
Front overhead light panel now with backlit switches for ease of use at night
LED ambient light added to lower console compartment
Remote Start / Remote Smart Parking Assist (RSPA) - New
2023 Palisade features a revised Smart Key remote with Remote Start functionality as standard. With the Hyundai Bluelink™ app, the driver can also Remote Start the vehicle via their smartphone.
Highlander variants also gain the Remote Smart Parking Assist (RSPA) feature. RSPA allows the vehicle to be manoeuvred forward or backward into parking spaces using controls on the Smart Key.
When parked, Palisade can be switched off and locked without the need to re-enter the vehicle. RSPA utilises all 12 ultrasonic sensors fitted to Highlander variants and will pause a parking manoeuvre if it detects an object in its path.
USB Type-C power outlets - New
2023 Palisade replaces the six USB Type-A power outlets throughout the cabin with the newer USB Type-C power outlets.
The Type-C power outlets are designed around the new Power Delivery 3.0 standard and increase output to 27W / 3A for increased charging output.
The Multimedia USB input remains as a USB Type-A.
Wireless Charging Pad - Revised
2023 Palisade Highlander features a revised wireless charging pad with the output increased from 5W to 15W for improved charging performance.
The new wireless charger can reduce smartphone full-charge time by up to 33 percent. Contributing to the increased charging performance is an in-built cooling fan, which is designed to cool the wireless charger's internal components (rather than the smartphone).
Steering wheel buttons & wiper/indicator stalk designs - New
2023 Palisade introduces Hyundai's latest geometric wiper and indicator stalk designs, which pair stylishly with the contemporary four-spoke steering wheel. A revised remote control button layout improves ease-of-use.
The new 'Custom' button (denoted by a star) allows the driver to program their desired function, ensuring their most-used vehicle functions are at their fingertips.
Adjustable centre armrest - New
Improving rear seat passenger comfort and convenience is the introduction of an adjustable second-row centre armrest (eight-seater) and adjustable individual second-row seat inner armrests (seven-seater).
The eight-seat variants gain a 2.5-degree, eight-step adjustable centre armrest while the seven-seat variants gain a 2.5-degree, 14-step adjustable individual inner armrest, which both allow for greater comfort to suit occupants of all shapes and sizes.
Ventilated second-row seats (eight-seat) - New
Building on the rear heated outboard seats, eight-seat Highlander variants now also feature ventilated rear outboard seats just as seven-seat variants do, to ensure everyone can stay cool on hot days.
12.3-inch Multimedia & Satellite Navigation system - New & Revised
Complementing the new 12.3-inch digital cluster, 2023 Palisade's upgraded 12.3-inch touchscreen multimedia system features a revised button panel and a large, high-resolution (1920 x 720) wide-screen display housed in a redesigned dash bezel. The new 12.3-inch Audio Video Navigation-Telematics (AVN-T) system incorporates the following features for the first time on any Hyundai in Australia:
Connected Routing Navigation
Server-based Natural Voice Control
Live Weather function
Valet Mode function
Calendar integration via Bluelink®
Additional split-screen functions (Weather, Calendar)
3D Surround View Monitor
Standard features of the new 12.3-inch multimedia unit also include:
DAB+ digital radio
Apple CarPlay & Android Auto compatibility – wired
Bluetooth audio streaming
Sounds of Nature - six pre-set sounds
USB Type-A multimedia input; music & video
Bluetooth® Multi-Connection; 1 x phone/audio & 1 x audio
Bluetooth® Message Access Profile (MAP) - SMS playback; audio & visual
Passenger Talk function - Driver's voice communicated through rear speakers
Quiet Mode function - Audio volume limited to 25 in first row and muted in rear
Voice memo function - with up to 70 minutes recording time
Blue light filter function
Convenience Open & Close / Variable Speed Windows - New
2023 Palisade sees the adoption of convenience opening & closing of the power windows via the new Smart Key remote. This new function can also be operated through the Hyundai Bluelink® smartphone app.
Adding a premium touch to the power window operation, new 2023 Palisade introduces, for the first time on a Hyundai vehicle, Variable Speed operation of the power windows. When the windows open and close, a slowing down of the window function at the beginning and end of their travel results in a soft open or close, improving Palisade's audible quality perception.
CLIMATE CONTROL
Dual-zone front & single zone rear - Revised
2023 Palisade's climate control system introduces new features, including a revised control panel with a new button layout and screen.
New features include:
Three-level Auto fan control (low, medium & high)
Auto internal air circulation function; windscreen washer based
Auto Defog function (Highlander only)
Front climate control functionality via the 12.3-inch touchscreen
Front & rear heated/ventilated seat operation via the 12.3-inch touchscreen
HYUNDAI BLUELINK®
The launch of the 2023 Palisade sees the Australian debut of Bluelink® connected car services, marking a step change on Hyundai's mission to create smart mobility solutions and a better future for everyone.
Hyundai Bluelink® embodies the connection between you and your car, you and the world, you and your future.
Bluelink® and the accompanying connected car services are provided free of charge for the first 5-years of new vehicle ownership and is transferrable to subsequent owners within this 5-year period.
Hyundai Bluelink®: Key Features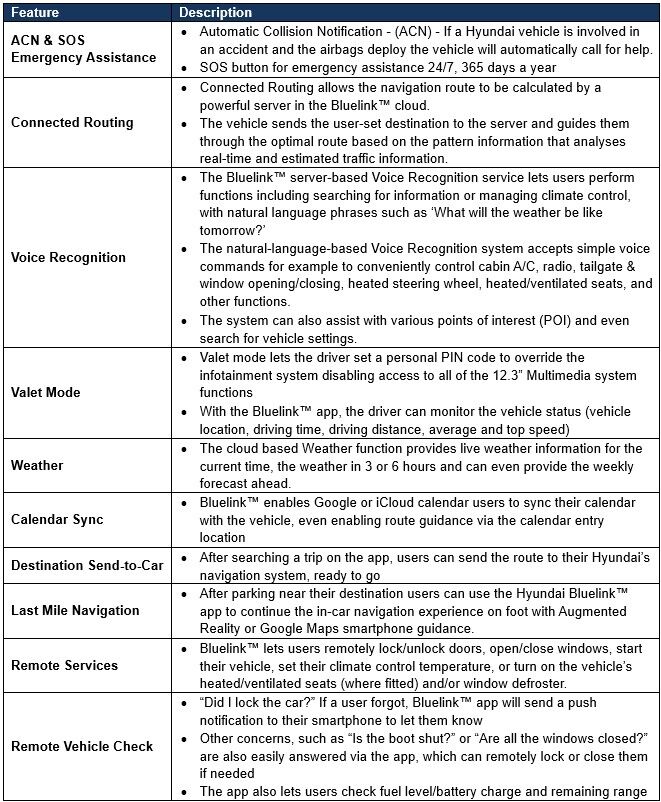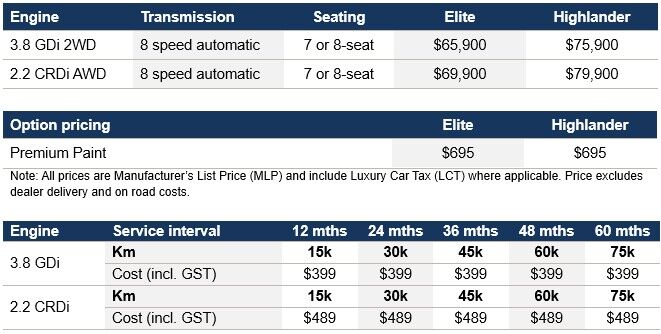 Hyundai iCare®
With Hyundai iCare®, the joy of buying a Hyundai will stretch well beyond the showroom. This leading customer care program offers a comprehensive suite of owner benefits including; Lifetime Service Plan, 5 Year Unlimited Km Warranty, 5 Year Hyundai Bluelink® subscription, complimentary Roadside Assist for 12 months on new vehicles, 1,500km complimentary first service, a dedicated Customer Care Centre, and myHyundai – an exclusive owner website. When servicing with Hyundai, customers will also receive a Roadside Support Plan for up to 10 years, a 10 Year Sat Nav Update Plan and more.
SPECIFICATION OVERVIEW
(Green indicates additional specification over the previous MY22 Palisade variants)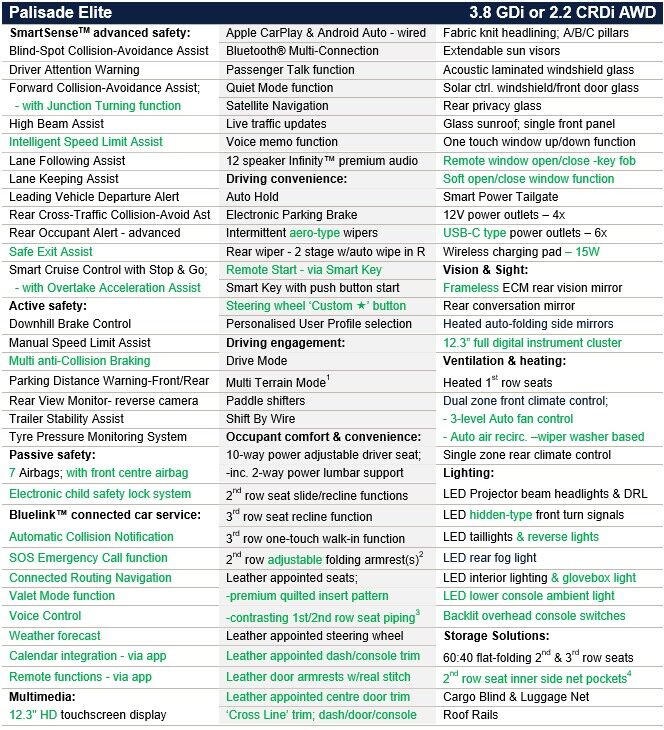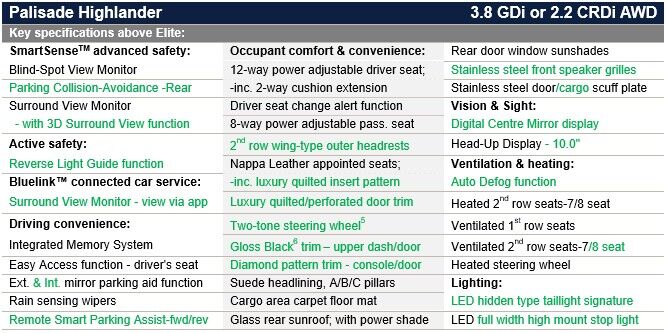 Notes:
Feature not available on 3.8 GDi variants
Centre armrest applicable to 8 seat variants; Individual seat inner armrests applicable to 7 seat variants
1st row piping excludes headrests. 2nd row piping applicable to 7 seat variant only, excluding headrests
Feature available on 7 seat variants only
Two-tone steering wheel excludes Black interior variants
Gloss Black trim applicable to standard Black interior only
Ready to take the next step?