2023 Venue: more comfort, convenience and connectivity.
Specification upgrades cross the three-tier 2023 Venue SUV range
Qi wireless charging now standard on all variants
2023 Venue continues the rollout of Hyundai's innovative Bluelink™ connected car service
Hyundai Motor Company Australia is pleased to announce details and specifications for the updated 2023 Venue SUV model range.
2023 introduces new features designed to enhance the Venue experience with comfort, convenience, and connectivity upgrades across the three-tier range - including Qi wireless charging as standard on all variants.
2023 Venue also continues the rollout of Hyundai's innovative Bluelink™ connected car service. Standard on the Venue Elite, Bluelink introduces features such as Automatic Collision Notification, Natural Voice Control and segment-first remote vehicle control functionality via the Bluelink App.
NEW FEATURE SUMMARY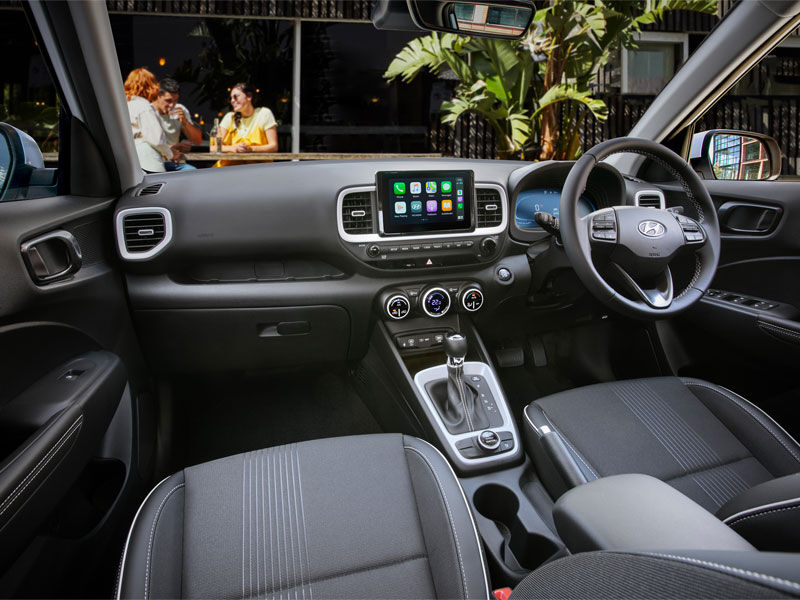 4.2" LCD instrument cluster display
Featuring a 4.2" colour LCD display, the new digital style supervision cluster is now featured as standard across all 2023 Venue grades. It includes a standard digital speedometer and tachometer and is customisable with three colour theme selections through the vehicle system settings.
Qi wireless charger
A new wireless charger is fitted as standard across the 2023 Venue range and allows for compatible Qi-standard devices to be charged in a dedicated recess in the front centre console, improving convenience for front seat occupants. The charging pad is also fan cooled to help prevent the device from overheating whilst charging.
USB-C type charge port / Rear USB-C type charge ports
In addition to the USB-A multimedia port, the new 2023 Venue range adds a USB-C type charging port in the front centre console for added convenience. Venue Elite will also gain two USB-C type charging ports for the rear seat passengers including a small storage compartment suitable for mobile phones.
Rear occupant alert (ROA)
Rear Occupant Alert (ROA) - logic type, is now fitted as standard across the 2023 Venue range and detects the entry of occupants via the rear doors opening and closing. Upon parking and opening the driver's door, ROA issues an audible warning chime and prompts the driver with a visual warning message to 'check rear seats', to ensure that rear occupants are not accidentally left behind.
Revised steering wheel controls
2023 Venue sees the adoption of Hyundai's latest revised steering wheel remote control button layout, improving ease-of-use. The new "Custom" button (denoted by a star) allows the driver to program their desired function, ensuring that their most-used vehicle functions are just at their fingertips.
ECM rear view mirror
Elite variants of the 2023 Venue are now available with an Electro-chromatic rear-view mirror (ECM) as standard. When driving at night, the ECM prevents driver glare by lowering the reflectance of the mirror when detecting the headlights of a vehicle following.
Antenna
For 2023, the sharkfin type external aerial has been replaced by a pole type aerial across all Venue grades.
HYUNDAI BLUELINK™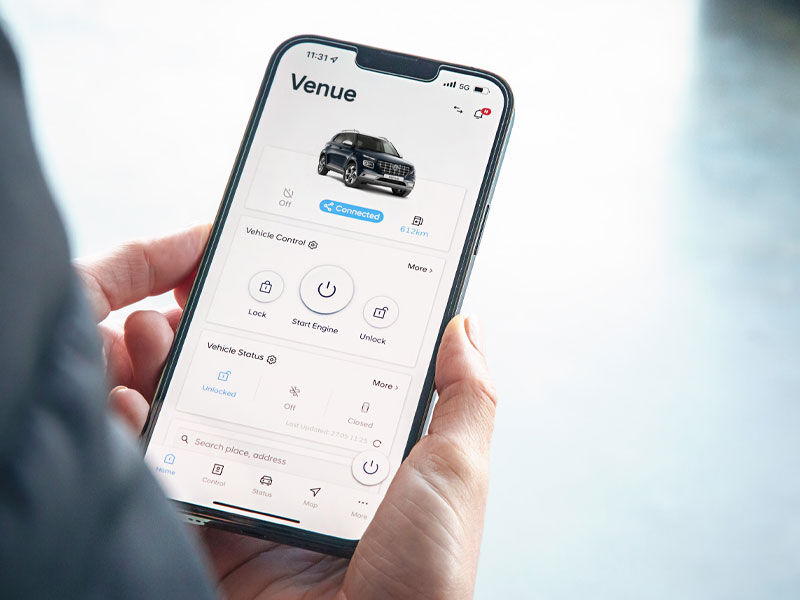 The launch of the 2023 Venue Elite continues the Australian rollout of Bluelink™ connected car services, marking a step change on Hyundai's mission to create smart mobility solutions and a better future for everyone.
Bluelink™ and the accompanying connected car services are complimentary (free of charge) for the first 5-years of new vehicle ownership and are transferrable to subsequent owners within this 5-year period.
A list of Hyundai Bluelink key features are listed in the table below: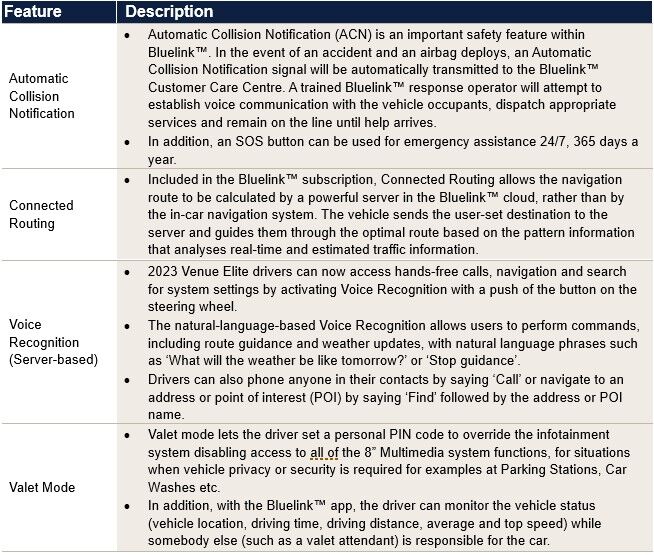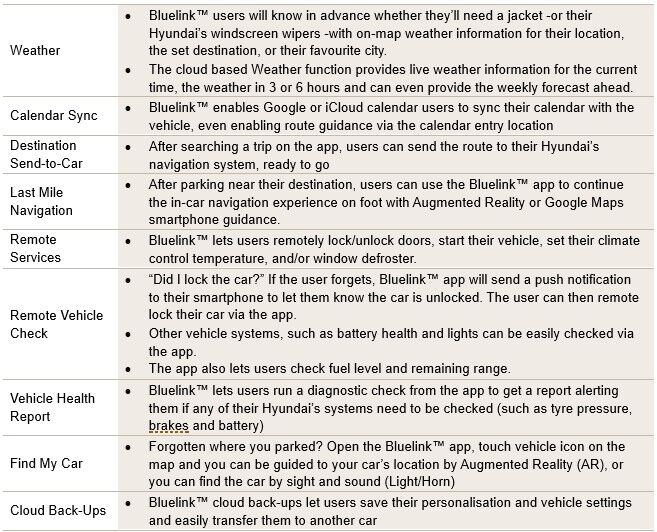 The 2023 Venue model lineup has also been streamlined, with the discontinuation of the Active manual variant.
The 2023 upgrades come with a small price increase versus 2022 Venue, refer table below:

SPECIFICATION OVERVIEW
New features for 2023 Venue are highlighted in green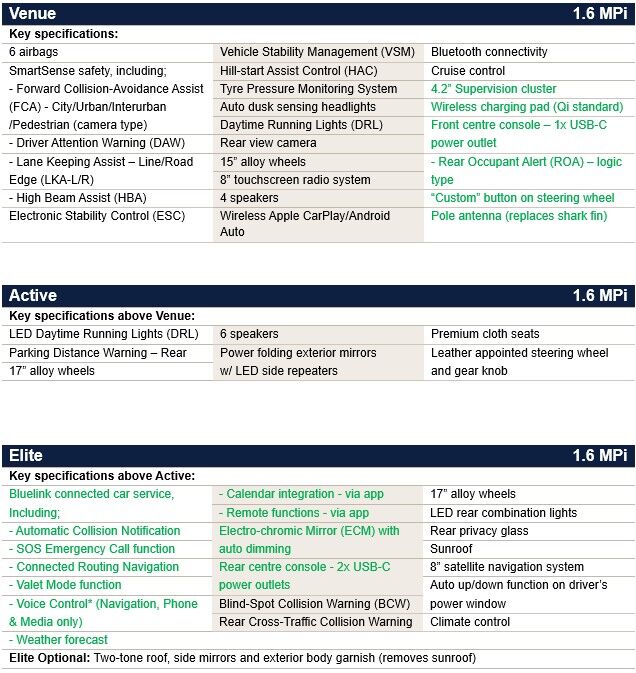 Ready to take the next step?