All-New KONA: Bigger. Bolder. More Refined.
Bigger, bolder and more refined all-new KONA sets a new small SUV standard with its futuristic EV-led design and economical new Hybrid variant
Spacious, versatile cabin headlined by 'Floating' horizontal dash and standard 12.3-inch multimedia system among an array of leading-edge tech
Convenience, safety and security of Bluelink connected car services standard in all-new KONA, with Over-The-Air (OTA) update capability
Featuring an extensive SmartSenseTM safety suite, including segment-firsts Blind-spot View Monitor and FCA powered two-wheeler detection
New-generation KONA is available now priced from $32,000 MLP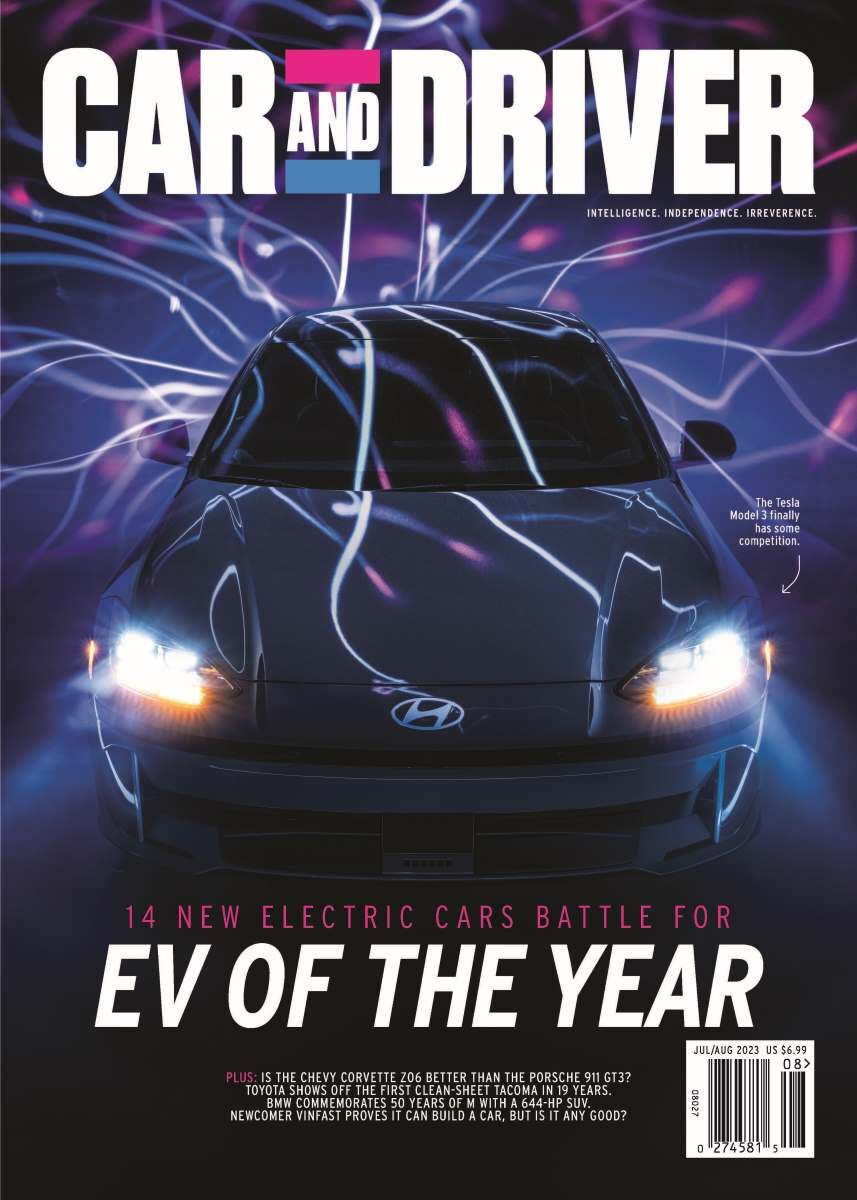 The 2023 Hyundai IONIQ 6 earned Car and Driver's EV of the Year award, adding another coveted honour to its trophy case. This marks the second year in a row that Hyundai has won Car and Driver's EV of the Year award with the IONIQ 5 winning in 2022.
The publication put 14 top-rated EVs through rigorous testing over a three-week period. IONIQ 6 took the No. 1 spot.
"The IONIQ 6 lineup has available power and range that puts Tesla on notice," said Tony Quiroga, editor-in-chief, Car and Driver. "An 800-volt architecture reduces DC-charging times, but best of all, the IONIQ 6 is a car that we love to drive."
The EV award uses the same criteria as Car and Driver's 10Best Awards. The winner must exceed the expectations of the Car and Driver editorial and testing teams in four key areas:
Value
Mission Fulfillment
Technology Advancement
Fun to Drive
"Securing two consecutive Car and Driver EV of the Year awards is a tremendous accomplishment," said José Muñoz, president and CEO, Hyundai Motor North America.
"This prestigious award acknowledges the remarkable efforts required to develop groundbreaking EVs like the IONIQ 6 that deliver industry-leading aerodynamics, charging speed, innovative features and driving range. This recognition further bolsters our pursuit of global electrification leadership and provider of smart mobility solutions."
Other contenders in the competition included Audi Q4 E-tron, BMW i7, Cadillac Lyric AWD, GMC Hummer EV SUV, Genesis Electrified GV70, Kia EV6 GT, Kia Niro EV, Lexus RZ450e, Lucid Air Pure, Mercedes-Benz EQE350, Nissan Ariya e-4orce, Toyota bZ4X AWD, and VinFast VF8.
Car and Driver employed instrumented testing, subjective evaluation, and side-by-side comparison in both practicality and entertainment value.
The full story on Car and Driver's EV of the Year can be found here and in the July/August issue.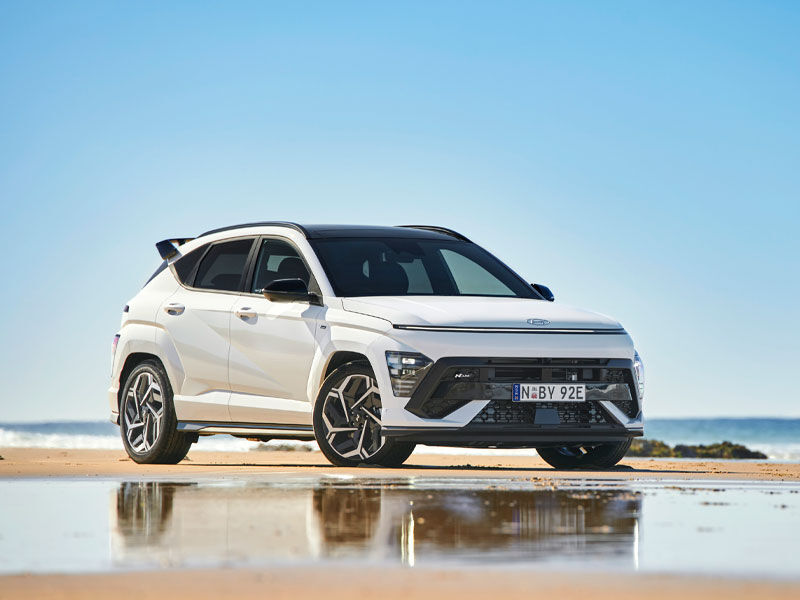 RANGE OVERVIEW
All-new KONA is available in a simple yet highly equipped two trim line-up, consisting of KONA and KONA Premium variants.
These are enhanced by the availability of an optional N Line pack, which gives new-generation KONA more dynamic exterior and interior styling.
A choice of three powertrains is offered across the range to cater to a wide audience of KONA customers.
The SmartStream powertrain line-up consists of a G2.0 MPi petrol driving the front wheels via an Intelligent Variable Transmission (IVT), a G1.6 T-GDi AWD turbo petrol adopting a new eight-speed automatic transmission, and G1.6 GDi petrol/electric Hybrid driving the front wheels via a six-speed dual-clutch transmission.
KONA Range

EXTERIOR
The bold, future-oriented all-new KONA strengthens the model's unique design identity while intentionally blurring the line between conventional and electric vehicle styling.
The absence of a conventional front grille headlines an EV-led exterior treatment that maintains key KONA design elements, such as the unique C-pillar, composite lights, side cladding and dynamic roofline.
At the front, a futuristic, simple and wide look is created around a seamless horizon lamp comprising a central positioning lamp flanked by LED daytime running lights.
Separated headlights, a KONA signature, are designed with sophisticated details and edges to create a sharp image.
Completing a robust yet refined impression is a front bumper design featuring a three-dimensional garnish and a bold skid plate.
A dynamic side profile is created by a chrome moulding running from the beltline to the rear spoiler, which is neatly aligned with a crisp character line, while an armour-shaped wheel arch cladding integrated with the front and rear lighting reinforces a rugged SUV image and contributes to KONA's distinctive presence.
A voluminous rear design features seamlessly connected horizontal lighting that creates a sense of unity with the front design and maximises the future-oriented image, while the minimal application of decorative elements imparts a refined and stable impression.
The vehicle's robust SUV styling is reinforced by integrating a wedge-shaped lower taillight with the wheel arch cladding.
An iconic skid plate design and a rear spoiler featuring a high-mounted brake light integrated with the chrome moulding, which continues from the beltline, complete a confident rear stance.
N Line exclusive design features
The N Line treatment offers a dynamic and stylish exterior alternative for the all-new KONA and is available across both trims and all three powertrains, with the SmartStream G1.6 T-GDi AWD available exclusively with the N Line pack.
The N Line option pack creates a bold and aggressive front identity, with a low and stable stance, via a wing-shaped design that wraps around the lower part of the bumper.
An N Line-exclusive silver garnish line encircles the lower body and is complemented by a side skirt design that gives the impression of lowering the body, to exude a high-performance image.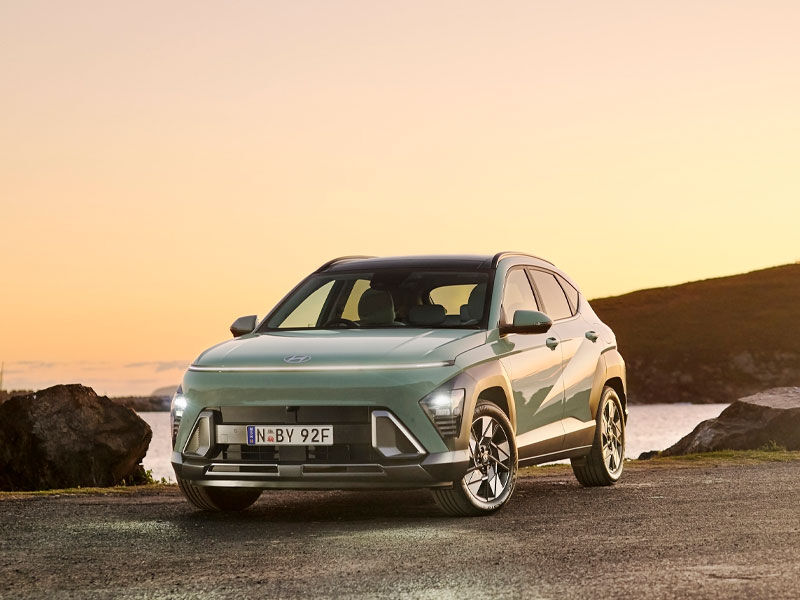 Key N Line exterior features include:
Body-coloured cladding
N Line front bumper with gloss black front bumper insert
N Line side skirts
N Line-exclusive 19-inch alloy wheels (18-inch on Hybrid variants)
N Line wing-type spoiler
N Line rear bumper / exhaust
Gloss black mirror caps
N Line aluminium badging
Dual projector beam headlights / LED indicators
Black beltline moulding
'Seamless Horizon' centre LED positioning light
Exclusive to N Line variants are three additional exterior colours: Cyber Grey, Neoteric Yellow and Soultronic Orange.
Exterior colours
The all-new KONA will be available in a wide selection of nine exterior colours across the range. To provide further choice for customers, without any associated costs, two standard (solid) paint types have been made available for each variant.

INTERIOR
New-generation KONA applies driver-centric design and features a futuristic horizontal layout headlined by a floating crash pad, to create a sporty, wide impression that's reflected by increases in occupant and cargo space.
A column-type Shift by Wire selector frees up more space in the centre console and contributes to the cabin's light, open feel (standard on 1.6 Hybrid, 1.6 Turbo and all Premium variants).
A large-capacity open-type console design features a horizontal wireless charging pad and cup holders.
Headlining the driver-oriented, high-tech layout is the seamless integration of the standard 12.3-inch multimedia display, with the additional 12.3-inch cluster found in upper variants.
New-generation KONA is 30mm taller and 145mm longer than the model it replaces, with a 60mm longer wheelbase. It maximises space utilisation through new design features in both rows of seats and in the cargo area.
Compared to the previous generation, all-new KONA 2nd row passengers benefit from 77mm longer leg room and 11mm higher headroom.
All-new KONA's second-row leg room (970mm) and second-row shoulder room (1,402mm) are now both among the best-in-class.
A rear seatback full-folding function features an improved, almost-flat folding angle.
In addition, the tilting angle of the rear seat back can be adjusted in two steps - 26 degrees and 32 degrees - offering 2nd row passengers more comfort and convenience.

Upholstery & trim
New-generation KONA is available with a Premium Cloth interior in Obsidian Black with an embossed seat pattern, whilst KONA Premium variants are available with a Genuine Leather appointed interior in a choice of three contemporary colours - Obsidian Black, Light Shale Grey and Sage Green.
N Line interior features
All-new KONA's optional N Line pack interior offers leather appointed seating with genuine Alcantara® inserts, along with red highlights and N logos.
Key N Line interior features include:
N Line steering wheel
Leather appointed / Alcantara® seats with N emblem, red highlights & stitching
Active Red inserts
Dark Metal door handle
Black headlining & pillar trims
Leather appointed dashboard tray
Dark Metal dash highlights
SAFETY
New-generation KONA brings a comprehensive suite of SmartSenseTM advanced active safety and driver assistance technologies.
There are seven airbags in all-new KONA, including a front centre side airbag. Mounted in the left side of the driver's seat backrest, it can prevent or reduce the severity of injuries caused by collisions between the front occupants, or collisions between occupants and interior components, in the event of a side impact collision.
SmartSense™ Safety Technologies
Forward Collision-Avoidance Assist (FCA) - two-wheeler detection
Forward Collision-Avoidance Assist (FCA) monitors for vehicles, motorbikes, pedestrians or cyclists that pose a potential collision risk alerting the driver with a chime and a warning in the instrument cluster.
The system is underpinned by inputs from the front radar sensor and windscreen-mounted camera.
In addition, FCA can automatically apply KONA's brakes as a collision avoidance or mitigation manoeuvre when no driver intervention is detected after a FCA system warning.
New for KONA is a Junction Turning function (FCA-JT) which helps avoid a collision with an oncoming vehicle in an adjacent lane when KONA is turning right at an intersection with the indicator on.
And a Direct Oncoming function (FCA-DO) mitigates collision damage with oncoming traffic that has crossed into the vehicle's lane - another safety first for KONA.
Forward Attention Warning (FAW)
Forward Attention Warning (FAW) monitors the driver's condition, detects careless/distracted and drowsy driving and issues audible and visual alert.
The driver's face, head position/direction, and eye tracking/opening/closing state are detected using an in-cabin infra-red camera.
Parameters:
Vehicle speed: over 10 km/h
Monitors following:

Short Distraction (more than 3 seconds)
Long distraction (more than 10 seconds)
Drowsiness Karolinska Sleepiness Scale (KSS) level higher than 8
Micro-sleep (eyes closed for more than 2 seconds)
Sleep (eyes closed for more than 3 seconds)
Blind-Spot Collision-Avoidance Assist (BCA)
Blind-Spot Collision-Avoidance Assist (BCA) helps avoid a collision with a vehicle in KONA's blind-spot zone when changing lanes. If a collision risk is present when an indicator is operated to change lanes, BCA will issue a warning. After the warning, if the risk of collision increases, BCA will automatically control the vehicle to help avoid a collision.
Blind-Spot Collision-Avoidance Assist (BCA) automatically warns driver if there is a risk of a collision with a detected vehicle in the blind-spot when changing lanes. Additionally, BCA also helps avoid collisions with vehicles in blind-spot when exiting a parallel parking spot.
Parameters:
Vehicle speed: above 20 km/h
Steering angle: -30 to +30 degrees
Conditions for control: Lane recognition of both edges, collision risk within 1.5m rear of B-pillar
Blind-Spot View Monitor (BVM)
The Blind-Spot View Monitor (BVM) projects an image of KONA's blind-spot zone on the 12.3-inch digital instrument cluster display whenever a turn signal is operated, using cameras mounted in the exterior mirrors.
BVM assists in carrying out safer lane changes, by increasing the driver's field of vision compared with conventional mirrors.
Driver Attention Warning (DAW)
The Driver Attention Warning (DAW) system analyses the driver's attention level and can audibly and visually warn the driver if the system senses that they are inattentive.
Additionally the Leading Vehicle Departure Alert (LVDA) also provides an audible and visual alert to the driver when a leading vehicle departs during a stop.
High Beam Assist (HBA)
A High Beam Assist (HBA) system allows the vehicle to automatically activate the high beam dependant on ambient light and general illuminance to improve visibility.
They system will automatically switch to low beam when the headlights of oncoming cars, or taillights of the vehicle in front are detected to avoid dazzling other road users.
Intelligent Speed Limit Assist (ISLA)
The Intelligent Speed Limit Assist system provides an audible and visual warning when detected speed limits are exceeded. Additionally, ISLA can assist in updating the Smart Cruise Control set speed to the posted speed limit when a speed limit change is detected.
Parameters:
Detection: front camera or navigation
Speed limit signs: 10-140 km/h
Signs detected: school zone, stop, do not pass, do not enter, roundabout, curve etc.
Lane Following Assist (LFA)
Lane Following Assist (LFA) uses the front-mounted camera to monitor vehicles ahead and establish the centerline of the lane, to provide steering assistance to help keep KONA in the centre of the lane.
In addition, the system will provide a safety alert if it detects that the driver is not holding the steering wheel.
Lane Keeping Assist - Line/Road-Edge (LKA-L/R)
The Lane Keeping Assist function will warn the driver if the vehicle strays from the intended lane without the indicators being activated, using audible and visual alerts and a haptic (steering vibration) prompt.
The system uses the windscreen-mounted camera to detect the lane marking or the edge of the road and monitors the vehicle's relative position.
If the driver does not respond with corrective steering input, the system will apply a counter-steering input to attempt to prevent KONA from moving out of the lane.
Parking Collision-Avoidance Assist-Reverse (PCA-R)
Parking Collision-Avoidance Assist-Reverse helps prevent low-speed collisions with pedestrians or obstacles when reversing.
PCA-R uses a high-definition camera and ultrasonic sensors to detect pedestrians or obstacles. If a potential collision is detected, the system will give the driver visual and audible alerts, and assist with braking if necessary to help prevent the collision.
Rear Cross-Traffic Collision Avoidance Assist (RCCA)
KONA's Rear Cross-Traffic Collision-Avoidance Assist (RCCA) system actively mitigates potential collisions when reversing into the path of traffic. If a potential risk is detected, the system will issue audible and visual driver alerts.
In the event the driver does not respond to a warning, the system can bring KONA to a stop as a preventative measure.
Rear Occupant Alert (ROA)
The Rear Occupant Alert (ROA) system aims to prevent the unintentional locking in or leaving behind of occupants in KONA.
If the system has registered that a rear door was opened, it will alert the driver to check the rear seats when they turn off KONA.
Safe Exit Warning (SEW)
The Safe Exit Warning (SEW) helps occupants exit in a safe manner. When KONA is stopped, or travelling at 3km/h or below, and SEW is active, the system uses the radar sensors at each side of the rear bumper to detect vehicles approaching from the rear.
If a vehicle is detected, and a door is opened, the system will sound an alert and display a warning.
The system stays operational for up to three minutes after KONA is turned off and can issue an alert once per door.
Smart Cruise Control (SCC) with Stop & Go
KONA's Smart Cruise Control (SCC) system automatically maintains a safe following distance during cruise control driving.
The Stop & Go function works in stop/start traffic, bringing KONA to a complete stop when appropriate, and automatically accelerating it back to the set speed.
If the vehicle is stationary for more than three seconds, SCC will prompt the driver to continue via the steering wheel pause/resume or plus/minus switch or by depressing the accelerator pedal.
Distance to the vehicle ahead can be conveniently adjusted in four stages using the vehicle distance button on the steering wheel.
3D Surround View Monitor (SVM)
KONA's Surround View Monitor (SVM) system lets the driver see a full 3D 360-degree view of the vehicle and any obstacles surrounding it.
The high-definition display provides superb accuracy with the benefit of variable camera guide-lines linked to steering angle, and through automatic view calibration of the image while driving.
In addition to the 3D view function, the SVM lets the driver select viewing modes such as front, rear and front/rear side views, top-down view with tailgate guide-lines and trailer connection and car wash entering modes, and front and rear wide views, each designed to maximise driver confidence and convenience while parking.
Additional Safety Features
Multi anti-Collision Brake (MCB)
New to KONA is Multi anti-Collision Brake (MCB) which applies the brakes to prevent or reduce or mitigate a subsequent impact when the vehicle has been involved in a collision.
Emergency Stop Signal (ESS)
Emergency Stop Signal (ESS) helps warn surrounding traffic when the KONA driver deploys emergency braking.
The system flashes the brake lights during emergency braking to warn the drivers of vehicles behind, and can automatically activate the hazard lights as a further visual warning to surrounding drivers.
Manual Speed Limit Assist (MSLA)
KONA's Manual Speed Limit Assist (MSLA) function assists the driver in pre-setting a speed limit for the vehicle, which is helpful in situations with reduced speed limits, such as school zones or roadworks.
Parking Distance Warning (PDW-F/R & F/S/R)
Parking Distance Warning - Front/Side/Rear is a parking safety function that provides a warning to avoid a collision with pedestrians and objects around the vehicle while stopping or low speed driving.
New for KONA are the addition of side parking sensors with side guidance display on Premium variants.
The all-new KONA also introduces for the first-time dynamic contour parking guidance, giving a more realistic visual parking aid via the infotainment screen, for superior parking convenience.
Remote Smart Parking Assist (RSPA)
A Remote Smart Parking Assist feature lets users manoeuvre KONA forward or backward into parking spaces using controls on the Smart Key.
Once parked, KONA can be switched off and locked without the need to re-enter the vehicle.
RSPA utilises KONA's ultrasonic sensors and will pause a parking manoeuvre if it detects an object in its path.
Steering wheel with haptic feedback - SmartSense™ functions
The steering wheel in KONA provides haptic (vibration) feedback for the delivery of SmartSenseTM driver assistance warnings.
Tyre Pressure Monitoring System (TPMS)
A Tyre Pressure Monitoring System (TPMS) alerts the driver if a tyre pressure is out of the normal range, as well as providing individual tyre pressure readouts.
Virtual Engine Sound System (VESS)
To assist in pedestrian safety, the all-new KONA Hybrid features a Virtual Engine Sound System (VESS) which generates a futuristic virtual 'engine' sound for pedestrians to hear due to the silent nature of KONA's hybrid powertrain. This virtual sound is played at low vehicle speeds through an externally mounted speaker located at the front of the vehicle.
The VESS will always be active if the vehicle is in its ready mode as long as the transmission is not in P (Park). When the transmission is shifted to R (Reverse), an additional warning chime sound will be generated to further warn pedestrians.
BODY STRUCTURE
All-new KONA is built on the new third-generation Hyundai 'K-platform' which provides a comfortable ride and sophisticated handling, with NVH performance that transcends the small SUV class.
The modular platform also packages each of KONA's powertrains for maximum efficiency and safety.
Crash safety is achieved with an energy dissipation structure and a high-rigidity structural design.
A multi load-path double-box front structure allows for the optimal absorption of collision energy and stable front crash performance.
The platform also enhances suspension and steering performance by optimising the steering rack position and mounting structure, to the benefit of steering feel and NVH.
In a Hyundai first, a customised cutting and welding process of 150K- and 180K-class ultra-high-strength steel is applied, such as in the construction of integral 150K floor members, which take the place of the previous 180K front/80K rear members.
A 50 percent increase in the application of hot-stamped parts - from 12 components in previous KONA to 18 - minimises deformation of KONA's cabin in the event of a collision.
In addition, the body structure average tensile strength is increased by 10 percent, from 65.3 to 72.0 kg/mm3.
New-generation KONA's side main structure parts utilise thicker and stronger construction to maximise collision robustness, and the connection between the top and bottom of the B pillar reinforcements are strengthened.
REFINEMENT
All-new KONA substantially reduces wind, powertrain and road noise and vibration compared with the preceding model, to deliver exceptional levels of refinement in its class.
This is achieved through a rigid monocoque optimised to reduce noise transmission and featuring an array of sound insulation and vibration isolation measures.
New-generation KONA features sound-absorbing pads under the carpet and in the luggage area, which minimise road noise intrusion.
Wind noise is minimised by applying upgraded sealing around KONA's lower doors, and cut-line seals to the side mirror caps, and through the application of a double-laminated sound-insulating acoustic windscreen.
A hydro mounting bush for coupled torsion beam rear suspension variants (2.0 MPi) significantly reduces the transmission of driving vibration and shock.
Multi-link rear suspension variants (1.6 T-GDi AWD & 1.6 GDi Hybrid) also feature vibration-isolating rear subframe bushes.
SUSPENSION
All-new KONA benefits from a chassis tuning approach that sees Hyundai Australia involved early in the development of a model, providing HMC R&D with input to achieve the chassis characteristics required for the Australian market.
This approach evolved as a natural progression from the local tuning program deployed by Hyundai Australia's engineering team over the previous decade.
New-generation KONA was put through the local testing programme used to evaluate and sign off each new vehicle. This local program has been honed by Hyundai Australia over many years, and comprises a wide spectrum of challenging local city, highway, country and gravel roads.
"We evaluated pre-production test vehicles very early on and we were extremely pleased with the settings R&D had developed for new KONA," Hyundai Product Development Manager Tim Rodgers said.
"The quality of the global chassis settings is incredibly high and KONA performed exceptionally across the full range of Australian road conditions,"he said.
"KONA showcases again that R&D is really thinking about each and every market as they're working through their tuning program."
All-new KONA utilises a MacPherson strut front suspension with a coupled torsion beam rear suspension for 2.0 MPi variants, and a multi-link rear suspension for 1.6 Turbo all-wheel drive and Hybrid variants.
"The different powertrains and rear suspensions feel more similar to each other than they have in some of our previous models," Rodgers said.
"The platform has been engineered in such a way that there is a more consistent feel across the range.
"Overall, we believe new-generation KONA feels significantly more refined than the previous generation," Rodgers said.
"You can feel how far the fundamental design has advanced and the consideration and thought that's gone into it.
"The way the body resonates after bumps, for example, or even from doors closing, is completely different to any other small car we've produced.
"That's the tangible benefit of the engineering, materials and components that have gone into all-new KONA," Rodgers said.
AERODYNAMICS
Aerodynamic developments for all-new KONA deliver stable high-speed driving performance and energy efficiency benefit while reducing the co-efficient of drag to 0.30 (from the preceding model's 0.32).
New-generation KONA's body starts with a roofline that balances rear head room with an aerodynamic downward taper, while from above, a boat tail profile promotes clean flow.
Flow-smoothing underbody components include a front bumper lip, an engine under cover, front wheel deflectors, a centre floor undercover, and rear wheel deflectors.
A front subframe undercover, and a torsion beam undercover (2.0 MPi) come in addition to the aerodynamic underbody components on previous KONA.
An external-type Active Air Flap (AAF) system in the front upper apertures reduces cooling air resistance, and is extended to the lower openings for Hybrid variants.
Side mirrors optimised with a diffuser-like space between the mirror cap and the window glass, and featuring flattened upper and lower sections, also promote smooth airflow.
A 'stripping trap' is applied to the sides of the taillight and the top of the rear combination lights to minimise turbulence and reduce air resistance.
The rear spoiler and side garnish are also optimally shaped to balance vertical and horizontal air flow.
POWERTRAINS
All-new KONA is available with three SmartStream powertrains offering everyday versatility, exceptional Hybrid economy and responsiveness, and turbocharged all-wheel drive performance.
SmartStream G2.0 MPi Atkinson
A refined and upgraded SmartStream G2.0 MPi Atkinson powertrain is offered for all-new KONA in entry form.
The unit features dual-continuously variable valve timing (D-CVVT) and a two-stage Variable Intake System (VIS), utilising Atkinson cycle technology to maximise efficiency.
The G2.0 MPi engine is paired with an upgraded SmartStream Intelligent Variable Transmission (IVT) featuring eight virtual gears and a sequential manual mode, to deliver a familiar driving experience.
SmartStream G1.6 T-GDi AWD
The SmartStream G1.6 T-GDi brings enhanced power, torque and refinement and is paired with all-wheel drive, with the smooth driveability of an all-new eight-speed torque converter automatic transmission.
The G1.6 T-GDi unit delivers responsive performance and excellent efficiency through the application of continuously variable valve duration (CVVD) technology, which continually optimises the opening duration of the intake valves.
SmartStream 1.6 GDi Hybrid
New-generation KONA's hybrid powertrain teams a SmartStream G1.6 GDi engine and six-speed dual-clutch transmission with an electric motor, to deliver a driving experience similar to a conventional vehicle, with exceptional 3.9L/100km combined cycle economy.
KONA Hybrid is driven primarily using the petrol engine, with an electric motor - powered by a 1.32kWh battery - providing up to an additional 32kW and 170Nm as required.
Smart regenerative braking lets KONA Hybrid recover braking energy that would be lost in a conventional vehicle, which it uses to recharge the high-voltage battery.
The electric motor's immediate torque provides the ideal complement to the Atkinson cycle petrol engine, which produces its peaks at higher engine speeds.
The result is a total system output that surpasses an equivalent conventional petrol engine, with outputs of 104kW and 265Nm (engine and electric motor combined), while achieving exceptional efficiency.

DRIVING TECHNOLOGY
HTRAC® All-Wheel Drive
All-new KONA features Hyundai's HTRAC® advanced electronic all-wheel drive system, which actively distributes driving force to the front and rear wheels according to various driving conditions, to achieve optimal driving performance.
The system takes inputs from four wheel-speed sensors, an acceleration sensor and a steering-angle sensor to optimally apportion drive between the front and rear axles using a variable-torque-split clutch with active torque control.
In combination with each of the driving modes, HTRAC® optimises traction for maximum comfort, stability, acceleration and fuel economy.
Multi-Terrain driving modes
A Multi-Terrain mode function provides optimal driving performance on and off road through the integrated control of powertrain torque and braking force and offers snow, mud and sand settings.
e-Motion Drive (Hybrid)
All-new KONA delivers optimal stability and dynamic driving performance by applying e-Motion Drive, which works to eliminate understeer during cornering through the partial braking of the wheel at the inside of a corner, and drive motor torque application to the wheel at the outside.
Smart Regenerative Braking 2.0 (Hybrid)
All-new KONA's Smart Regenerative Braking 2.0 optimises coasting efficiency in auto mode by automatically adjusting the amount of regenerative braking based on the incline of the road and the behaviour of the vehicle ahead.
The level of regenerative braking - and so the rate of deceleration - can also be adjusted in three stages using KONA's steering wheel-mounted paddle shifters, so the driver can minimise the use of the brake pedal and maximise efficiency.
A complete stop function can stop KONA with a longer pull of the minus paddle (0.4sec or more) without using the brake pedal.
TECHNOLOGY & CONVENIENCE
The following convenience features and technologies are offered in all-new KONA. Refer to the specification tables to confirm feature inclusion by variant.
Power seats with Integrated Memory System (IMS)
All-new KONA's 10-way electrically adjustable driver's seat - including two-way power adjustable lumbar - and 8-way adjustable front passenger's seat ensure front occupants can easily find their optimal seating position with the press of a button.
Heated and ventilated front seats & heated rear seats
All-new KONA keeps occupants comfortable all year round with heated and ventilated front seats and heated outboard rear seats.
Heating elements warm the front and rear outboard seating surfaces in cool weather, while in hot weather ventilation fans blow a gentle stream of cooling air through the perforations in the front leather seats.
New-generation KONA teams these with a heated steering wheel for maximum comfort.
Relaxation Comfort Seats
New-generation KONA's zero-gravity Relaxation Comfort front seats provide perfect relaxation through a zero-gravity position, relieving fatigue and discomfort that occurs while sitting in the same position for a long period.
These provide a weightless posture through the optimised distribution of pressure on specific body parts, so occupants can stay comfortable while taking a break from driving, such as at a rest stop on a road trip.
Shift by Wire
An innovative column-mounted Shift by Wire stalk in all-new Kona allows easy and intuitive drive selection while freeing storage space around the centre console.
Smart Power Tailgate
For the first time all-new KONA features a height & speed adjustable Smart power tailgate, available on Premium variants.
A highly convenient feature that allows the user to remotely open the tailgate using the key or just by standing near the boot with the key for a few seconds. Useful for situations when your hands are full of shopping bags or carrying young children.
BOSE™ 8-speaker premium audio system
All-new KONA features a high-performance premium audio system optimally tuned by BOSE™ engineers to suit the model's unique cabin acoustics.
The result is a system that delivers a rich and spacious acoustic experience through an external power amplifier, eight precisely engineered speakers, and a subwoofer.
Wireless Charging Pad
All-new KONA features a 15W wireless charging pad for optimal charging performance.
An inbuilt cooling fan cools the wireless charger's internal components to enhance convenience and safety when charging smartphones.
USB Type-C power outlets
New-generation KONA features two USB Type-C data/charging ports for first-row occupants and two USB Type-C power outlets for second-row occupants.
The Type-C power outlets are designed around Power Delivery 3.0 standard and deliver an output of 27W / 3A for rapid charging.
Ambient mood lamp
A 64-colour variable mood lighting system provides an array of cabin moods and offers 10 pre-set schemes.
Wide glass sunroof (optional)
The optional full-width glass sunroof for all-new KONA features a powered tilt and slide panel and a power sunshade.
MULTIMEDIA
Connected Car Next-Generation Cockpit
New-generation KONA introduces a Panoramic View 12.3-inch next-generation multimedia system featuring Hyundai Bluelink and Over-the-Air update capability, and improved natural language-based voice recognition.
It is seamlessly integrated with a 12.3-inch instrument cluster display in upper variants, with a new, luxurious and refined graphic user interface (GUI) creating a sense of unity between the two displays.
The GUI delivers a more intuitive user experience by eliminating unnecessary decorative elements, adopting a harmonious colour palette, applying a consistent grid layout, and using animation extensively.
The new system on entry KONA variants features a host of functionality, including:
AM/FM/DAB+
Wireless Apple CarPlay™/Android Auto®
Hyundai Bluelink® with calendar integration
Over The Air updates (OTA)
Bluetooth® multi-connection, USB-C input
Google Fast Pair Service for Android Bluetooth®
Quiet mode, Valet mode
Light/dark theme, blue-light filter settings
User Profile selection w/Bluelink® account linking
Quick Control menu (swipe down)
KONA Premium variants offer additional features including:
Bluelink® connected Satellite Navigation
Bluelink® live traffic updates
Voice control system
SMS playback capability
Split screen function
Voice memo function
HYUNDAI BLUELINK™
All-New KONA features Bluelink™ connected car services, as standard, in line with Hyundai's mission to create smart mobility solutions and a better future for everyone.
Hyundai Bluelink™ embodies the connection between you and your car, you and the world, you and your future.
Bluelink™ and the accompanying connected car services are provided free of charge for the first 5-years of new vehicle ownership and are transferrable to subsequent owners within this 5-year period.
Hyundai Bluelink™: Key Features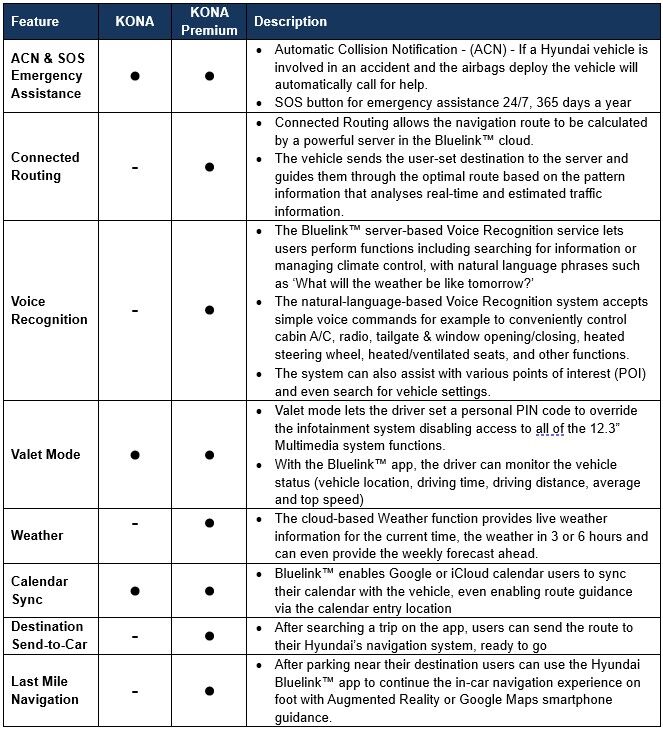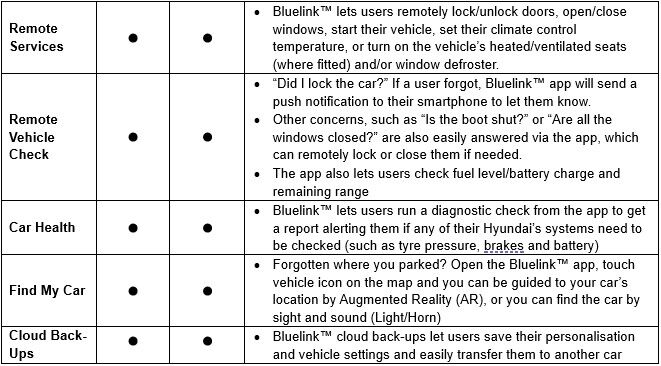 Over The Air (OTA) software updates
All-new KONA features Over The Air (OTA) software update capability, which is the next technological milestone towards giving customers a truly connected vehicle experience.
OTA lets users perform remote software and firmware updates for key systems, without the need to visit a service centre.
Benefits of OTA include improving vehicle operations, providing additional convenience to customers, and improving operating efficiency at service centres.
PRICING AND AFTERSALES
Pricing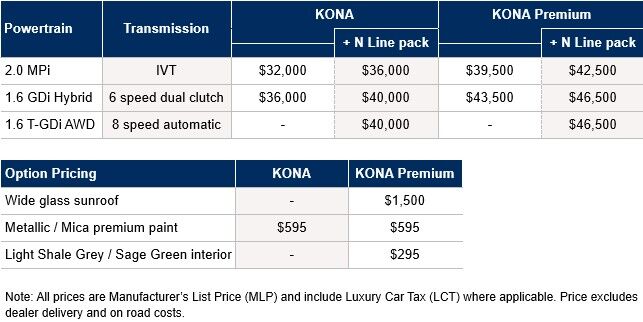 Hyundai iCare
iCare is our commitment to Hyundai owners, making sure their car ownership is as enjoyable, easy and extensive as imaginable. Expert service and support is provided with Hyundai's Lifetime Service Plan so customers can enjoy exclusive service pricing with no hidden fees, Premium Roadside Support Plan and Sat Nav Update Plan while the vehicle is serviced by Hyundai.
Plus, a suite of other owner benefits like, access to myHyundai, an online portal designed to help Hyundai owners get to know their new car and access to special offers, and the support of our dedicated customer care experts, always on hand to help with any questions or issues that customers may have,
All that and the reassurance of Hyundai's 5 Year/Unlimited km vehicle warranty and 8 Year/160,000km high-voltage battery warranty providing customers with the care they need, when they need it.
LAUNCH TIMING
The all-new KONA 2.0 MPi standard & 1.6 T-GDi N Line pack variants launch in June, with the 2.0 MPi N Line pack available from Q3 2023. All hybrid and electric variants will launch in Q4 2023.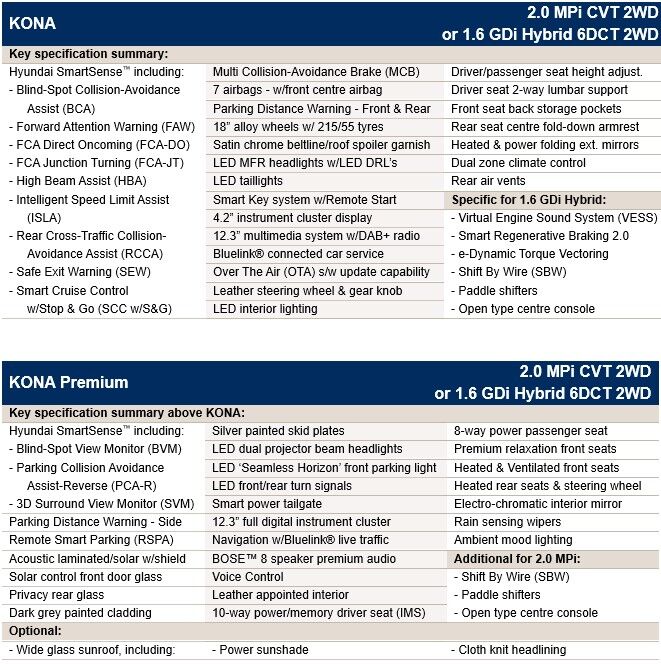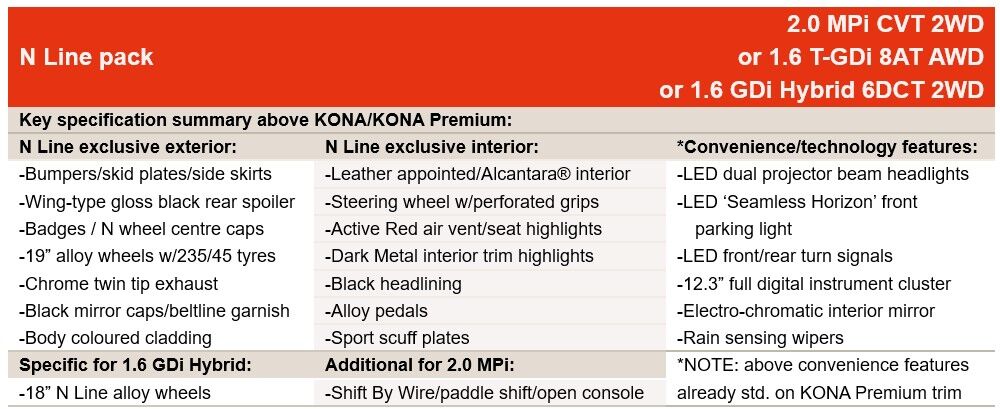 Ready to take the next step?