IONIQ 6: Prophecy realised.
• Introducing IONIQ 6, featuring game-changing tech in a sleek streamliner body/li>
• All-electric IONIQ 6 has up to 614km range and can charge from 10 to 80 percent in as little as 18 minutes
• IONIQ 6 debuts Over-The-Air (OTA) system updates, and features enhanced SmartSenseTM safety technology and EV-specific Bluelink® connected services
• Spacious, flexible living space cabin applies advanced sustainable materials
• Available for order now via hyundai.com/au priced from $74,000 MLP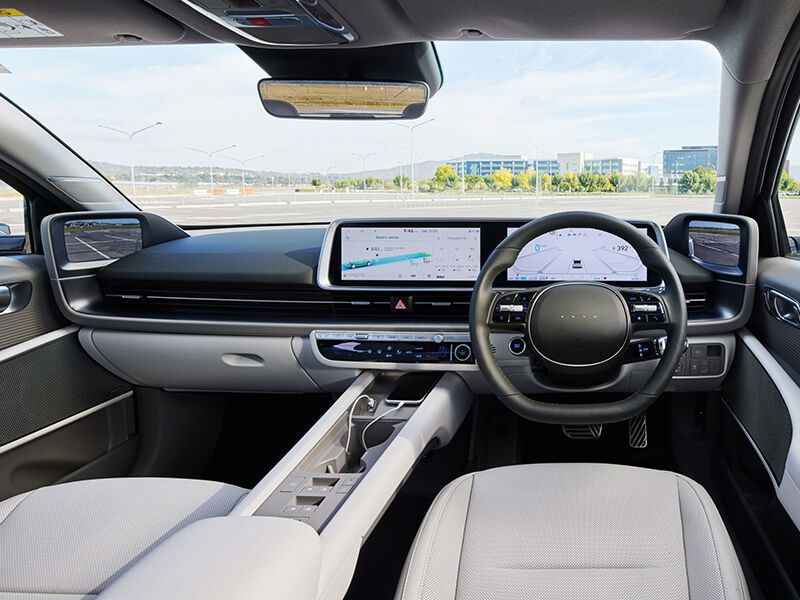 Introducing the first-ever IONIQ 6, which packs game-changing technologies into a sleek streamliner body inspired by the Hyundai Prophecy concept.
The all-electric IONIQ 6 is available for order now via the Hyundai Australia website, as the second model in the IONIQ range, alongside the multi award-winning IONIQ 5.
The product of the Hyundai brand's imagination, the mid-size IONIQ 6 is the first sedan built on the Electrified-Global Modular Platform (E-GMP), which brings 800V architecture and the capability for rapid charging from 10 to 80 percent in as little as 18 minutes.
IONIQ 6's battery range of up to 614km, is achieved through advanced powertrain technology, with the benefit of numerous aerodynamic styling choices in a streamliner design - for an ultra-low aerodynamic 0.217 coefficient of drag (DYNAMIQ variant).
The most advanced Hyundai ever, IONIQ 6 features Bluelink® connected car services with an expanded suite of EV-specific features, and for the first time Over-The-Air (OTA) vehicle system updates.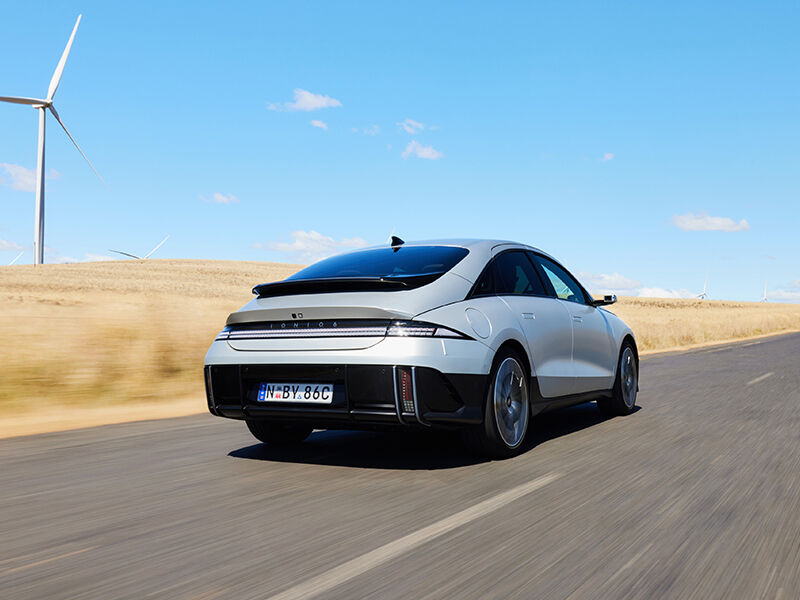 Hyundai Bluelink® is the next step in the future of connected car services and mobility. The Bluelink® app and the accompanying connected car services makes it easier than ever before to stay connected to your Hyundai, assisting with safety, security, convenience, and enjoyment.
An enhanced SmartSenseTM driver assistance and advanced active safety suite, an Intelligent Front-lighting System, and an ANCAP maximum 5-star safety rating contribute to an exceptionally safe, highly equipped and high-tech package.
IONIQ 6 reimagines the cabin as a spacious and flexible living space featuring integrated Digital Side Mirrors, interactive ambient lighting and eco-friendly sustainable materials.
"We are thrilled to introduce our first-ever IONIQ 6 as the latest addition to our IONIQ range,"Hyundai Motor Company Australia Chief Executive Officer, Ted Lee said.
"IONIQ 6's 800V EV architecture is just the beginning of the advanced technology, which also includes expanded SmartSenseTM and Bluelink® suites, and the capability for Over-The-Air system updates.
"IONIQ 6 showcases the Hyundai brand's technological ambition and our commitment to developing sustainable mobility solutions, while giving customers an exciting, accessible and versatile EV," he said.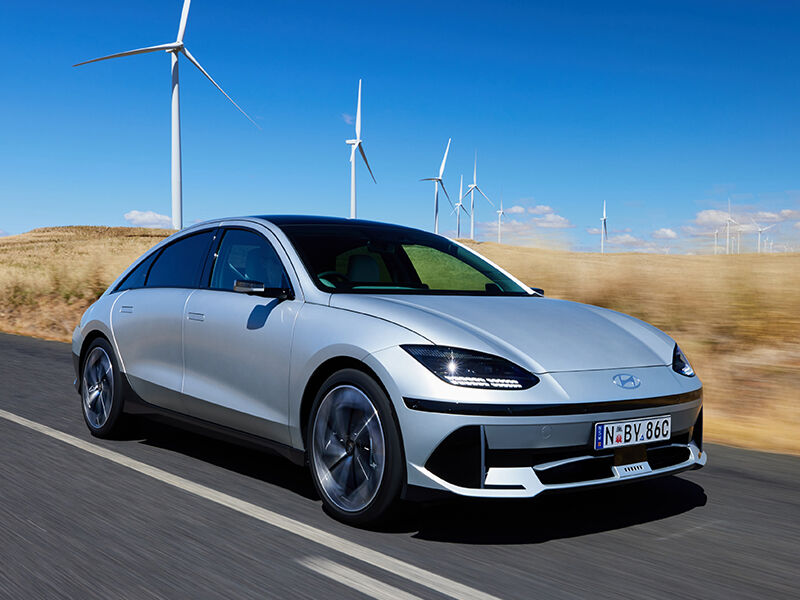 IONIQ 6 Range Overview
IONIQ 6 is offered in three trims, with rear-wheel drive and all-wheel drive powertrains matched to a 77.4kWh battery across the range.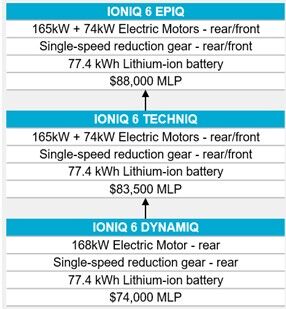 DYNAMIQ grade offers the longest driving range, in a premium package
TECHNIQ grade brings additional power, all-wheel drive, and an array of extra features
EPIQ is the ultimate grade and features cutting-edge technology including Digital Side Mirrors and a battery conditioning system
Every IONIQ 6 provides the safety of seven airbags and features an extensive suite of SmartSenseTM advanced active safety and driver assistance technologies.
A 12.3-inch digital virtual instrument cluster headlines the in-cabin technology, along with a 12.3-inch Multimedia navigation unit featuring Bluelink® connected car services with Over-The-Air software update capability, Android Auto and Apple CarPlay smartphone compatibility, and BOSE premium audio.
Luxuries include power adjustable, heated driver and front passenger seats trimmed in eco-processed leather, and a leather appointed steering wheel.
Projector type LED headlights, LED taillights and 18-inch alloy wheels contribute to IONIQ 6's striking look, while standard convenience features include a wireless smartphone charger, a head-up display, and a smart power bootlid.
Smart regenerative braking, a safety-enhancing Virtual Engine Sound System (VESS), an 'i-Pedal' mode that allows one-pedal driving and a Vehicle to Load (V2L) inside/outside function let customers enjoy the full benefit of IONIQ 6's progressive battery electric powertrain.
IONIQ 6 TECHNIQ variant builds on the extensive standard specification with HTRAC all-wheel drive, 20-inch alloy wheels wrapped in Pirelli P Zero tyres, a full-width glass sunroof, heated & ventilated Relaxation front seats, heated rear seats, and a heated steering wheel.
The flagship EPIQ variant adds to this with Digital Side Mirrors, high-efficiency heat pump-based heating, and a battery conditioning system.
Powertrain Summary
IONIQ 6 is built on the state of the art Hyundai Electric-Global Modular Platform (E-GMP) and in rear-wheel drive DYNAMIQ form features a 168kW, 350Nm rear electric motor and a 77.4kWh lithium-ion battery, for a WLTP range of 614km.
The all-wheel drive IONIQ 6 TECHNIQ and EPIQ feature an HTRAC all-wheel drive system comprising a 74kW, 255Nm front motor and a 165kW, 350Nm rear motor.
Using the same 77.4kWh battery, the AWD IONIQ 6 variants have a range of 519km.
A bi-directional Integrated Charging Control Unit (ICCU) allows for Vehicle to Load (V2L) functionality and brings 400V and 800V DC rapid charging capability.

EXTERIOR
The design of IONIQ 6 is inspired by the concept of Emotional Efficiency which is based on the idea that aesthetic and functional needs can be satisfied at the same time.
IONIQ 6's aerodynamic streamliner profile is created by a single curve running from tip to tail, with signature Parametric Pixel lighting contributing visual interest.
A clean, aerodynamic frontal treatment is flanked by Parametric Pixel LED headlights as part of IONIQ 6's Intelligent Front-lighting System, with functional air curtains and active air flaps beneath.
Auto flush door handles and Digital Side Mirrors with transparent casings (EPIQ grade) contribute to a clean side profile, which is underscored by contrasting lower body cladding in silver or black (dependent on body colour), and 18-inch aero alloy wheels (DYNAMIQ grade) or 20-inch alloy wheels (TECHNIQ & EPIQ).
A transparent shark fin antenna, rear spoiler featuring a transparent, integrated LED high-mount stop light and full-width parametric pixel LED tail lights, underlined by vertical reflectors and pixel reverse lights, complete an impressive rear treatment.
A choice of eight exterior paint colours is offered:
Metallic: Nocturne Grey
Matte: Gravity Gold
Mica: Serenity White, Abyss Black, Digital Green, Byte Blue, Biophilic Ink and Ultimate Red
INTERIOR
IONIQ 6 features a cocoon-like 'living space' interior design that unlocks maximum utility from the car's E-GMP underpinnings.
Each occupant is welcomed to a roomy interior headlined by integrated 12.3-inch cluster and infotainment displays, and featuring Interactive Pixel Lights in the steering wheel, which serve as status-indicators responding to driver inputs and voice commands.
Slimline first-row seats utilise ultra-high strength steel frames to minimise seatback thickness and in turn expand rear occupant space.
The front seats feature a Relaxation function in TECHNIQ and EPIQ variants, which lets occupants stay more comfortable while resting, such as during a charging stop on a trip.
Futuristic highlights include a bridge-type high centre console, a transparent dashboard garnish and map pocket and, for EPIQ variant, dashboard winglets housing the Digital Side Mirror displays.
A column-mounted Shift by Wire rotary control stalk allows for easy and intuitive drive selection, while dual-colour ambient mood lighting - speed-sensitive in the front row - completes a calming cabin ambience for occupants of IONIQ 6.
A choice of four upholstery combinations is offered across the three model grades dependent on the exterior colour:
Monotone: Black leather
Two-tone: Dark Gray/Light Gray, Dark Green/Light Gray and Black/Brown leather
Slimline first row seats
Ultra-high strength steel has been utilised to reduce front seat thickness. The slim seats expand rear occupant space while contributing to the futuristic living space of IONIQ 6. This enhanced seating design will transfer to more Hyundai models.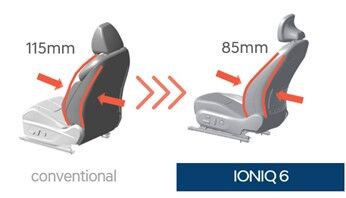 CHASSIS
IONIQ 6 benefits from a chassis tuning approach that sees Hyundai Motor Company Australia (HMCA) involved early in the development of a model, providing HQ with input to achieve the 'flavour' of the tune required for the Australian market.
This approach evolved as a natural progression from the local tuning program deployed by Hyundai Australia's engineering and product development teams over the last decade.
"The R&D team responsible for IONIQ 6 intimately understood the tuning concept that needed to be applied to the car, which made our job extremely easy," said Hyundai Motor Company Australia Product Planning and Development Manager, Tim Rodgers.
"The HMCA product development team evaluated a choice of chassis tunes locally and selected the optimal tune for our market," Rodgers said.
This involved putting IONIQ 6 through the testing and scoring program used to evaluate and sign off each new vehicle. This local program has been honed by HMCA over many years and comprises a wide spectrum of challenging local city, highway, country and gravel roads.
"For now, IONIQ 6 is the slightly more dynamic car in the IONIQ range," Rodgers said.
"We have IONIQ 5, which makes a great family vehicle, with a flexible and spacious interior. It's really comfortable and easy to drive.
"IONIQ 6 you could say is a more 'personal' car, a little more driver and front occupant focused. This allows it to be a bit tighter in all its body motions; a bit more engaging, dynamic and responsive.
"E-GMP as a framework is already a robust and rigid structure ideal for building all sorts of vehicle types," said Rodgers. "When we build a sedan such as IONIQ 6 on E-GMP, it's an even more rigid and robust structure simply by virtue of its body shape."
This rigid monocoque provides the ideal platform for IONIQ 6, on MacPherson strut front and multi-link rear suspension, to derive maximum dynamic benefit from its state- of-the-art chassis hardware.
This includes its innovative Integrated Drive Axle (IDA) technology, which combines the driveshaft, wheel hub and bearing, and compact constant velocity (CV) joint in a simple, light and stiff assembly, a steering rack-mounted Motor Driven Power Steering (R-MDPS) system, and high-performance dampers.
POWERTRAIN
E-GMP platform
The dedicated electric-Global Modular Platform that underpins IONIQ 6 incorporates proprietary technologies developed by Hyundai to set a new industry benchmark for EV efficiency, dynamic performance and safety.
E-GMP's exceptionally low centre of gravity and ideal weight distribution are achieved by mounting the drive motors low in the chassis and locating the battery along the floorpan, to the benefit of ride, handling and safety.
Up to 614km electric range
With its real-world all-electric range of up to 614km for the rear-wheel drive powertrain, IONIQ 6 presents a practical, zero-emissions vehicle, capable of long-distance travel.
The pure electric IONIQ 6 has the ability to plug-in to a standard AC charging station, as well as specialised DC fast-charging stations up to 350kW, for a charge from 10 to 80 percent in as little as 18 minutes.
77.4kWh Lithium-ion Polymer battery
IONIQ 6 is powered by a 697-volt, 77.4kWh lithium-ion polymer battery mounted below a flat floorpan, which allows optimised interior packaging and abundant cabin space.
This new battery technology features a separate coolant channel which improves the safety of the unit.
Electric motor
IONIQ 6's next-generation powertrains deliver best-in-class performance and exceptional energy efficiency. This is achieved by integrating the inverter and reduction gear with the drive motor housing, which minimises both weight and energy losses.
At the heart of IONIQ 6's powertrain is a high-output 168kW permanent-magnet synchronous motor driving the rear-wheels, which can deliver up to 350Nm instantaneously across the range of motor speeds.
The AWD powertrain combines a 74kW front axle-mounted electric motor with a 165kW rear motor, to deliver total system outputs of 239kW and 605Nm.
With a substantially higher torque than a 239kW conventional powertrain, IONIQ 6's standing-start acceleration dramatically exceeds performance expectations, with the AWD achieving 0-100km/h in 5.1 seconds.
Single-speed reduction gear
The highly efficient nature of an electric motor - which produces its torque peak across almost the entire rpm range - means IONIQ 6 does not require a conventional gearbox.
Instead, it uses a high-efficiency, low-noise, single-speed reduction gear that reduces the rotation speed of the electric motor to better match road speeds and optimise efficiency.
The AWD powertrain's front motor also delivers drive via a single-speed reduction gear.
Disconnector Actuator System
IONIQ 6's HTRAC AWD system uses a Disconnector Actuator System (DAS) on the front axle to automatically engage and disengage drive to the front wheels as required.
By disengaging drive to the front wheels, DAS reduces drag losses of the front motor and reduction gear to improve electric efficiency.
When engaged in AWD mode, IONIQ 6's HTRAC system helps it overcome wheel slip in wet, icy and muddy conditions, enhancing stability and driving safety.
Smart Regenerative Braking 2.0
IONIQ 6's steering wheel-mounted paddle shifters adjust the level of regenerative braking (and rate of deceleration), so the driver can minimise the use of the brake pedal and maximise driving efficiency.
Additionally, in auto mode, IONIQ 6's Smart Regenerative Braking 2.0 optimises coasting efficiency by automatically adjusting the amount of regenerative braking in three stages - Strong, Medium or Soft - based on the speed of the vehicle ahead, following distance, and navigation map road sign data such as the position of speed limits.
i-Pedal
IONIQ 6's i-Pedal regenerative braking mode enables a single-pedal driving strategy that allows acceleration, deceleration and stopping of the vehicle using only the accelerator.
Vehicle To Load (V2L) - Outside
A V2L - outside feature uses the vehicle battery to provide an external power source, which can be used to charge electric devices such as electric bicycles, scooters or camping equipment, making IONIQ 6 a charger on wheels.
The V2L function can also provide Vehicle To Vehicle (V2V) charging functionality via the portable emergency charging cable (ICCB), to charge another electric vehicle.
The V2L function is available after connecting the supplied V2L adapter to the charging outlet and has a maximum output of 250V, 3.6 kW, 15A.
Vehicle To Load (V2L) - Inside
V2L - Inside feature lets occupants plug into the vehicle battery from the convenience of the IONIQ 6 cabin, via an internal power outlet beneath the rear seats, so they can charge or power any electric device or appliance while on the move.
The V2L function has a maximum output of 250V / 15A, or 3.6 kW.
Drive Modes
A Drive Mode function lets the driver select from Normal, Eco, Sport and Custom modes.
Custom mode in IONIQ 6 can be mapped to either Snow mode or a new My Drive Mode featuring user selectable power output, acceleration sensitivity, steering feeling and, for all wheel drive models, power distribution.
Braking system & brake modes
IONIQ 6 features an Electric Booster (IEB) which combines a traditional vacuum assisted brake booster, hydraulic master cylinder, ESC unit and brake lines in a single, compact hydro-electric unit.
The unit allows for an adjustable Brake Mode system offering Normal and Sport settings. Normal mode provides braking response optimised for comfortable daily driving, while Sport mode offers a sporty braking response optimised for dynamic driving conditions.
CHARGING

Ultra-fast DC charging
IONIQ 6's E-GMP architecture can support both 400V and 800V charging infrastructures, to enable segment-leading rapid charging.
The platform offers 800V (e.g. 350kW) charging capability as standard, along with 400V (50kW) charging, without the need for additional components or adapters.
The multi-charging system is a world-first patented technology that operates the motor and inverter to boost 400V to 800V for stable charging compatibility.
Connected to a 350kW DC fast charging station IONIQ 6 can be recharged from 10 percent to 80 percent in as little as 18 minutes.
When connected to a 50kW fast charging station, IONIQ 6 takes 73min to recharge (10 to 80%) - that's a lunch break on a road trip.
AC charging
With a maximum charging capacity of 10.5 kW IONIQ 6's onboard AC charger can recharge the high-voltage battery in 11 hours 45 minutes (10 to 100% @ 7kW) when connected to a charging station or wall-box of equal or higher capacity.
This means IONIQ 6 can be recharged overnight, ready with 100 percent battery in the morning.
Portable charging
IONIQ 6 is equipped with an In-Cable Control Box (ICCB) portable charger for use in emergency situations, where there are no charging stations available nearby. This allows the vehicle to be charged in an emergency situation via a standard household 240V AC power outlet.
A full charge using the portable charger takes approximately 34 hours 20 minutes at maximum capacity.
Battery conditioning system
A battery conditioning system features for IONIQ 6 EPIQ, which can activate in cold climate conditions to heat the battery for improved DC charging and driving performance.
The system can also pre-heat the battery in preparation for fast charging when a DC charger is set as a destination in the navigation.
Scheduled Charging, Next Departure & Target Temperature functions
A Scheduled Charging time function built into IONIQ 6's on-board charger (OBC) lets customers capture off-peak electricity rates.
A Next Departure function schedules charging with the aim of achieving a full charge before the next trip.
And a Target Temperature function sets the climate control temperature in readiness for the next scheduled departure.
Voice notification of charging status
IONIQ 6 can provide voice notification of the battery charging status, for improved user convenience, via the VESS speaker.
On initiating charging, the vehicle will announce 'Charging started', and on initiating scheduled charging, 'Charging scheduled' will be announced.
Combined Charging System (CCS) Combo2 charging connector
IONIQ 6 uses a CCS Combo2 (IEC 62196-3 Configuration FF) connector for DC charging from external power sources.
For AC charging, the CCS Combo2 connector on the vehicle is also compatible with a standard Type 2 (IEC 62196-2) plug.
This ensures IONIQ 6 is compatible with current and future charging infrastructure in line with Hyundai's commitment, as a Federal Chamber of Automotive Industries (FCAI) member, to supply vehicles compatible with either IEC 62196-3 Configuration AA (CHAdeMO) or Configuration FF (CCS Combo2) AC charging standards.
SAFETY
IONIQ 6 cocoons occupants in a strong monocoque comprising reinforced front, side and rear structures and featuring the extensive use of hot-stamped high-tensile strength steel.
Occupants in IONIQ 6 are protected with the safety of seven airbags. The comprehensive airbag suite includes dual front airbags (driver & passenger), front side (thorax & pelvis) airbags, full-length side curtain airbags, and a front centre side airbag.
Hyundai's pioneering front centre side airbag prevents or reduces injuries caused by collisions between the front occupants, or between front occupants and interior components, in the event of a side impact collision.
The strong, energy-absorbing structure, seven airbags, and an extensive suite of Hyundai SmartSenseTM technologies contribute to IONIQ 6's ANCAP maximum 5 star safety rating.
SMARTSENSE™ SAFETY
IONIQ 6 is equipped with the full suite of Hyundai SmartSenseTM technologies, including a newly revised feature set with the capability for Remote Smart Parking Assist, and the standard application of Forward, Side and Reverse Parking Collision-avoidance Assist.
Forward Collision-Avoidance Assist (FCA)
Forward Collision-Avoidance Assist (FCA) monitors for vehicles, pedestrians or cyclists that pose a potential collision risk and alerts the driver with a chime and a warning in the instrument cluster.
The system uses the front radar sensor and windscreen-mounted camera and can provide warnings when IONIQ 6 is travelling at more than 10km/h, up to 85km/h for pedestrian and cyclist detection, or 200km/h for vehicle detection.
In addition, FCA can automatically apply IONIQ 6's brakes as a collision avoidance or mitigation manoeuvre when no driver intervention is detected after a FCA system warning.
When activated, the system will attempt to bring the IONIQ 6 to a stop from speeds from 10 to 65km/h when a pedestrian or cyclist is detected, or up to 75km/h when a vehicle is detected.
In addition, the system will provide partial braking at speeds up to 200km/h when a vehicle is detected.
The system can apply Evasive Steering Assistance at speeds between 10 and 200km/h for stationary car, and 10 and 130km/h for a moving car.
Junction Turning (FCA-JT)
The FCA-JT function helps avoids a collision with an oncoming vehicle in an adjacent lane when IONIQ 6 is turning right at an intersection with the indicator on. FCA-JT is active while driving at 10 to 30km/h, and detects oncoming vehicles driving at 30 to 70km/h.
Junction Crossing (FCA-JC)
The FCA-JC function helps avoid a collision with an approaching vehicle from the left or right side when crossing an intersection, using front corner radar detection.
FCA-JC is active when driving at 10 to 55km/h, and will alert the driver when it detects a crossing vehicle driving at 10 to 60km/h, or apply emergency braking when it detects a crossing vehicle driving at 10 to 40km/h.
Direct Oncoming (FCA-DO)
The FCA-DO function mitigates collision damage with oncoming traffic that has crossed into the vehicle's lane. The system operates at vehicle speeds of 10-130km/h and can detect oncoming traffic travelling at 10km/h and above, to a maximum relative speed of 140km/h.
Lane-Change Oncoming (FCA-LO)
The FCA-LO function helps avoid a collision with an oncoming vehicle in an adjacent lane by providing steering assistance. FCA-LO is active while driving at 40 to 145km/h, and detects oncoming vehicles driving at 10km/h and above, to a maximum relative speed of 200km/h.
Lane-Change-Side (FCA-LS)
The FCA-LS function helps avoid a collision with the vehicle ahead or the vehicle alongside in the adjacent lane when changing lanes, by providing steering assistance.
FCA-LS is active while driving at 40 to 145km/h, and detects surrounding vehicles provided vehicles in the adjacent lane are not stationary.
Evasive Steering Assist (ESA)
Completing the comprehensive functionality of IONIQ 6's Forward Collision-Avoidance Assist (FCA) system is an Evasive Steering Assist (ESA) function.
Evasive Steering Assist helps avoid a collision with a pedestrian or cyclist ahead in the same lane by automatically assisting the driver's steering, when there is space in the driving lane to avoid the collision. This function is active at speeds between 65 and 75km/h.
Blind-Spot Collision-Avoidance Assist (BCA)
Blind-Spot Collision-Avoidance Assist (BCA) helps avoid a collision with a vehicle in IONIQ 6's blind-spot zone when changing lanes. If a collision risk is present when an indicator is operated to change lanes BCA will issue a warning. After the warning, if the risk of collision increases, BCA will automatically control the vehicle to help avoid a collision. BCA is active at speeds of 40 to 145km/h.
Parallel Exit
A Parallel Exit BCA sub-function will automatically apply emergency braking if a collision risk is present in a blind-spot when exiting a parallel parking spot.
The function is operational at vehicle speeds up to 3km/h and can detect approaching traffic travelling at 5km/h and above.
A Safe Exit Warning (SEW) System in KONA N can warn occupants to prevent them exiting the vehicle when it is unsafe to do so.
Safe Exit Warning (SEW)
SEW utilises the blind-spot safety systems to monitor traffic around IONIQ 6. If a door is opened while an approaching vehicle is detected, the system will issue an audible alert and display a cluster message to use caution when opening the door and stepping out of the vehicle.
The system operates at vehicle speeds below 3km/h, and can detect approaching vehicles travelling at speeds above 6km/h.
Rear Cross-Traffic Collision Avoidance Assist (RCCA)
IONIQ 6's Rear Cross-Traffic Collision-Avoidance Assist (RCCA) system actively mitigates potential collisions when reversing into the path of traffic. If a potential risk is detected, the system will issue audible and visual driver alerts.
In the event the driver does not respond to a warning, the system can bring IONIQ 6 to a stop as a preventative measure.
RCCA operates when in reverse at speeds from 0 to 8km/h, and can detect approaching vehicles travelling at more than 5km/h.
Blind-Spot View Monitor (BVM)
The Blind-Spot View Monitor (BVM) projects an image of IONIQ 6's blind-spot zone on the 12.3-inch digital instrument cluster display whenever a turn signal is operated, using cameras mounted in the exterior mirrors.
BVM assists in carrying out safer lane changes, by increasing the driver's field of vision compared with conventional mirrors.
Driver Attention Warning (DAW)
The Driver Attention Warning (DAW) system monitors for the signs of fatigued driving to prompt the driver to take a break when needed.
The system uses the windscreen-mounted camera to continually monitor the vehicle's position within the lane, while also tracking steering inputs, brake pedal inputs, and time since last break.
When the system registers signs of tired driving, such as sudden steering or braking inputs or an inability to stay within a lane, the 'Attention Level' cluster display will continually decrease. Should the level decrease to a certain threshold, the DAW system will recommend that the driver takes a break.
The system also features Leading Vehicle Departure Alert, which monitors the vehicle ahead when stopped in traffic. If the vehicle ahead drives off, and the IONIQ 6 driver fails to accelerate away, the system will sound a chime to alert the potentially inattentive driver. The system operates at speeds above 40km/h to adjust the headlamp range on detection of a vehicle, switching automatically between high and low beam.
Remote Smart Parking Assist (RSPA)
IONIQ 6 features parking assistance systems enhanced with line marking recognition, improved maneuver calculation logic, and the addition of diagonal parking assist. A user can summon Smart Parking Assistance by long holding the parking view button, or by activating Remote Smart Parking Assist via the Smart Key.
When pulling into perpendicular or parallel parking spaces, or out of tight parallel parking spaces, the SPA system enables automated steering, vehicle speed and shift control. RSPA brings the additional functionality of remote control of parking manoeuvres using IONIQ 6's Smart Key.
Intelligent Speed Limit Assist (ISLA)
The Intelligent Speed Limit Assist system uses navigation system data as well as reading road traffic signs using the windscreen-mounted camera to display the speed limit of the current road to the driver.
The system can also detect stop, roundabout, curve and school zone signs.
As well as helping the driver to stay within the speed limit during non-cruise control driving the system will prompt the driver to change set speed of the Manual Speed Limit Assist or Smart Cruise Control when these systems are engaged, operating at speeds between 5 and 140 km/h.
If the speed limit of the road changes during the operation of Manual Speed Limit Assist or Smart Cruise Control, an up or down arrow is displayed to inform the driver that the set speed needs to be changed. At this time, the driver can change the set speed according to the speed limit by using the plus and minus buttons on the steering wheel.
Lane Keeping Assist (LKA)
The Lane Keeping Assist function will warn the driver if the vehicle strays from the intended lane without the indicators being activated, using audible and visual alerts and a haptic (steering vibration) prompt.
The system uses the windscreen-mounted camera to detect lane markings and monitor the vehicle's position, and operates at speeds of 60 to 200km/h.
If the driver does not respond with corrective steering input, the system will apply a counter-steering torque to attempt to prevent IONIQ 6 from moving out of the lane.
Lane Following Assist (LFA)
Lane Following Assist (LFA) uses the front-mounted camera to monitor vehicles ahead and establish the centerline of the lane, to provide steering assistance to help keep IONIQ 6 in the centre of the lane. When activated, LFA is operational up to 180km/h.
In addition, the system will provide a safety alert if it detects that the driver is not holding the steering wheel.
Smart Cruise Control (SCC)
IONIQ 6's Smart Cruise Control (SCC) system automatically maintains a safe following distance during cruise control driving, and is operational at speeds up to 180km/h where a vehicle is detected in front, or from 10 to 180km/h where no vehicle is detected.
The Stop & Go function works in stop/start traffic, bringing IONIQ 6 to a complete stop when appropriate, and automatically accelerating it back to the set speed.
If the vehicle is stationary for more than three seconds, SCC will prompt the driver to continue the SCC conditions via the steering wheel pause/resume or plus/minus switch or by depressing the accelerator pedal.
Distance to the vehicle ahead can be conveniently adjusted in four stages using the vehicle distance button on the steering wheel.
Additionally, if the driver prefers, the SCC function can be changed from Drive Mode-based SCC to the driving style-based Machine Learning function by pressing and holding the vehicle distance steering wheel button.
The Machine Learning function combines Artificial Intelligence (AI) and the SCC function in a system that learns the driver's patterns and habits such as typical following distance, acceleration and reaction speeds, to tailor the SCC experience to the driver's preference.
Finally, an Overtaking Acceleration Assist function assists with rapid SCC acceleration to enable efficient overtaking manoeuvres. This function is engaged when the right indicators are activated during SCC driving, above 60km/h with a vehicle detected in front.
3D Surround View Monitor (SVM)
IONIQ 6's Surround View Monitor (SVM) system lets the driver see a full 3D 360-degree view of the vehicle and any obstacles surrounding it.
The high-definition display provides superb accuracy via variable camera guide-lines linked to steering angle, and through automatic view calibration of the image while driving.
In addition to the 3D view function, the SVM also allows the driver to select viewing modes such as a Car Wash entering mode, a top-view mode with guide-lines, and Driving Rear-View Mode, each designed to maximise driver confidence and convenience while parking.
Intelligent Front-Lighting System (IFS)
IONIQ 6's Intelligent Front-lighting System allows the continuous use of the high beam headlights without risk of dazzling the occupants of vehicles ahead.
By using headlights comprising multiple LEDs with individual electronic control, sections of the headlight can be selectively dimmed (or turned up) as required.
Parking Collision-Avoidance Assist (PCA)
Parking Collision-Avoidance-Assist helps prevent low-speed collisions with pedestrians or obstacles when driving at up to 10km/h.
PCA uses a high-definition camera and ultrasonic sensors to detect pedestrians or obstacles - with forward, side and rear collision avoidance.
If a potential collision is detected, the system will give the driver visual and audible alerts, and assist with braking if necessary to help prevent the collision.
Rear Occupant Alert (ROA)
The Rear Occupant Alert (ROA) system aims to prevent the unintentional locking in or leaving behind of children or pets in IONIQ 6.
The system uses a sensor integrated in the rear headlining and will provide an initial alert when IONIQ 6 is powered off, in the form of a cluster warning and a chime.
If the doors are locked and motion is subsequently detected inside IONIQ 6, the horn and hazard lights will be activated, with a detection period up to 10 minutes after the locking of the doors.
MULTIMEDIA & TECHNOLOGY
Electric vehicle user interface
IONIQ 6 features a dedicated Graphic User Interface (GUI) for the integrated instrument cluster and multimedia displays. Presented with a 'Jong-e' theme - which means 'paper' in Korean - it offers a range of interior ambience settings, matched with parametric pixel design elements that complement IONIQ 6's unique aesthetic.
12.3-inch cluster display
A high-definition, unshrouded instrument cluster display in IONIQ 6 presents a range of trip computer information including a digital speedometer, a power/charge gauge, battery state of charge gauge, energy flow/driving force distribution display and remaining range. It also displays system status and visual alerts from SmartSenseTM and other safety systems.
In addition, Sport Mode activates a torque gauge showing the output of the motor(s).
The instrument cluster can also display turn-by-turn satellite navigation directions.
12.3-inch multimedia system
The infotainment screen in IONIQ 6 provides a clear presentation of multimedia, climate control and electric vehicle information.
In addition, the system includes the following functionalities:
Digital radio, Apple CarPlay & Android Auto
Hyundai Bluelink services
Bluetooth multi-connection & USB multimedia input
Satellite Navigation with live traffic updates
Quiet mode, Valet mode, light/dark theme, blue-light settings
User Profile selection with Bluelink account linking
EV functions display including:
Charging limits, current & scheduling
Next departure climate & charging settings
Utility mode & V2L settings
BOSE™ 8-speaker premium audio system
IONIQ 6 features a high-performance premium audio system optimally tuned by BOSE™ engineers to suit the model's unique cabin acoustics.
The result is a system that delivers a rich and spacious acoustic experience through an external power amplifier, eight precisely engineered speakers and a subwoofer.
Wireless charging pad
A 15W high-speed wireless charger is located in IONIQ 6's centre console. For added convenience, it features a pop-up reminder in the cluster that informs the driver if a device has been inadvertently left on the charging pad when the vehicle is turned off.
SUSTAINABILITY
IONIQ 6 reimagines the selection of interior and exterior materials as part of Hyundai Motor's global ambition to be carbon neutral in products and operations by 2045.
This extends to the innovative application of recycled and environmentally sustainable materials throughout the living space and around the exterior, each developed with a view to future application across the Hyundai range.
Eco-processed leather = seat coverings
An eco-friendly dyeing process uses just 100g of flaxseed extract, which dramatically reduces the wastewater produced in the leather manufacturing process, and leaves only biodegradable residual oils.
Bio thermoplastic polyolefin - dashboard skin
IONIQ 6's bio-plastic dashboard skin is manufactured using bio-ethanol produced from sugarcane waste. This results in a 3.8kg reduction in CO2 emissions per vehicle compared with conventional processing and materials.
Bio PET fabric - headlining
Sugarcane extracts along with bio-ingredients are blended to produce 25 percent of the yarn used in the headlining of IONIQ 6. By supplementing traditional materials with a more sustainable alternative the amount of CO2 created is incrementally reduced.
Bio paints
Paints for IONIQ 6's door cards and inserts use natural plant extracted oils. Approximately 10 percent of the paint is a bio-material, which brings in a 310g reduction in CO2 emissions per vehicle.
Recycled fishing net - carpets
Nylon fabric from ocean waste such as discarded fishing nets is repurposed to form approximately 20 percent of the yarn in the carpets of IONIQ 6. Compared with using conventional materials, this yields reduction in CO2 emissions of 66 percent.
Recycled tyre paint pigment
Black carbon pigment extracted from used tyres is used to ink the black and silver cladding on the exterior of IONIQ 6. Approximately 35 percent of the paint is made up of this recycled pigment, and 3kg of this paint used for each car, which amounts to a 40g per vehicle reduction in CO2 emissions.
Black pigment for Digital Green
Charcoal generated from bamboo is used to pigment the Digital Green colour exclusive to IONIQ 6. Bamboo, being fast-growing and plentiful, is an ideal material to utilise, because it sequesters a large amount of CO2.
HYUNDAI BLUELINK®
IONIQ 6 features Bluelink® connected car services, which are complimentary for the first 5-years of new vehicle ownership, and can be transferred to subsequent owners within this period.
Bluelink® brings countless EV-specific features in IONIQ 6, in addition to an already comprehensive list of functionalities.
These include the ability to remotely pre-set the cabin to just the right temperature or manage everything related to battery charging.
BLUELINK® EV SPECIFIC FEATURES
Set schedule
The Bluelink® app provides access to, and control of, the charging schedule and climate control of a user's Hyundai EV, to ensure their car is fully charged when it's time to go.
Next departure time
Users can pre-set their charging schedule based on their departure time. Users can select two departures per day as well as set recurring departure times throughout the week. Charging will automatically stop at these times.
Charging schedule
The app lets users prioritise charging their vehicles during off peak times. Users can select the time they wish to commence and end charging. The charging end time can be set to when off-peak time ends, or when charging is complete.
Scheduled climate control
Bluelink® allows EV users to schedule their vehicle's climate control system to pre-condition the cabin temperature for a certain time and day - so their Hyundai will automatically activate the heater or air-conditioner ready for an upcoming drive.
DC/AC Charging limits
Bluelink® lets users take total control of charging their electric Hyundai. They can choose to use the default settings or set their own limits for fast and overall charging.
Energy consumption
Users can monitor their energy consumption via the Bluelink® app within EV Services. They can look at distribution of power consumption across driving, electronic devices, climate control and battery care.
Charging alarm
Users can set an alarm in Bluelink® to receive notifications informing them when charging will be complete 30, 20 and/or 10 minutes prior to completion.
Climate control, charging & charging port
Bluelink® users can start and stop climate control and charging as well as open and close charging port at the touch of a button in the app.
Distance-to-empty (DTE)1
Bluelink® lets users check remaining range before the drive and, if needed, they can top-up the charge in advance.
Charging status
Gives users a quick summary of the charging status of the vehicle. It will display if the charger is not plugged in, plugged in but not charging, charging or if it is reserved to charge at a later time. It also shows the percentage of battery level and if there are any scheduling charging or climate control services selected.
Charging stations
Finding EV charging stations has never been easier. Users can search for EV charging stations nearby or around the area they will be travelling to2. They can then send the address to the car and set the destination.
Drivable distance radius1
A handy Bluelink® app tool that shows the drivable distance radius on a map for 80 percent and 100 percent of the current battery charge level.
1. Estimate only, and subject to vehicle battery condition, environmental factors and driving style.
2. Hyundai does not warrant the accuracy or currency of the information provided via this function.
BLUELINK® FULL FEATURE LIST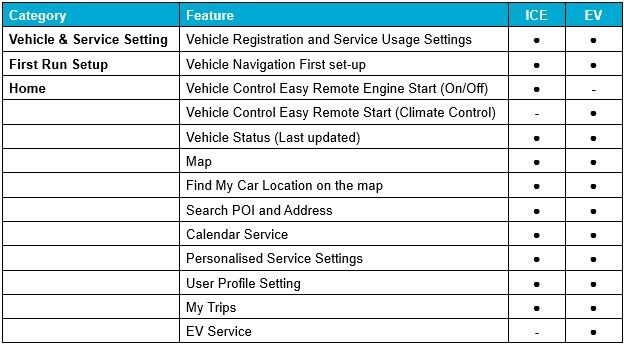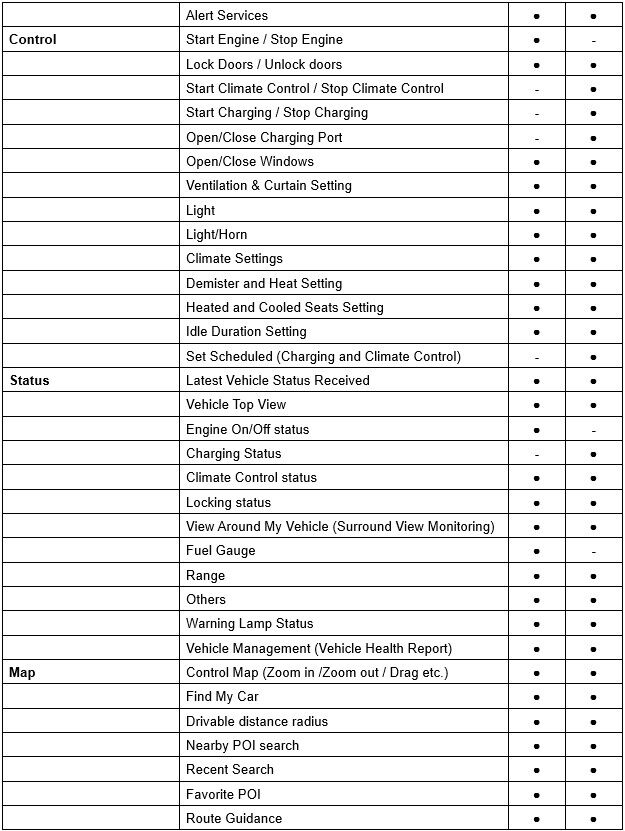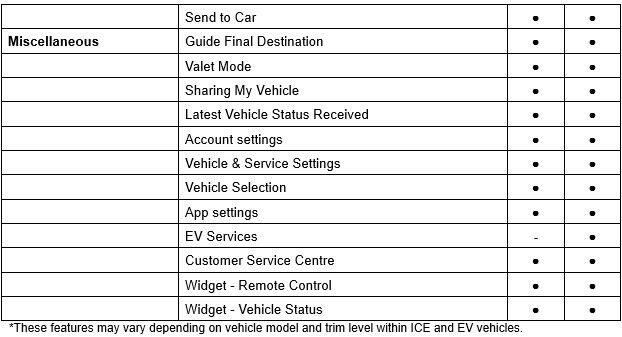 OVER-THE-AIR UPDATES
The arrival of IONIQ 6 also marks the debut of Hyundai's Over-The-Air (OTA) technology for system software updates, making it the most-connected Hyundai ever.
With Hyundai's Over-The-Air technology, vehicle software can now be kept up to date without leaving home.
OTA lets users complete system software and navigation updates without manually loading updates. Instead, they can simply follow the on-screen prompts.
The technology means that critical system software for safety, braking, performance and driver assist systems can be maintained remotely, without the need to visit a workshop.
DIRECT TO CONSUMER SALES MODEL
Like IONIQ 5, IONIQ 6 will be offered and sold exclusively online directly to customers.
The network of IONIQ delivery agents has been expanded to allow for a flexible and positive experience for every Hyundai customer. This means customers in regional areas can purchase and take delivery of IONIQ 6 within their state.
Online sales process
IONIQ 6 is available for order now via the Hyundai website (hyundai.com/au).
Customers can configure, build, and place orders for IONIQ 6, as well as selecting from a range of Hyundai Genuine Accessories and products such as adaptors and home chargers.
When a customer has created their desired configuration, they will secure their order with a $2,000 holding deposit, up until the initial vehicle allocation is exhausted.
Should the initial allocation be exhausted, the customer will instead be directed to register their interest. HMCA will then remain in close contact with each interested customer to advise of dates of future IONIQ 6 allocations.
For customers who have successfully placed orders, HMCA will provide updates on delivery timings and the steps towards vehicle handover.
Delivery Partners
Future owners will be able to choose their preferred IONIQ 6 delivery partner within their home state, based on their location. There are 24 IONIQ dealerships across the country, including a new Northern Territory location, each carefully selected by HMCA.
HMCA will continue to monitor market demand for EVs across the various locations, to continually assess whether the geographical reach of the IONIQ Delivery Partner network meets the needs of customers.
KEY DIMENSIONS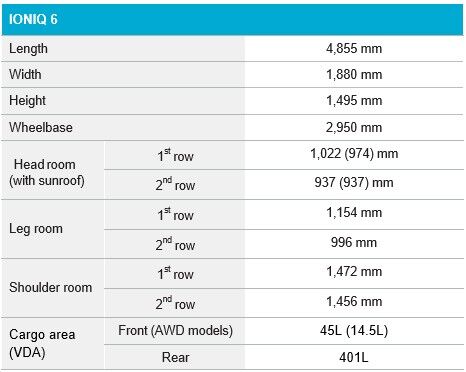 PRICING AND AFTERSALES
Aftersales support and servicing will be provided by more than 80 Hyundai Blue Drive dealerships across Australia, to ensure optimal convenience for customers throughout their ownership experience.
Pricing

Lifetime Service Plan pricing

Hyundai iCare - Imagine a Lifetime of Care
iCare is our commitment to Hyundai owners, making sure their car ownership is as enjoyable, easy and extensive as imaginable. Expert service and support are provided with Hyundai's Lifetime Service Plan so customers can enjoy exclusive service pricing with no hidden fees, and Premium Roadside Support Plan and Sat Nav Update Plan while the vehicle is serviced by Hyundai. Plus, a suite of other owner benefits like, access to myHyundai, an online portal designed to help Hyundai owners get to know their new car and access special offers, and the support of our dedicated customer care experts, always on hand to help with any questions or issues that customers may have. All that and the reassurance of Hyundai's 5 Year Unlimited km vehicle warranty and 8 Year 160,000km high-voltage battery warranty providing customers with the care they need, when they need it.
KEY SPECIFICATIONS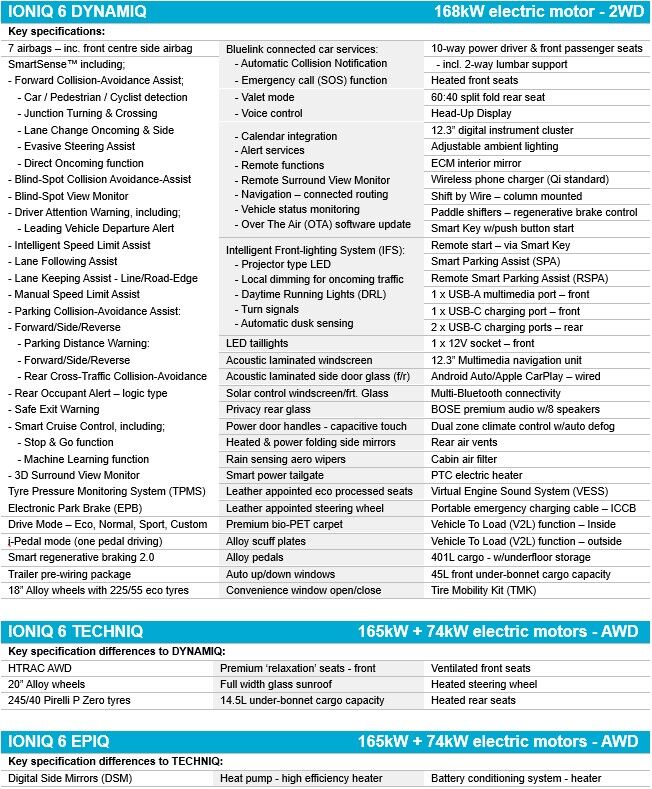 Ready to take the next step?