It has never been easier to charge your Hyundai on the go.
Charge myHyundai is a comprehensive and easy-to-use public charging solution that gives you access to one of the largest public charging networks in the UK with over 38,000 chargers and for your business and holiday trips, to mainland Europe, over 500,000 chargers are available on Charge myHyundai.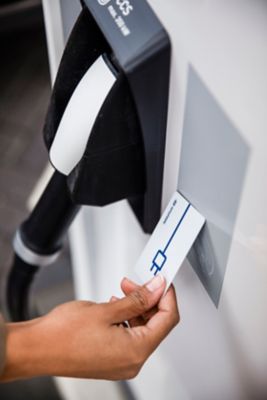 1 App. 1 Card. 1 Invoice. More than 500,000 Charge Points.
Access to more than 500,000 public charging stations in 30 European countries
Cross border charging with one single contract through e-roaming
All charging sessions & invoices available in the Charge myHyundai web portal & app
Attractive charging tariff to fit your needs.
Charge myHyundai offers a Flex tariff that fits varied driving needs - designed to make charging convenient, efficient and simple, offering easy payment and a single, straightforward monthly bill. Find out more below.
With Charge myHyundai travel stress free, find a charger anywhere.
For the best Charge myHyundai experience, download the Charge myHyundai app which is available for iOS and Android. With the app, you can search for charge points, apply various filter options (such as plug type, charging speed, access type etc.) and get real-time updates on charging fees and availability. The Charge myHyundai app also comes with a navigation function, where you can select your stops for charging and send to the navigation system of your choice, Apple Maps, Google Maps or Waze.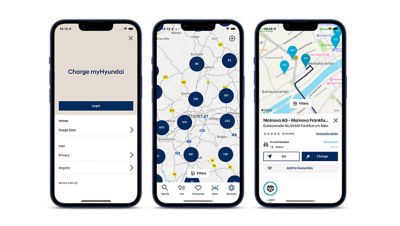 Plug & Charge
Less hassle. More convenience.
Just plug and charge – no app or charging card is needed to initiate charging sessions. The authentication to initiate a charging session at a public charge point will take place directly between the vehicle and the compatible charge points – saving you time and hassle. 
 How can I get it for my IONIQ 6?
To use the Plug & Charge functionality, a Charge myHyundai account is required.
Create Charge myHyundai Account.

1. Access Charge myHyundai via the web portal.

2. Register your Hyundai vehicle details by adding a contract.

3. Input your data.

4. Select payment method.

5. Order your charging card and select your starting date.
Your Provisioning Certificate ID (PCID).

1. Step in your Hyundai vehicle, power on the infotainment system and navigate to the main menu.

2. Select the EV menu icon.

3. Go to "Settings"

4. Select "Plug & Charge"

5. Enter the PCID into Charge myHyundai.
Enable in Charge myHyundai.

1. Login to Charge myHyundai.

2. Navigate to Contracts.

3. Enable Plug & Charge in the service section.

4. Enter PCID.

6. Activation may take up to 24h.
&Charge
Cooperation.
Hyundai customers will be able to earn bonus points in the form of "&ChargeKilometers" - EV charging credits in the &Charge app - by providing feedback on charging stations and the charging experience. Those points can then be redeemed for vouchers that can be used for free public charging in the Charge myHyundai app. Additionally, this collected feedback will improve the overall quality of the EV charging infrastructure.
The &Charge Program.

With the &Charge bonus program collect valuable &Charge kilometres when charging publicly, during the charging break or when shopping online. You can use those to pay less for your public charging sessions in Charge myHyundai. 2
Collect kilometres online.

Collect kilometres online. Click through &Charge to the online shop of your choice before making your purchase. For each purchase, you can earn &Charge kilometres. 2
Do challenges in app.

Complete information on public charging stations, and report problems at the charging location. Take part in the participate in various activities - the &Charge "Challenges" to earn extra rewards.
Redeem kilometres.
Each &Charge kilometres earned can be redeemed for charging vouchers for Charge myHyundai. 2
*Maximum range according to WLTP combined cycle. Specification dependent. Actual range will vary depending on factors including road conditions, outdoor temperature, driving style, use of climate control and battery condition.
**350KW ultra-fast charger required for quickest charge times - chargers are currently available on selected arterial routes – see Charge myHyundai map for details. Not currently available in Northern Ireland.
Hyundai test data for comparison purposes. Actual time will vary and is dependent on several factors including battery temperature, condition and age, ambient temperature and the power provided by the charger. Charge time increases in cold weather and if battery temperature activates safeguarding technology.
In optimal conditions, the latest IONIQ 5 is capable of accepting power at up to 240KW and IONIQ 6 at 220KW.
Frequently asked questions about Plug & Charge.
Plug & Charge is a new way to charge your car where authorisation is done automatically by connecting the cable with your vehicle. Authorization via charging card or app is no longer needed. If Plug & Charge is available for your vehicle and activated, simply plug the cable of a Plug & Charge capable charging station to your vehicle and the charging session starts automatically.
How do I know my vehicle is able to charge via Plug & Charge?
Plug & Charge is not available for every vehicle. Please check the manual of your vehicle if it is capable for Plug & Charge or contact your Hyundai retailer in any case of doubt.
Is Plug & Charge for free?
Plug & Charge is currently free of charge and therefore no additional costs other than the actual charging fees will occur for using this service.
Can I charge my Plug & Charge capable vehicle at every charging station?
No, charging via Plug & Charge is only possible at charging stations that support this functionality. You can filter for charging stations capable for Plug & Charge authorisation within the filter section in the Charge myHyundai map at "Access".
How can I stop my charging process at the charging station?
There are 2 options:
1. When available, please press the "STOP" button on the charging station. This is located either on the display of the charging station or to the right of the display of the charging station.
Please note, stopping the charging process may take up to a few minutes. After the charge is finished, the connector will automatically unlock and you can place it back into its position at the station.
2. Release the connector through the manufacturer's instructions, e.g. via the car key or by pressing the release button on the charging port.
Why is Plug & Charge not working – even though my vehicle and the charging station are Plug & Charge capable?
Please check the Plug & Charge status in the contract section of your account on the Charge myHyundai website. The status must be "Enabled" and the Plug & Charge service needs to be installed in your vehicle. If you are still not able to charge via Plug & Charge, please contact your Hyundai dealership.
What do I need to consider when selling my vehicle in regards to Plug & Charge?
Please delete your Charge myHyundai contract that you have used to activate Plug & Charge for your vehicle.