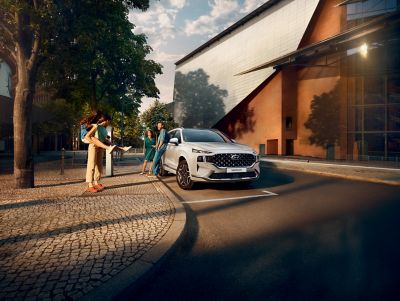 Welcome to Hyundai Affinity
Getting behind the wheel of a Hyundai has never been easier. And as an Affinity customer, you have the added benefit of driving away in one for less.
Affinity is a special scheme where we offer our great cars for less to employees of select organisations, their family members and retired employees receiving a pension.
Simply login below with your company's unique Affinity code and we'll show you all the cars and offers available to you.
Why not get started now and see what we have to offer?

Affinity is a special scheme where we offer our great cars for less to select organisations and their employees.
Simply login with your organisation's Affinity code and we'll show you the cars and the current offers which are available to you.

Once you've selected the model that's right for you, we'll let your local retailer know who'll then contact you to discuss it further
Check with your organisation to see if they're part of Affinity with Hyundai. If so, you'll need their Affinity code to login.
If you're not sure, or want more information on how to enroll, email our dedicated Affinity support team on 
affinity@hyundai-car.co.uk
The Affinity scheme is offered to employees of select corporate organisations or retired employees receiving a pension from an eligible company. Proof of employment will need to be supplied upon the purchase of a vehicle. The scheme is also extended to immediate family and step relations. There is no need to reside at the same address or have the same surname, but proof of relationship needs to be provided whether it be eg. marriage certificate, birth certificate, utility bill. along with a signed letter confirming the relationship from the Affinity partner who is entitled to the scheme.

Please note, the following relatives are eligible for the scheme: Wife/Husband or Partner, Mother/Mother in Law, Sister/Sister in Law, Daughter/ Daughter in Law, Son/Son in Law, Father/ Father in Law or Brother/Brother in Law. Step relations within this list are also permitted. No other relatives are eligible for this scheme.
Hyundai PCP
PCP is a highly flexible and popular plan that provides you with the option to change your car on a regular basis.
How does it work?
At the outset of the agreement we'll set a guaranteed future value for your car.
You pay a deposit and then make monthly repayments based on the outstanding loan balance less the guaranteed future value.
At the end of the monthly repayment period you'll have three options:
Retain: pay the guaranteed future value and the car is yours,
Return: hand back the car with nothing more to pay*,
Renew: as most of our customers do, part exchange the car and use any equity as a deposit on your next car.
Hyundai Conditional Sale
How does it work?
You pay a deposit then make regular monthly repayments to repay the balance, it's that simple.
As your interest rate is fixed you'll know exactly how much you'll repay at the outset of the agreement.
Only once all monthly repayments have been made will you own the car.