Electrify your drive.
Smooth, silent and the power of instant torque, electric vehicles are a pleasure to drive. They are typically also roomier on the inside than conventional cars due to the fact the centre tunnel for the transmission is not needed.
Driving Experience
Nobody said that electric mobility had to be boring.
Quick off the line thanks to instant torque delivered by the electric motor, electric vehicles (EVs) accelerate quickly and run quietly for a very dynamic driving experience. EVs are typically equipped with a single-speed reduction gear, so there's no more shifting. As a result, the ride is smooth, silent and the response is almost instantaneous.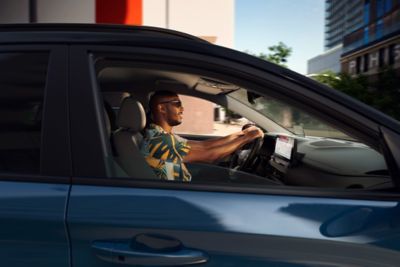 Space & Comfort
Enjoy more interior space and more comfort.
In general, fully electric vehicles have more interior space because lots of parts which are needed for a combustion engine are not required. For example, inside the IONIQ 5, our electric vehicle platform lets us re-create the interior as a whole new in-car experience. The flat floor allows front and back seats to be arranged in numerous ways to accommodate lunch breaks and road trips and anything else you'd like to do.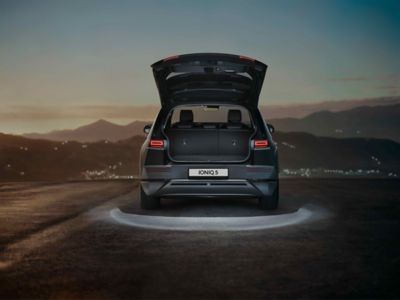 IONIQ 5 provides 527 litres of boot space, which increases up to 1,587 litres when the second-row seats are fully folded. On top of that, we took the space where the petrol engine would normally be located and made some extra space, for things like your charging cable. This second boot in the front provides up to 57 litres of additional cargo space putting IONIQ 5's total storage space at 1,644 litres max.
Sound & Noise
Quieter cabins for a relaxing driving experience.
Although powerful, electric vehicles drive very quietly thanks to the low noise levels emitted by an electric motor vs. an internal combustion engine. This results in a peaceful and relaxing driving experience.
Different frequencies. Less noise.

The noise produced by the electric powertrain and its gearbox is on higher frequencies than a traditional combustion engine. The higher frequencies can be blocked more efficiently with insulation so you can enjoy a quieter ride.
Tyre noise.

The noise from the road and the tyres will be very similar to the noise levels from a combustion engine car. However, tyres for electric vehicles are optimised for rolling and might therefore create a different noise level through different vibrations. But overall, noise levels emitted by electric vehicles are generally much lower.
Wind noise is a factor.

Since electric vehicles are optimised for driving range, their wind resistance is usually less than that of combustion engined cars. But wind noise still remains the dominant noise at high speed. Replacing the side mirrors with digital side cameras will result in a reduction in aerodynamic drag and noise.
E-Active Sound Design + BOSE inside the IONIQ 6.
The new sound of electric driving. Enjoy a more emotionally charged driving experience with e-Active Sound Design. This Hyundai first feature produces a virtual driving sound through dedicated controllers and the BOSE premium audio system for a more engaging driving experience. The optimum sound is tailored to the cabin considering variables such as speed, torque and the driver's acceleration.
Acceleration

Deceleration
Quieter roads - electric vehicles can help reduce noise.
Noise pollution in cities is a major health concern according to the World Health Organisation – and electric vehicles can play a substantial role in bringing down the noise. In addition to emitting zero tailpipe emissions, fully electric vehicles are also much quieter than their diesel and petrol cousins. 
Speed from 0 - 18 mph.

In general, at constant low speed electric vehicles are about 2-5 dB quieter than similar vehicles with internal combustion engines. If electric vehicles use warning sounds to improve the security of pedestrians, the difference is around 1 dB less. 
Speeds higher than 18 mph.

At higher speeds starting at about 18 mph, the noise difference between electric vehicles and combustion-engined vehicles decreases. This is because at higher speeds, wind noise as well as tyre and road noise become more dominant than engine noise.
Discover our electrified vehicles.
*Maximum range according to WLTP combined cycle. Specification dependent. Actual range will vary depending on factors including road conditions, outdoor temperature, driving style, use of climate control and battery condition.
**350KW ultra-fast charger required for quickest charge times - chargers are currently available on selected arterial routes – see Charge myHyundai map for details. Not currently available in Northern Ireland.
Hyundai test data for comparison purposes. Actual time will vary and is dependent on several factors including battery temperature, condition and age, ambient temperature and the power provided by the charger. Charge time increases in cold weather and if battery temperature activates safeguarding technology.
In optimal conditions, the latest IONIQ 5 is capable of accepting power at up to 240KW and IONIQ 6 at 220KW.