Introducing Hyundai Bluelink®.
The future at your fingertips.
Hyundai Bluelink® app and accompanying connected car services make it easy to stay connected, so owning a Hyundai is now more rewarding and convenient than ever
Hyundai Bluelink® brings smart mobility closer - the connected car is the next evolution of a super-connected lifestyle
Bluelink® lets users connect to their Hyundai from anywhere via their smartphone, making sure it's safe, healthy, prepped, and ready to go
Complimentary 5-year Hyundai Bluelink® subscription included with new vehicle purchase
Bluelink® is set to debut with the new 2023 Palisade, before gradually rolling out across the Hyundai model range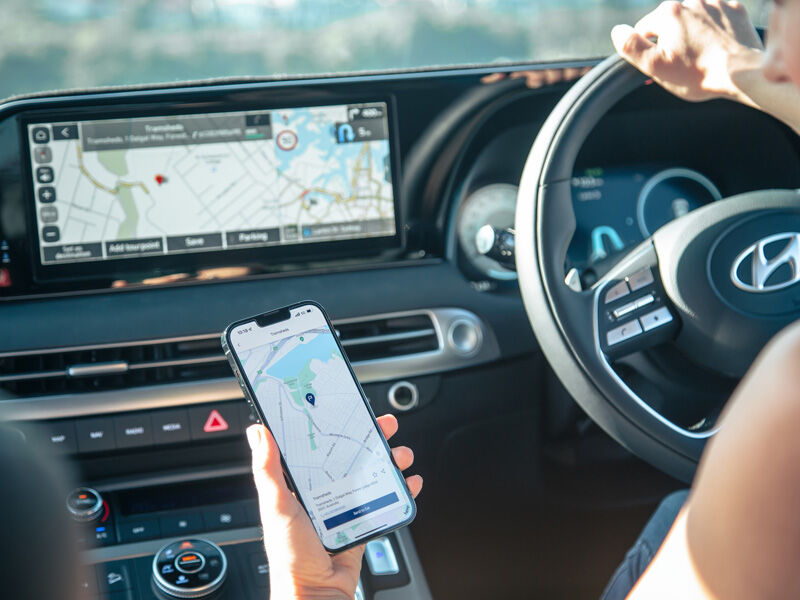 Introducing the Hyundai Bluelink® app and connected car services, which make it easy to stay connected to your Hyundai, for maximum safety, security, convenience and enjoyment.
The introduction of Bluelink® marks a step change on Hyundai's mission to create smart mobility solutions and a better future for everyone.
With Bluelink®, Hyundai vehicles are no longer just a means of transport. Now, they're mobile computers connected to wireless networks that provide the gateway to a super-connected intelligent lifestyle.
Bluelink® connected car services will debut in the new 2023 Palisade (Q3 2022), before gradually rolling out across the Hyundai model range.
Early connected cars barely let users call customer service - with Hyundai Bluelink®, now the connected car can navigate routes in real-time, automatically call for emergency assistance after a collision, remotely operate vehicle systems, and alert the user if it detects a problem.
The Hyundai Bluelink® app lets users find their car, or search for a destination, parking space, service station or restaurant on their smartphone, and then send the location straight to the in-car navigation system.
In the event of an accident that causes the airbags to deploy, the vehicle will automatically call for help, with emergency assistance also available by pressing the SOS button 24/7, 365 days a year.
Bluelink® also brings quick access to important data such as driving information records, as well as letting users keep an eye on key parts of their Hyundai including tyres, brakes, airbags and other safety and security features.
Last Mile Navigation lets users continue the in-car route guidance on their smartphone after parking, all the way to their desired destination.
Bluelink® also lets users set, check and back-up their vehicle preferences as well as transfer them to another Hyundai vehicle.
The connected service also brings the security and peace of mind of valet, geofencing and time fencing modes, as well as a speed alert.
The app lets users control an array of vehicle features remotely including door locks, climate control settings, even turning on heated and cooled seats.
EV models take this remote-control functionality even further, allowing users to schedule battery charging, as well as cabin heating and cooling.
Users can simply download the Bluelink® app and scan the in car QR code to have all this functionality at their fingertips.
"With the rollout of Hyundai Bluelink®, we are firmly on track to realise our goal of delivering the super-connected mobility solutions of the future," Hyundai Motor Company Australia Chief Executive Officer, Ted Lee said.
"Bluelink® makes owning a Hyundai safer, with the benefit of the Automatic Collision Notification and SOS functions, as well as more convenient and more rewarding.
"With Bluelink® now it's easier than ever for customers to stay connected to their Hyundai," he said.
Hyundai Bluelink®: Key Features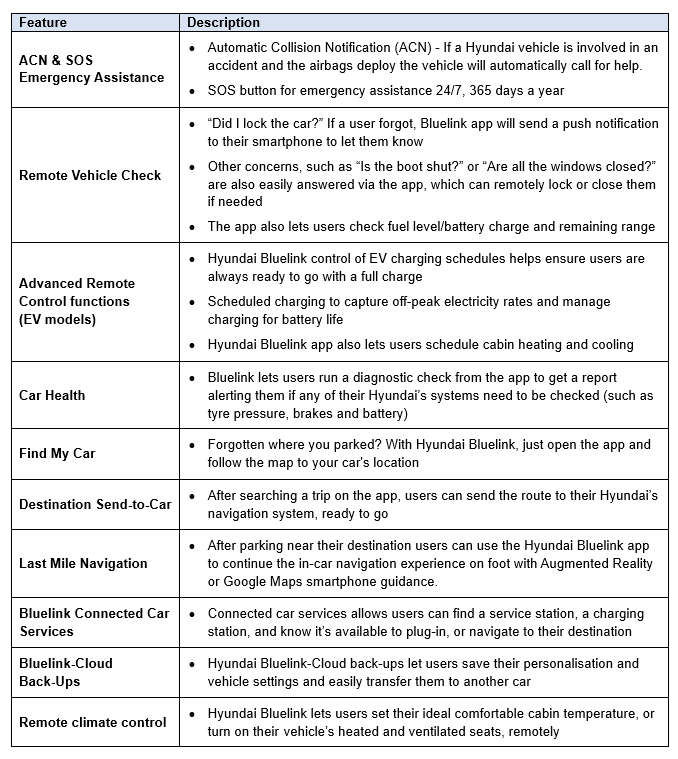 Hyundai Bluelink®: In Detail
MAIN FEATURES
Below is a list of key features included with Hyundai Bluelink® at launch:
Automatic Collision Notification (ACN) & SOS Emergency Assistance
In the event of an accident that causes the airbags to deploy, the vehicle will automatically call for help, saving precious time contacting emergency services, and doing so even when occupants are not able to make the call themselves.
Emergency assistance also available at the press of the SOS button, giving occupants the comfort and peace of mind of knowing help is available 24/7, 365 days a year.
Remote door lock & unlock
"Did I lock the car?" Bluelink® lets users know for sure. If a user forgets to lock their Hyundai, the app will let them know by sending a push notification to their smartphone. Then - or at any time - the user can lock (or unlock) their Hyundai using a button in the Bluelink® app, with PIN or biometric authentication. The remote function also extends to the opening and closing of windows.
Remote start
With Bluelink® users can start/stop or turn on/off (EV models) their Hyundai remotely.
Remote climate control with heated and ventilated seats
The Bluelink® app lets users set their ideal comfortable cabin temperature remotely from their smartphone, so they can always experience pleasant cabin conditions when getting into their car.
Likewise, users can remotely turn on their vehicle's heated and ventilated seats - very handy for those hot summer days or cold winter mornings.
Defrost and heat setting
Particularly useful in cold climates is Bluelink®s ability to remotely defrost the user's vehicle windscreen and rear window.
Remote Surround View
Want to keep an eye on your car from the office or the couch? The Bluelink® app gives users the option of seeing live Surround View Monitor video (for SVM-equipped vehicles), as well as providing saved video that can be viewed by date and time. So, users can check for themselves that their car is safe.
Car health information
For ultimate peace of mind, users can run a remote diagnostic check from the Bluelink® app. The app will provide a vehicle report alerting them if any of their Hyundai's systems need to be checked, such as tyre pressure, brakes, airbags and others.
Vehicle status
Think you might be almost out of fuel? Left a window open? You can easily check your car remotely from anywhere at any time via the app, to access status information such as fuel level and distance to empty, as well as a top view diagram showing doors open/closed or locked/unlocked and windows or boot open/closed.
Alarm notification
Bluelink® monitors a user's vehicle 24/7 and will let them know whenever the alarm is triggered. So, if someone tries to break into a user's Hyundai - triggered when a door lock is compromised/the door is opened - the Bluelink® app will send a notification to their smartphone.
Valet mode
'Valet' mode lets users monitor the vehicle status (vehicle location, driving time, driving distance, average and top speed) from the Bluelink® app while somebody else (such as a valet attendant) is responsible for the car. In addition, the 'valet' can only have limited access within the infotainment system.
Geofence alert
Geofence alert lets users set boundaries for their vehicle to drive. Users will be notified if their vehicle exits an allowed area or enters a restricted area as a valuable security feature, with vehicle tracking and immobilisation also possible.
Time fencing alert
The time fencing feature lets users pre-set acceptable time intervals for when their Hyundai can and cannot be driven. Users will be notified of any driving outside of curfew, ensuring peace of mind, for example, when use of the vehicle is shared with a younger, less experienced driver.
Speed alert
Speed alert lets users pre-set a speed limit for their vehicle. Users will be notified if their vehicle exceeds this speed limit.
Use maps and location features
Using and controlling the navigation system in a Hyundai couldn't be easier (especially with voice recognition). Or… could it? With the Bluelink® app, now users have additional convenience and guidance features including:
Destination Send to Car: After planning the route for an upcoming trip on their smartphone, users can use the Bluelink® app to sync the route into their Hyundai's navigation system. Then, all that's left to do is jump in and press go.
Last Mile Navigation: After parking their Hyundai (within 200m and 2km of their destination) users can use the Bluelink® app to continue the in-car navigation on their smartphone. The app will then conveniently guide the user to where they want to go, using Augmented Reality or Google Maps, so they can confidently finish their journey on foot.
Find My Car: Ever forgotten where you parked? It happens to everyone, but now with the Bluelink® app there's no need to stress. Users can simply open the app, map their car's current location, and confidently navigate back to it.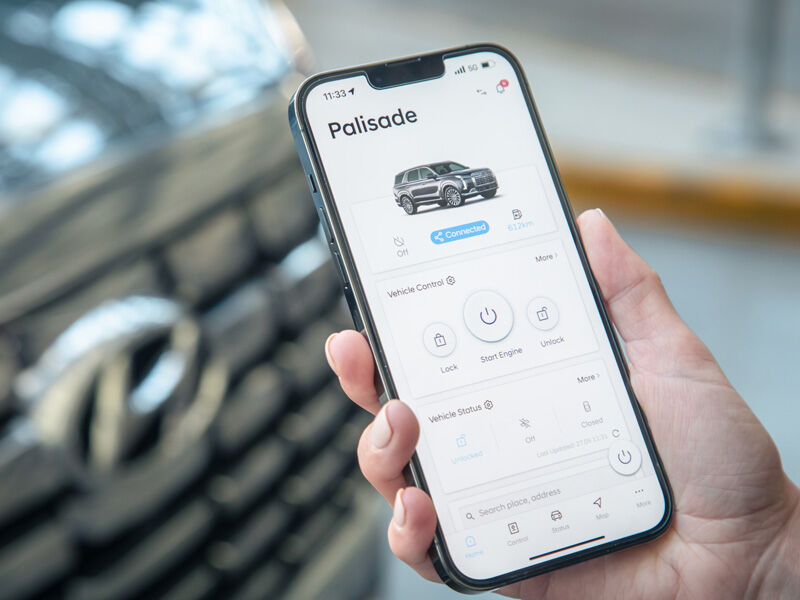 ELECTRIC VEHICLE FEATURES (EV)
The Bluelink® App offers an array of additional features for use with EV models, such as the ability to remotely pre-set the cabin to just the right temperature, or manage everything related to battery charging.
Distance-to-empty (DTE)
Bluelink® lets users check their battery level and confirm the remaining range before the drive and, if needed, they can top-up the charge in advance.
Charging schedule
The Bluelink® app provides access to, and control over, the charging schedule of a user's Hyundai EV, so they can ensure their car is fully charged when it's time to go.
The app also lets users manage charging for best battery life, and schedule charging to take advantage of off-peak electricity rates.
Charging limits
Bluelink® lets users take total control of charging their electric Hyundai. They can choose to use the default settings, or set their own limits for fast and overall charging.
Scheduled climate control
The Bluelink® app allows EV users to schedule their vehicle's climate control system to pre-condition the cabin temperature for a certain time and day - so their Hyundai will automatically activate the heater or air-conditioner in readiness for an upcoming drive.
PERSONALISATION FEATURES
The Hyundai Bluelink® app takes the possibilities for vehicle setting personalisation and customisation to a new level.
My trips
Bluelink® gives users convenient overviews and details of their previous trips. For example, they can pick a month and get a summary of their trips, including journey time, distance driven, average speed and top speed.
User profiles
With Bluelink®, users will never lose a setting. The app lets users save their profile and car settings to the Bluelink®-Cloud as a back-up, as well as allowing them to transfer their preferences to another Hyundai vehicle.
Calendar integration
Packed calendar? Bluelink® helps ensure users won't ever miss a date, by synchronising their calendar and presenting the day's events on the Bluelink® app home screen, reducing the need for screen-taps and swipes while maximising convenience.
Users can even send calendar appointments containing address details directly to their vehicle's sat nav system.
User personalisation
Bluelink® lets users make the app their own. They can make the app work just the way they want it to, including turning features on and off, and customising the home screen.
CONNECTED CAR SERVICES
A Hyundai Bluelink® connected car services subscription (5-years complimentary), combined with the Connected Routing function, will level up users' navigation game.
With the power of Bluelink® connected car services, users can find service stations and navigate to their destination. There's live traffic and weather information too, all with the aim of getting users to their destination with minimum stress and maximum enjoyment.
Connected Routing
With Connected Routing, the navigation route is calculated by a powerful server in the Bluelink® cloud, rather than by the in-car navigation system.
The vehicle sends the user-set destination to the server and guides them through the optimal route based on the pattern information that analyses real-time and estimated traffic information.
The system displays not only the route to the user's destination but also detailed traffic information, such as whether to take the right or left lane for a turn.
An additional functionality lets the user send the final destination from the Bluelink® app without needing to touch the navigation screen.
Also, if a user sets their desired arrival time, the system can suggest the ideal departure time in consideration of the traffic conditions.
Combined with live traffic info, Connected Routing gets users to where they're going quickly and calmly.
Better traffic info and navigation
The Bluelink® cloud server has expanded map data, live traffic information, and predictive traffic intelligence (from historical data), which all give users much higher performance than conventional sat-nav, with the ability to calculate more precise arrival times.
Updates every minute
Traffic information is refreshed every minute and if changed conditions suggest an updated route is needed, it will be calculated from a user's current position.
Speed camera alert
Hyundai Bluelink® Connected Car Services gives users alerts for both fixed and mobile speed cameras, so they can focus on a safe, confident and relaxing drive.
Filling and charging stations
In addition to letting users find filling or charging stations on their route, Bluelink® Connected Service, or see how many charging stations are currently available.
No more range anxiety
It's a joy to drive knowing how much charge you have and where you can top up. In Hyundai EV models users will never have to worry about running out of battery, with access to real-time charging station information such as location, connector types and availability.
More than one way to navigate
Users can search for filling or charging stations close to their current position, their destination, a specific scroll mark on the map, or a city centre. Then, just tap and go.
Weather forecast
Users will know in advance whether they'll need a jacket - or their Hyundai's windscreen wipers - with on-map weather information for their location, the set destination, or their favourite city.
Points of Interest
Restaurants, supermarkets, pharmacies, Hyundai dealerships - users can locate places in their vicinity and then tap to navigate to them. The search covers 11 million places in more than 500 categories, so users are sure to find what they're looking for.
Free-text search
Users can simply type in any address or category and the system will find their destination. It's that easy.
VOICE RECOGNITION
Users can access hands-free calls, navigation and music with a push of the button on the steering wheel, avoiding the need to look at any displays or touch any controls.
For example, users can say 'Call' to call anyone in their contacts, 'Find' to navigate to any destination, or 'Play' to listen to whatever they like, all while staying focused on the road ahead and enjoying the drive.
The voice recognition function was developed in consideration of the driver's safety and convenience while driving. It brings advanced performance compared with earlier voice recognition systems, which provided only limited functions such as phone calls and directions, and often had a low recognition rate.
Hyundai's natural-language-based voice recognition service, which can be used while driving, lets users perform functions including searching for information or managing climate control with natural language phrases such as 'What will the weather be like tomorrow?'
The system collects and transmits sound to the voice recognition engine which digitises the voice signal with a processing speed of one million times per second.
The voice recognition works seamlessly even with the background road noise of the vehicle moving at a speed of 100km/h.
Navigation
Voice recognition lets users tell their Hyundai where they'd like to go, whether that's a specific address, a previous destination, or a particular point of interest (categories work too).
They can also say 'home' or 'office' if that's where they're going, tell the system when to start, pause, or resume navigation, or ask it how far or long there is left to go.
For quick service, the search covers the state or city the car is currently in; if a user wants to search locations in another state, they should say the name of state/city and then the address.
The system can also give users an overview of the entire route, provide voice guidance and offer useful traffic information.
Phone
With their smartphone connected via Bluetooth, users can download their contacts (up to 5000 entries) and call anyone on their list by saying their name (and location, such as 'at home' or 'at work'). They can also dial any number by saying 'dial' followed by the digits.
In addition, users can say 'Change Bluetooth device' to bring up the Bluetooth connections screen and connect to a different phone.
Vehicle control
Users can tell their car to open or close the windows (or just one window), turn on the climate control, cool down or warm up, turn on the seat heating or ventilation and heated steering wheel, or defrost the rear window and outside mirrors.
Entertainment
Users can tell their car which entertainment source they would like to play, such as DAB, FM or AM radio, USB or Bluetooth. And for media connected by USB, you can shuffle, repeat, play, or pause.
MORE WAYS TO CONNECT
No matter which way users want to use their smartphone while driving their Hyundai, there is a connection to suit.
Apple CarPlay™ and Android Auto™
Apple CarPlay™ and Android Auto™ let users mirror their favourite smartphone apps on their Hyundai's large touchscreen, with plug-in or wireless connection depending on the vehicle model.
Wireless charging
A wireless charging pad in many Hyundai models lets users easily charge a compatible Qi-enabled smartphone without the use of untidy cables.
USB port and AUX-in
Conveniently located AUX-in and USB ports provide easy plug-and-play connectivity for smartphones and other mobile devices.
Bluetooth
Bluetooth connectivity in every Hyundai model lets users connect any mobile device to make calls or access music, podcasts and audiobooks.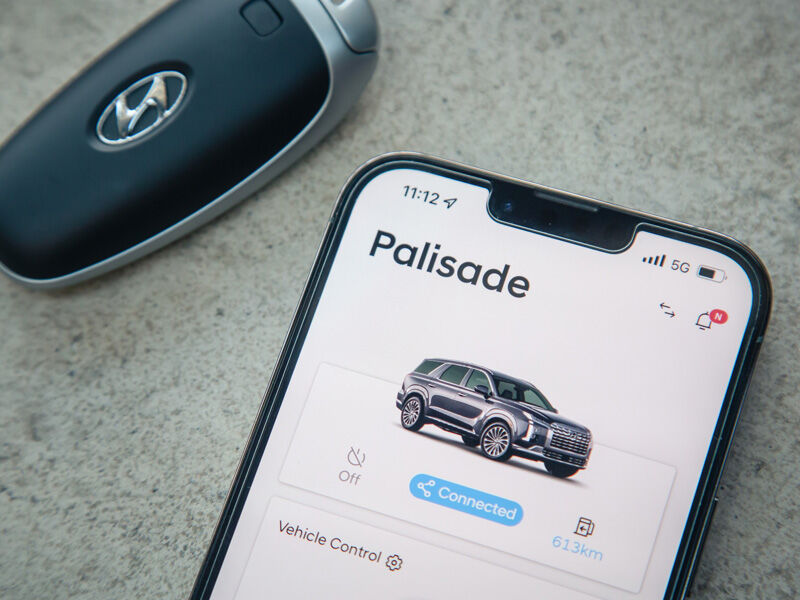 Hyundai Bluelink®: Common Questions
How do I sign up for Bluelink®?
Users are automatically signed up for Bluelink® when they purchase a new Bluelink® compatible Hyundai (rollout is set to start with the new 2023 Palisade).
Once a user has activated Bluelink® on their car's head unit, all they need to do is download the app from the Apple app Store or Google Play Store, open it on their phone, and follow the instructions on the screen.
How much does Bluelink® cost?
The Bluelink® app is free to download from the Apple app Store or Google Play Store. Bluelink® and the accompanying connected car services are provided free of charge for the first 5-years of new vehicle ownership.
I already own a Hyundai, is it too late to get Bluelink®?⁠
Bluelink® is not backwards compatible with older Hyundai models.
What happens if I sell my car?
In the event a user sells their Hyundai, all they need to do is de-activate Bluelink® in the car. However, the balance of the complimentary 5-year subscription can be transfer to the new owner.
Which smartphones are compatible with Bluelink®?
The Bluelink® app is available for Apple and Android smartphones.
Does Bluelink® use my smartphone data plan?
The Bluelink® app will use smartphone data when the app is actively being used on a user's smartphone. When a user is accessing Bluelink® services in their Hyundai, it will be via a SIM card installed in the car, so there will not be any data usage on the user's phone.
How do I activate the app and connect it with my car?
After downloading the Bluelink® app, a user should open it and create an account. Once they have activated Bluelink® in the car, they can add their Hyundai to the app.
Can two drivers connect their phones to the same car?
One main user can share their car with any number of other users.
HYUNDAI BLUELINK® FEATURE LIST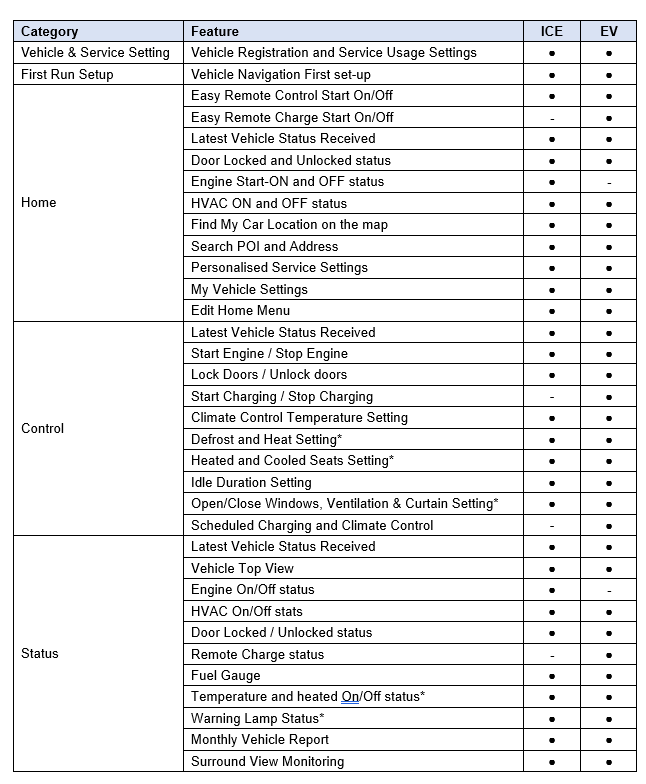 *This feature may vary depending on vehicle options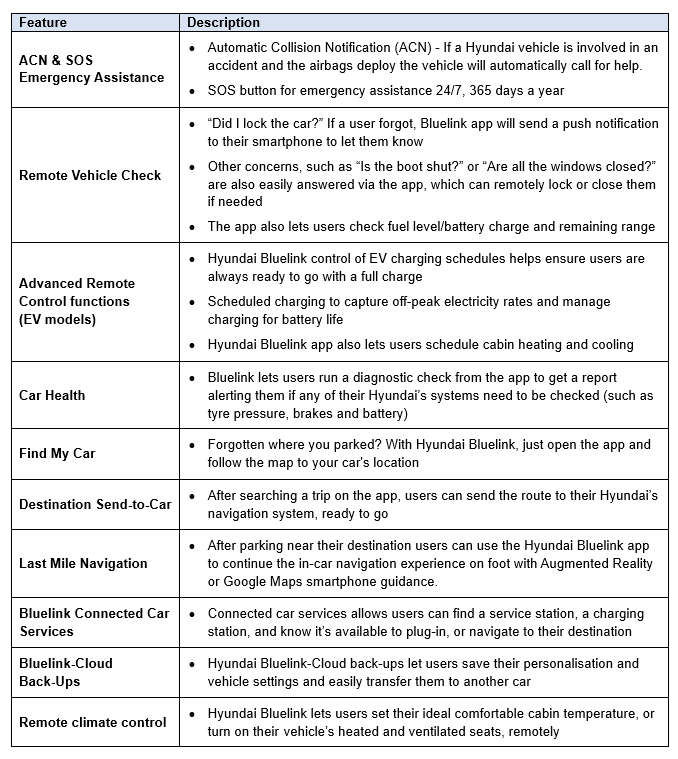 *This feature may vary depending on vehicle options
Ready to take the next step?