Charging up Australia: Checking in on the nation's EV station roll out.
More Australians are considering an electric vehicle (EV) for their next car purchase than ever before. Enticed by a growing range of models and lower operational costs relative to traditional cars, switching to electric is making a lot of sense for many.
While going zero emission is becoming an increasingly attractive option, the question that consistently comes up when speaking to customers looking to make the jump to an EV is where can I charge my vehicle?
In fact, studies show that driving range and a lack of charging infrastructure are the primary reasons people don't consider an EV when buying a new car.
Information is power and so we believe in arming up potential purchasers with knowledge addressing their concerns so they can make up their own mind on whether an EV is the right choice for them.
Today, we are going to tackle the all-important charging infrastructure question.
So, what is the status of Australia's charging roll out and does range anxiety amongst potential EV owners stack up in reality? We take a look across the nation to check in on the country's progress and see what governments are doing to ready their state for the EV evolution.
We aren't going to forget about hydrogen refuelling stations either. While fuel cell electric vehicles (FCEVs) are less progressed in their roll out versus battery electric vehicles (BEVs), it's widely acknowledged that the technologies are complementary with both needed to meet the country's net zero objectives.
National efforts to rev up charging stations accelerating ahead
According to the Electric Vehicle Council there were 291 public fast charging locations around Australia at the beginning of 2022, an 85% increase since 2020.
Combined, state and federal government funding is expected to co-fund the deployment of around 700 additional fast charging locations over the next 5 years, each with multiple charging bays. This means Australia could have over 1,000 fast charging locations by 2027.
ARENA is the main federal funding agency supporting the roll out of electric charging and hydrogen refuelling infrastructure in Australia. ARENA's Future Fuels program is the main avenue for support for EV infrastructure which is offering $250 million for light and heavy BEV charging and heavy FCEV refuelling.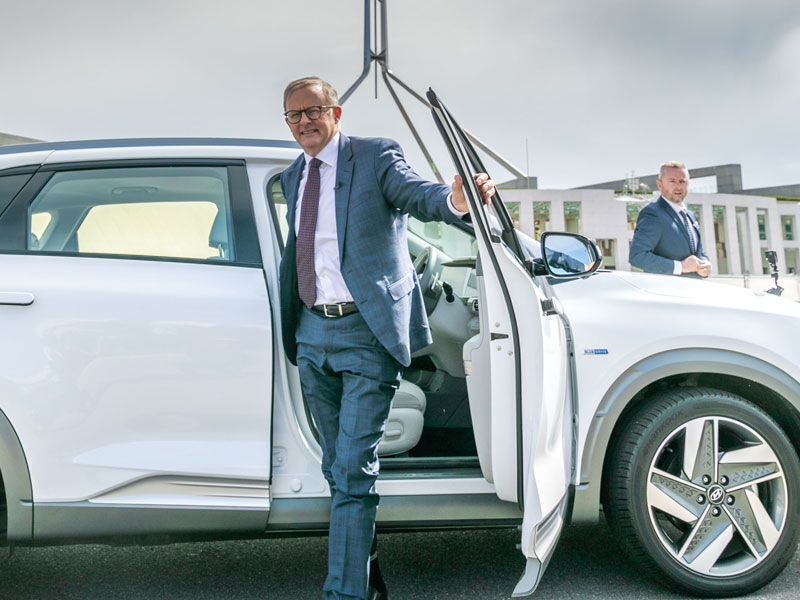 Prime Minister of Australia, The Hon Anthony Albanese MP with the Hyundai NEXO FCEV at Parliament House, Canberra
Their biggest investments to date for each technology are Evie Networks' roll out of 158 charging stations nationwide and Viva Energy's New Energies Service Station project in Victoria which will see the construction of the country's largest hydrogen refuelling station.
The government has also flagged a 'Hydrogen Highways' initiative which will create a national refuelling network, with an investment of $80 million to deliver up to 16 stations on Australia's busiest freight routes.
ACT most ambitious EV jurisdiction with more stations to follow
The ACT currently has six EV fast charging locations, however given its recent announcement that registration of new vehicles with internal combustion engines will cease by 2035, the territory will need to put the pedal to the metal on the infrastructure front.
The government is working to address its infrastructure gap and released their new EV strategy in July announcing they will deliver more than 70 publicly accessible electric vehicle charging stations across Canberra in 2022-23 and expand to 180 stations by 2025.
The ACT is a pioneer on the hydrogen mobility front as home to Australia's first publicly available hydrogen refuelling station, however further refuelling stations will be needed to drive uptake. On the positive side, given the size of the ACT it would only require a handful of additional stations to achieve full coverage of the territory.
A slower start for NT, but strategy in place to play catch up
The NT currently has only two EV fast charging locations – Darwin and Alice Springs. Remoteness is a challenge, but the NT government is eager to accelerate the number of EV stations across the territory.
With attractive incentives on offer like waiving stamp duty and registration fees on EV purchase until 2027, the number of EVs on NT roads is expected to grow, and with it the need for more EV infrastructure.
While there's no public charging target in place at this stage, the government has committed to install 400 chargers at government buildings.
Their EV charger grants scheme kicked off in July with 100 residential grants of $1,000 and 80 business grants of $2,500 to buy and install EV chargers, with a total of $300,000 being committed.
We aren't aware of plans for hydrogen refuelling stations in the NT at this time, but hopefully this situation is addressed soon given the territory's abundance of renewable energy which can be harnessed to make green hydrogen.
NSW in top spot for charging station roll out
Leading the country, NSW currently has around 100 EV fast charging locations across the state.
The government anticipates a rapid uptake of EVs tipping their strategy will drive sales to more than 50% of new car sales by 2030-31. Based on current sales figures, this could be around 160,000 EVs hitting NSW roads per year.
A total of $131 million is being invested by the NSW government into EV fast charging grants to install and operate ultra-fast charging stations at 100km intervals across the state and every 5km in metropolitan areas.
In terms of hydrogen refuelling, NSW currently has one operational station located at Hyundai's headquarters in Sydney with a further two in the pipeline – one in Port Kembla and another in the Central Coast set to commence construction soon.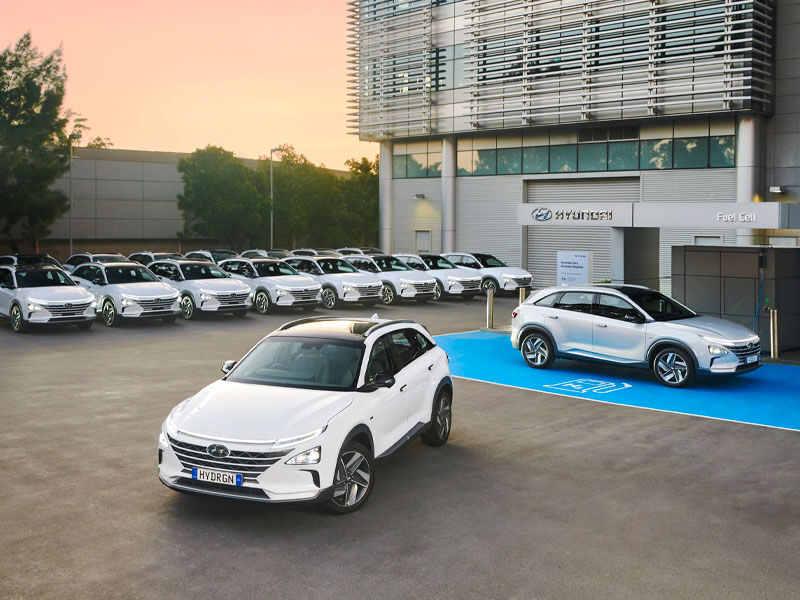 Hyundai's hydrogen refuelling station in Sydney with a fleet of NEXO FCEVs
NSW will see a further two hydrogen stations in the coming years through its Hume by Hydrogen initiative, which with the Victorian government, is funding a total of four stations across both states for long haul hydrogen-powered truck fleets.
Queensland making impressive progress to super charge station roll out
With over 70 fast charging station locations today, Queensland has been busy with its infrastructure roll out including realising its Electric Super Highway connecting Queenslanders travelling from Coolangatta to Port Douglas.
Similar to NSW, Queensland forecasts 50% of all new car sales in the state will be EV by 2030.
The state's ZEV strategy for 2022-24 will focus on providing more public electric vehicle fast-charging options to reach this target and ensure EV owners can charge in more locations across Queensland.
While no charging station targets are currently in place for the state, the government is providing $10 million to support the public charging roll out.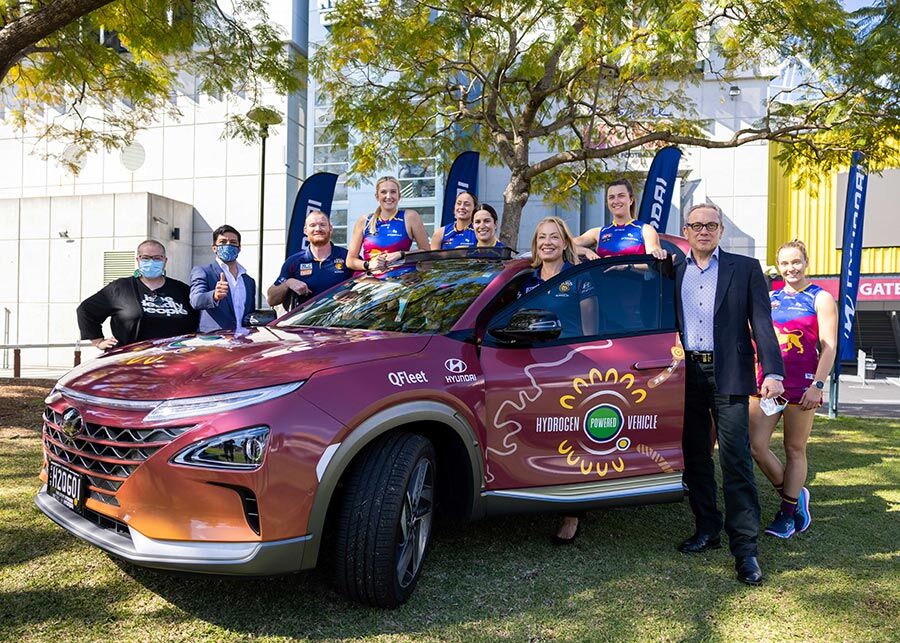 One of the five Hyundai NEXO FCEVs currently being driven by the Queensland Government
On the hydrogen refuelling front, Queensland has one station currently in construction in Brisbane located at the bp service station at Lytton. Further projects in progress include Ark
South Australia stepping up to fast-track EV uptake
With around 25 fast charging locations, SA is progressing ahead on its roll out however it does have some work to do to achieve complete coverage of the state.
The government is incentivising EV purchase to accelerate adoption, currently offering a $3,000 subsidy for the first 7,000 new EVs sold under $68,750.
No specific funding is available for co-investment in charging infrastructure at present, however $13.4 million was previously provided for fast stations at more than 50 service locations which are currently being deployed to fill gaps in the network.
Tasmania covering the entire state with fast charging
Tasmania has done well on the charging front achieving good coverage of the state with 19 EV fast charging locations currently.
The state however doesn't have an EV strategy in place with no specific funding program for charging stations presently, however it has provided $1.2m over two rounds of the Charge Smart Program. The government has also waived stamp duty on EV's until 2023 which is expected to accelerate adoption considerably.
Tasmania is set to have its very first hydrogen refuelling station soon to be based in Hobart with Metro bus lines to trial three hydrogen buses.
Victoria gearing up for complete state coverage of fast chargers
With over 70 EV fast charging locations presently, Victoria is working towards filling gaps across the network to support its target of 50% of new light vehicle sales to be ZEV by 2030.
The state recently announced the recipients of their $5 million Destination Charging Across Victoria Program which will result in the installation of a further 141 electric vehicle fast-charging stations in 116 tourist and high-use areas across Victoria.
Victoria has one operational hydrogen station at Toyota's former manufacturing site in Altona. There are a further two stations in the pipeline, including one at CSIRO's laboratory at Clayton and Viva Energy's refinery at Geelong. As noted above, Victoria will see an additional two stations at least by 2025 through its Hume Hydrogen Highway initiative.
Western Australia to achieve a world first with charging roll out
With a lot of land to cover, WA has its work cut out to achieve a connected network of fast charging. The state has around 40 EV fast charging locations today and is now set to achieve a world first as it rolls out more infrastructure.
In August, the government announced JET Charge will install 98 EV chargers at 49 locations around the State - creating the world's longest continuously connected electric highway. Each location will have both a standard and fast charger.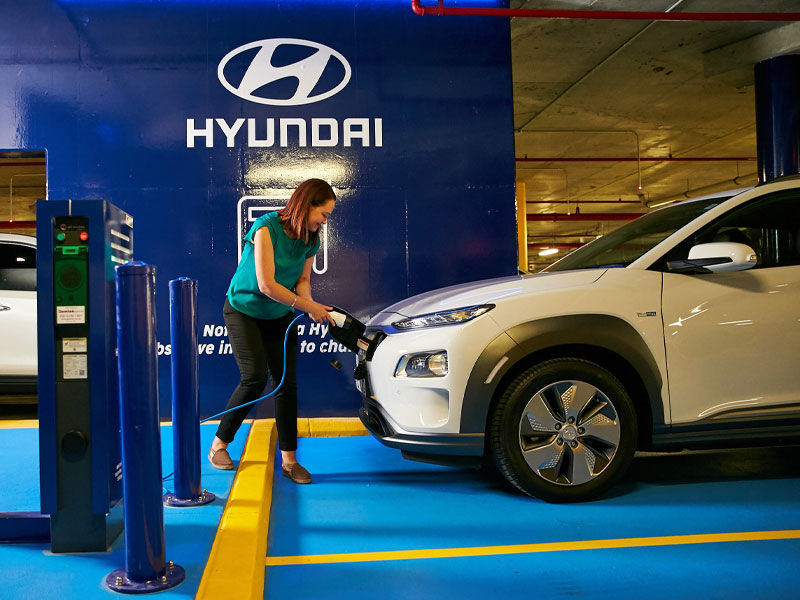 EV charging stations at Perth's RAC Arena provided by Hyundai
Hydrogen refuelling stations are charging ahead in the state also with a lot of interest in truck stops linking Perth to the Pilbara region. Presently, Fortescue is constructing a station at their operations in Christmas Creek. Perth based stations currently in development include ATCO's station in Jandakot and a second led by Frontier Energy to be based in the Perth CBD.
While we have an enormous land mass to cover, Australia is definitely on the fast track towards national coverage of battery electric charging stations. Hydrogen refuelling has a little longer to go, but nevertheless the future looks bright.
In sum, the progress by each state and territory as well as at the federal level demonstrates that concerns regarding range anxiety and lack of charging stations are being addressed, particularly by proactive governments keen to support EV adoption.
Potential EV customers can therefore take comfort that the public network will only expand further over the coming years and accessibility of fast chargers will continue to improve meaning range anxiety will become a thing of the distant past.
Ready to take the next step?