Filling up with hydrogen: Hyundai's new hydrogen station on track to support growing hydrogen EV fleet.
A hydrogen-based society is coming closer to reality thanks to the growing interest in hydrogen-powered EVs. While the recognition of hydrogen as an alternative fuel is stronger than ever, it's the construction of infrastructure that needs to accelerate in parallel to ensure the sector can reach its full potential.
As a leader in hydrogen technology, Hyundai believes it's important we contribute to the growth of the hydrogen mobility sector. In Australia, we are doing this through collaborative efforts that stimulate the use of hydrogen in transport, including through the development of hydrogen refuelling stations.
Earlier this year, we announced our $1.7 million investment in a new hydrogen vehicle refueller at our corporate headquarters in Sydney as part of our commitment to grow hydrogen mobility in Australia.
The refueller will support our growing fleet of NEXO fuel cell electric vehicles (FCEVs) and will be made available to other companies to fuel up their own hydrogen applications and stimulate the wider hydrogen ecosystem.
With a lot of interest in the project, we thought we would take this opportunity to provide an update on our progress and provide some detail on the equipment we selected that will see us both generate and dispense green hydrogen on-site.
Since we announced the project in January, we have been busy working alongside our partners – US hydrogen compressor and refueller manufacturer, PDC Machines and Australian gas technology company, ENGV – to ready the site for the new refueller.
With a limited site footprint in a location that accommodates multiple uses including a corporate office, car park and automotive workshop, it was important that we selected a compact system that allows vehicles to fill up quickly and get moving again. We ultimately landed on PDC's SimpleFuel.
What is a SimpleFuel and how it will it support Hyundai's hydrogen EVs?
As we frequently host visitors at our office who are interested in learning about hydrogen's potential in transport, it was important we could demonstrate how hydrogen can be produced and dispensed to cars with just a source of water and electricity.
The SimpleFuel generates, compresses and stores hydrogen before delivering high purity fuel cell-grade hydrogen into a car or even a forklift.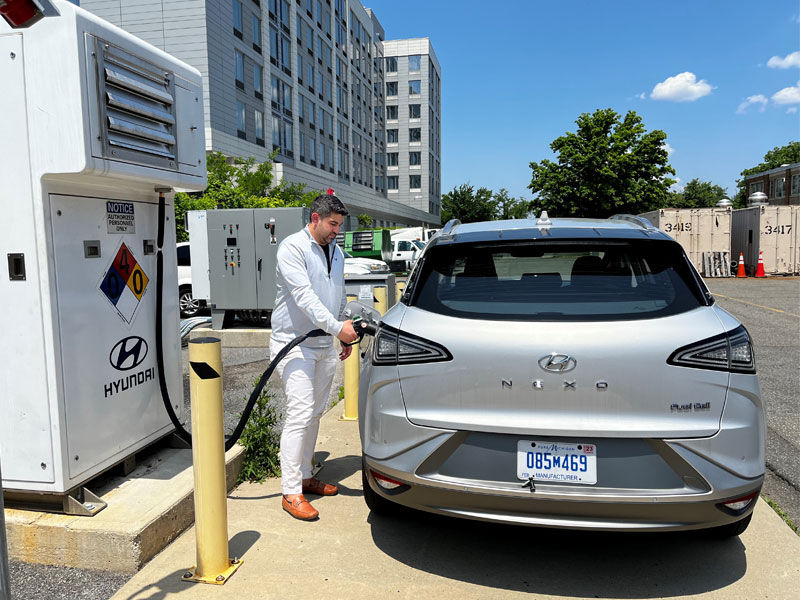 The PDC SimpleFuel filling a Hyundai NEXO in Washington DC
Our unit will have a capacity of 20 kilograms of hydrogen per day which will dispensed at 750 bar pressure meaning a car can be filled up in just a few minutes. A Hyundai NEXO for example stores six kilograms of hydrogen on board meaning we will be able to fill multiple cars a day which is sufficient to support a small fleet operation.
The new station is expected to be operational by early 2023 and we look forward to sharing further updates as we install, commission and start running the unit.
What other hydrogen refuelling projects is Hyundai involved in?
Hyundai is supporting hydrogen mobility projects across the country with the ultimate aim of realising a hydrogen refuelling network nationwide.
Our first project in Canberra has seen us supply Hyundai NEXO's to the ACT Government, the Korean Embassy and Woodside Energy with 22 vehicles currently refuelling from the Fyshwick based station operated by ActewAGL.
The Hyundai NEXO at the ActewAGL hydrogen refuelling station in Canberra
We've gained many learnings from our participation in this initiative which have been highly valuable when working on new projects, including a recently announced hydrogen refuelling station facility in Brisbane.
Gas and engineering company, BOC and bp Australia are building a hydrogen refuelling station at the bp truck stop in Lytton, Queensland. The station will be the first in Australia to operate at an existing service station.
Hyundai has leased five NEXO's to the Queensland Government which will be the first to use the new refueller. The facility is expected to be operational by the end of this year and we look forward to supporting the government and new customers to get behind the wheel of the NEXO.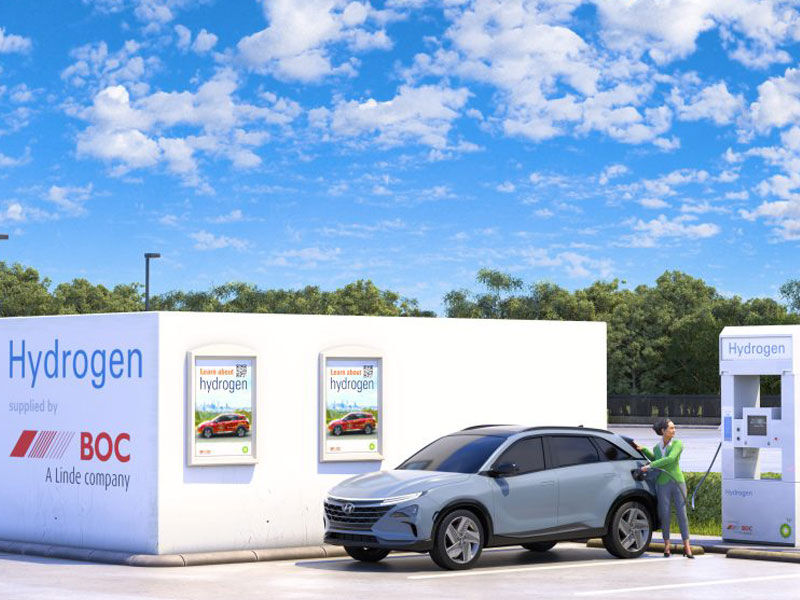 A rendering of the BOC and BP hydrogen refuelling station to be located in Brisbane, Queensland
What else is Hyundai doing to support hydrogen mobility in Australia?
Hyundai has been an advocate for hydrogen mobility in Australia since 2014 and we see a bright future for FCEVs ahead. Ever since we commissioned the very first refuelling station and introduced the first FCEV, we have been busily promoting hydrogen across the country.
Both directly and through industry association the Australian Hydrogen Council, which we co-founded in 2017, we have been engaging with government at all levels on policy, standards and regulation to ensure that hydrogen's use in the country is safe, effective and scalable.
As both a global automaker and member of the local community, we believe it is important to lead the way and inform people about the value and benefits of hydrogen energy.
Activities such as setting world distance records in the NEXO where we achieved 887.5 kilometres on a single tank of hydrogen showcase the immense potential of hydrogen as a clean fuel source.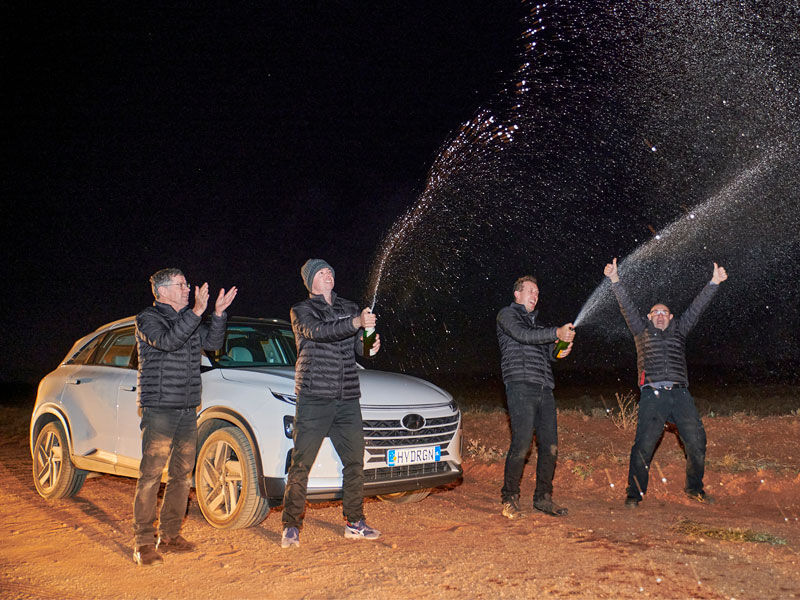 The Hyundai team celebrating the NEXO's 887.5km drive from Melbourne to Broken Hill on a single tank of hydrogen
We also display the NEXO at conferences and events around Australia so that members of the public can see the technology firsthand and provide test drives to hydrogen enthusiast wherever we can. We are also supporting the development of new hydrogen technologies, such as our partnership with Fortescue Future Industries and CSIRO to increase green hydrogen production using ammonia.
Hyundai expects interest in hydrogen mobility to only escalate over the coming years as ecofriendly transport becomes widely embraced. New forms of hydrogen-powered vehicles will start entering the market over the coming years with buses and trucks in the pipeline of products set to come to Australia.
It's an exciting time for hydrogen mobility and Hyundai intends to continue to be at the forefront of accelerating the shift to a hydrogen economy for Australia.
Ready to take the next step?