Governments getting behind EVs: Latest national policy developments.
The world is moving rapidly to decarbonise road transport. Electric vehicles (EVs) are being deployed globally to address emissions as countries worldwide are pushing for meaningful action on climate change.
This trend is evident in Australia, with our new national government placing the transport sector under the spotlight. Recently announcing a strengthened whole of economy emissions target for 2030, the government has tackling vehicle emissions top of the list by boosting EV uptake.
Australia has some catching up to do on this front. In 2021, EVs were just under 2% of new light vehicle sales in Australia, compared with 9% globally. In the United States and Canada, new EVs had a market share over 5%.
The government is eager to turn this situation around and get more Australians behind the wheel of an electric car.
In September, the government kicked off the development of Australia's first national EV strategy with the release of a consultation paper seeking views on how it can improve the supply, affordability and uptake of EVs.
The work on the national EV strategy comes off the back of the government recently progressing two new measures to reduce the price of EVs for some customers.
We take a look at what the government has been up to on the EV front since they took office in May and what the national strategy may mean for those looking to purchase an EV.
What has the Australian government done on EVs so far?
The Australian government has made it clear that EV affordability is a top priority. In July, they introduced a new piece of legislation into parliament that would:
Exempt EVs from fringe benefits tax (FBT); and
Remove the import tariff on EVs
Regarding the FBT exemption, this would apply to EVs (battery electric, hydrogen fuel cell and plug-in hybrid vehicles) priced under the Luxury Car Tax threshold ($84,916 for 2022-23).
According to the government, if an EV valued at $50,000 is provided by an employer for an employee's use, the FBT exemption would save the employer up to $9,000 a year. For individuals using a salary sacrifice arrangement to pay for the same model, their saving would be up to $4,700 a year.
Secondly, the 5% customs tariff is currently applied to cars imported from countries in which Australia doesn't have a free trade agreement. This duty is largely only incurred for vehicles from Europe (as Australia does not yet have a trade agreement with the EU), so EVs from this region will no longer attract any duty.
Should the bill pass the parliament, these benefits would be backdated to commence for EVs held from 1 July 2022.
While these measures are certainly helpful, they only apply to a relatively narrow group of EV owners. The government is therefore looking at how it can assist EV owners more widely through its national EV strategy. More on that below.
What's in the national EV strategy?
Under the microscope are things like electric car rebates to bring down the price of EVs, the availability of charging stations, the quality of our fuel, and fuel efficiency standards.
Fuel efficiency standards in particular have been a hot topic of late with commentary from both sides of politics and the media about their role in cutting transport emissions.
In a nutshell, these standards are intended to reduce emissions by setting a limit on a car manufacturer's average emissions.
They are typically measured by grams of CO2 released per kilometre and averaged across the fleet of new vehicles a manufacturer sells per year.
Minister for Climate Change and Energy, the Hon Chris Bowen MP and Minister for Infrastructure, Transport, Regional Development and Local Government, the Hon Catherine King MP, discuss the national EV strategy in a Hyundai IONIQ 5
Australia is one of the only major economies without a standard in place for light vehicles. As such, the government is looking at whether such a standard could improve the supply of EVs into the country.
Other countries that have a fuel efficiency standard in place typically offer subsidies, tax incentives and financing for EVs in parallel. The merit of each of these is also being considered by the Australian government.
For future EV purchasers, the outcomes of this review are expected to be beneficial in terms of improving the availability of and infrastructure for these cars so it's certainly one to watch as it progresses over the coming months.
As a manufacturer of low and zero emissions vehicles, Hyundai is participating in the review and will be putting forward its views on what Australia can be doing to best ready the market for more EVs.
What is Hyundai's position?
At Hyundai, we support any efforts to accelerate the uptake of EVs in Australia and welcome the governments focus on getting more of these cars on the road.
We see the priority areas being a successful infrastructure roll-out to ensure EVs owners have adequate access to electric charging and hydrogen refuelling stations and creating an attractive customer proposition (both in terms of costs and convenience) to encourage more Australians to make the switch to an EV.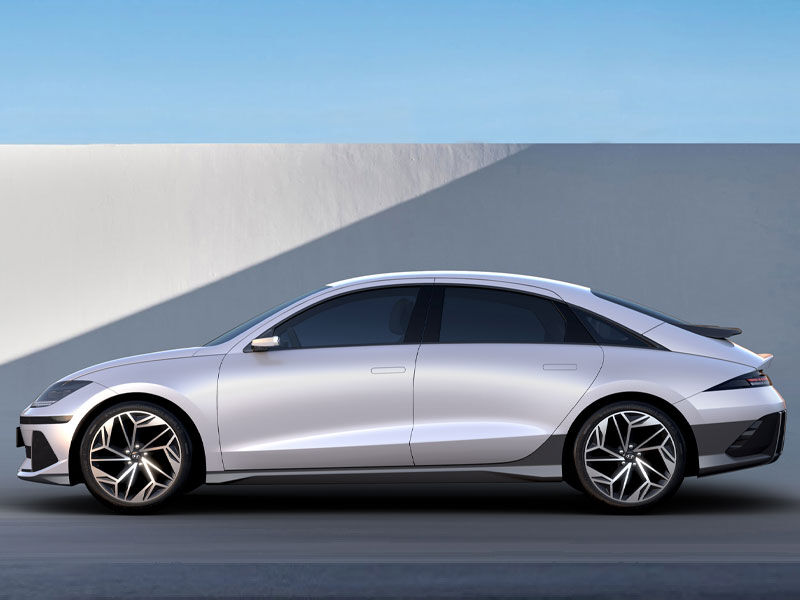 Hyundai's IONIQ 6 set to be launched in Australia in 2023
As a brand with one of the widest ranges of EVs in Australia, with battery electric, hydrogen fuel cell, plug-in hybrid and hybrid vehicles all available in this market, we are getting on with the task of decarbonising our models and offering Australians their technology of choice.
While the role of government is an important one in developing this new industry, we believe our job as a manufacturer is to ensure our customers have the widest range of EVs to choose from and so this is a high focus for the company.
With escalating fuel costs in particular, the economics of driving an EV are making more sense than ever before and we are seeing greater demand for our models. Our objective therefore is to get as many Australians into an EV as we can!
Most importantly, the level of enthusiasm behind the EV transition amongst government and industry is the highest it's ever been, and we are confident that the coming years will see many more EVs hitting Australian roads doing their bit to reduce our country's emissions.
Ready to take the next step?