Car connectivity & technology.
Technology upgrade.
Upgrading your car with new gadgets is like getting the most innovative parts of a new Hyundai for a fraction of the price. Are there new technologies you've seen in new cars you'd like to add to yours? It's not just possible, it's easy – with Genuine Hyundai technology accessories. And when fitted by our technicians at a Hyundai Service Centre, they'll come complete with our 5-year accessory warranty.
Auxiliary cord.
Itching to go on a drive and listen to the banging tunes and fascinating podcasts still waiting for you on your iPod or MP3 player? Or is not having Bluetooth® connectivity in your car getting you down? Don't be sad, be glad, because with this cord you can hook up your device via your car's AUX port and enjoy many more years of retro plug & play.
Wireless charging.
Go cable-free and declutter your car's interior by installing a wireless inductive charging pad in your centre console. It's the simplest, most streamlined way to make sure your Qi-enabled smartphone is always charged and keeping you connected. This is exactly the kind of minimalistic tech that demonstrates the concept of "less is more".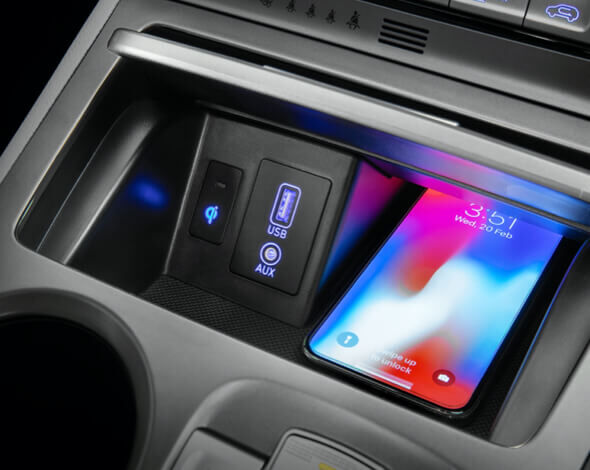 Disclaimers.
[A1] All Hyundai Genuine accessories are subject to 5 years warranty if purchased at the time of a new Hyundai and fitted by an authorised Hyundai Dealer. Visit here for full warranty terms and usage recommendations.