Exterior Design
Bringing Sportiness to the SUV World.
Featuring a bigger and wider body, the TUCSON was the first Hyundai SUV to be developed defining its sportiness design identity. This vehicle was engineered to embody sportiness and resulting in a design that is both dynamic and powerful. It's sleek lines and muscular stance are sure to turn heads, making a statement without compromising the SUV's heritage.

360°
Parametric Hidden Lights.
As you drive, you may notice a striking change in the geometric pattern of the parametric grille's dark chrome. This transformation is thanks to the advanced half-mirror lighting technology of the Parametric Hidden Lights, which remain hidden when not in use. Upon activation, the outer segments of the grille transform into wing-like structures, producing a stunning high-tech lighting effect that is both impressive and unique. When you stop driving, the lights smoothly retract back into the grille, leaving behind a sleek and sophisticated appearance.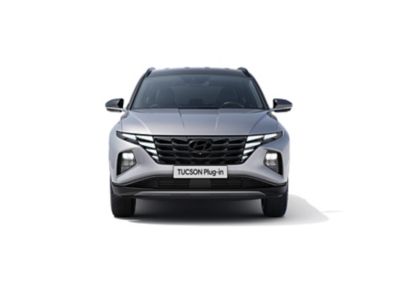 Rear LED combination lights.

The wide LED tail lamps with parametric hidden light details continue the dynamic progressive design in the rear.

Z-shaped side character line.

Bold, high-tech design details like the Z-shaped side character line instantly create a sporty, dynamic impression.

Chrome accent line.

The TUCSON's sporty look is emphasised by a chrome accent line with an edged parabolic shape, starting on the side mirrors and continuing to the tailgate.
Personalise your TUCSON to suit your style.
Choose from a variety of exterior colours and personalise your TUCSON Plug-in Hybrid to fit your individual style.
Interior Design
The beauty of simplicity
With TUCSON Plug-in Hybrid's sophisticated and spacious interior, you'll immediately sense a feeling of expansiveness.  The space, technology, and information blend seamlessly, creating a harmonious intersection. The interior design features graceful curves, inspired by the serene beauty of waterfalls. The use of high-quality, plush materials throughout the space enhances both its appearance and tactile experience.