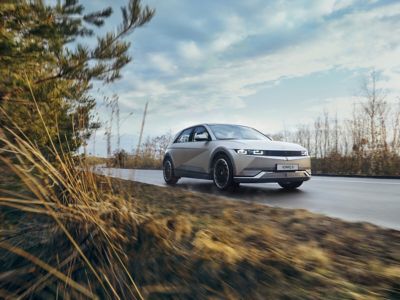 The Hyundai world at your fingertips.
At Hyundai, we never stop thinking about new ways to improve your owning experience, which is why we've developed myHyundai.
It's your portal to a world of exclusive offers and a secure area where your important car details are stored.
You can also set automatic reminders for servicing or road tax and keep up to date with the latest Hyundai news.
Access myHyundai today.
You are just 3 steps away to immerse yourself in a Hyundai experience.
Step 1.

Create a Hyundai Account. Your single account to access all Hyundai services. Alternatively, use your existing account if you already have one.

Step 2.

Confirm your account via the verification link sent to your email.

Step 3.

Accept the Terms of Use and choose your communication preferences.
Service functions
Discover what myHyundai can do for you.
Taking care of your Hyundai has never been so easy. Access all the information you need about your vehicle's health in one place.
Roadside Assistance.  Better than ever.
Every Hyundai is built to the highest possible quality standards - but incidents can always happen. If your vehicle has a breakdown or a flat tyre, help will be just a call away. Receive assistance from a Hyundai specialist whenever and wherever you need it. The Roadside Assistance feature in the myHyundai app makes it easy to get help fast.
Roadside Assistance. Any day, any time.
We've got you! Roadside Assistance makes sure you are never stuck on the side of the road. When and wherever you need it, a Hyundai specialist will be able to help.
FAQ
Any more questions?
Here some of the most important and frequent questions on myHyundai. If you have any other questions, please don't hesitate to contact your local Hyundai retailer.
How do I sign up for myHyundai?
It's easy. You can access myHyundai in only 3 steps:
Create a Hyundai Account. Your single account to access all your Hyundai services. Activate your account by using the verification link.
Accept the Terms of Use and consent preferences.
If your vehicle is not automatically added, link your vehicle to your account and start enjoying all the features and services designed for you!
Do I need to own a Hyundai to be able to sign up on the platform?
You do not need to own a Hyundai to be able to use the platform. myHyundai is available for Hyundai customers and fans! If you are a fan, you can access some of the myHyundai features However, to allow full access to all services and connectivity features, you will need to connect your Hyundai to your account.
How much does it cost to use myHyundai?
myHyundai is available to you at no cost.
I have a myHyundai account created for the previous version of the platform. Can I still use it?
To access the platform, download the new version from your App Store and log into your existing account.
The process is very quick and easy, and you can use the same email address you previously logged in with.
Why does myHyundai look different?
myHyundai has been completely redesigned to offer a better experience and even more services. 
Some features are no longer present. Why is that?
myHyundai is continuously improving to offer you an immersive Hyundai experience in your smartphone. Stay tuned and do not miss out on the new features. For customers and fans!
How do I add my car to my myHyundai account?
If you do not have a vehicle registered to your account, simple tap the Add Vehicle button and enter the chassis number of your car and attach the registration document.
What is Bluelink®? Does my car have it?
Bluelink® allows you to always stay connected with your car through services that make driving safer, easier and more fun. myHyundai uses Bluelink® to retrieve relevant vehicle information. Find out more about Bluelink® services.
For which Hyundai models is myHyundai available?
myHyundai is available for all Hyundai vehicles. The availability of some features will depend on your vehicle's equipment.
How is my data being treated?
To get detailed information on how we are using your data, please view our Terms of Use and Privacy Notice.
Certain functionalities described in this page might look different or be not available or partly available.