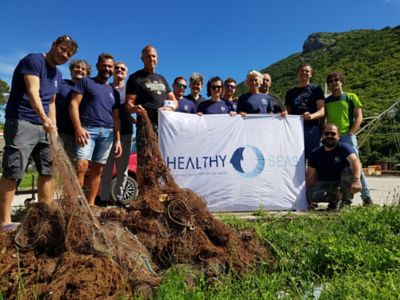 Protecting oceans with Healthy Seas.
Partnering with Healthy Seas.
Hyundai is proud to partner with the NGO Healthy Seas. With our commitment to developing emission-free mobility solutions, and Healthy Seas' expertise in protecting marine ecosystems, we share a vision for making the world a better place for future generations.
Working together to help protect the oceans.
The world's oceans play a major role in sustaining life on Earth, but they are constantly threatened. Hyundai is partnering with Healthy Seas to help remove plastic and fishing debris from the sea. A report by the United Nations estimates that more than 580 million kilogrammes of fishing gear are discarded in the ocean annually, accounting for one-tenth of all marine litter.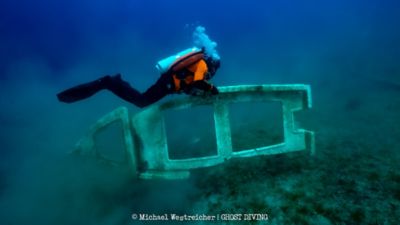 Photo credits: Michael Westreicher | Ghost Diving
Hands on help: Healthy Seas' activities.
Healthy Seas' activities are threefold. They work with volunteer divers to recover abandoned fishing nets, known as 'ghost nets', from reefs and shipwrecks. Secondly, they organise educational programmes at schools to teach children the importance of keeping the oceans clean. Finally, they collaborate with fishermen and communities to prevent fishing nets from ending up in landfills or the sea.
Photo credits: Cor Kuyvenhoven | Ghost Diving

Recovering fishing nets.

Hyundai and Healthy Seas work with volunteer divers from the 'Ghost Diving' charity to recover abandoned fishing nets from reefs and shipwrecks. These 'Ghost Nets' continue to kill marine wildlife underwater for decades. By removing marine debris, Healthy Seas ensures the survival of a healthy underwater ecosystem for a sustainable future.
Photo credits: Cor Kuyvenhoven | Ghost Diving

Educational outreach at schools.

A further aspect of Healthy Seas' efforts to protect the oceans is educational outreach. They organize educational programmes at local schools to teach children the importance of keeping the world's oceans clean. In hopes of preventing more ocean pollution, younger generations learn about the negative effects it can have on marine and human life.
Photo credits: Veronika Mikos | Healthy Seas

Collaboration with fishermen.

Healthy Seas collaborates with fishermen, fish farms, and local communities to prevent fishing nets from ending up in landfills or the environment. Together, they work on solutions to dispose of the nets responsibly.
Saving Ithaca's seas by removing 76 tons of debris.
Hyundai's first clean-up activity with marine conservation organisation Healthy Seas started on World Oceans Day - 16th June 2021 - in Ithaca, Greece. To restore Ithaca's beauty and support the local community, Hyundai is helping Healthy Seas with their biggest clean-up initiative ever. The partnership with Hyundai enabled Healthy Seas to organise this ambitious clean up.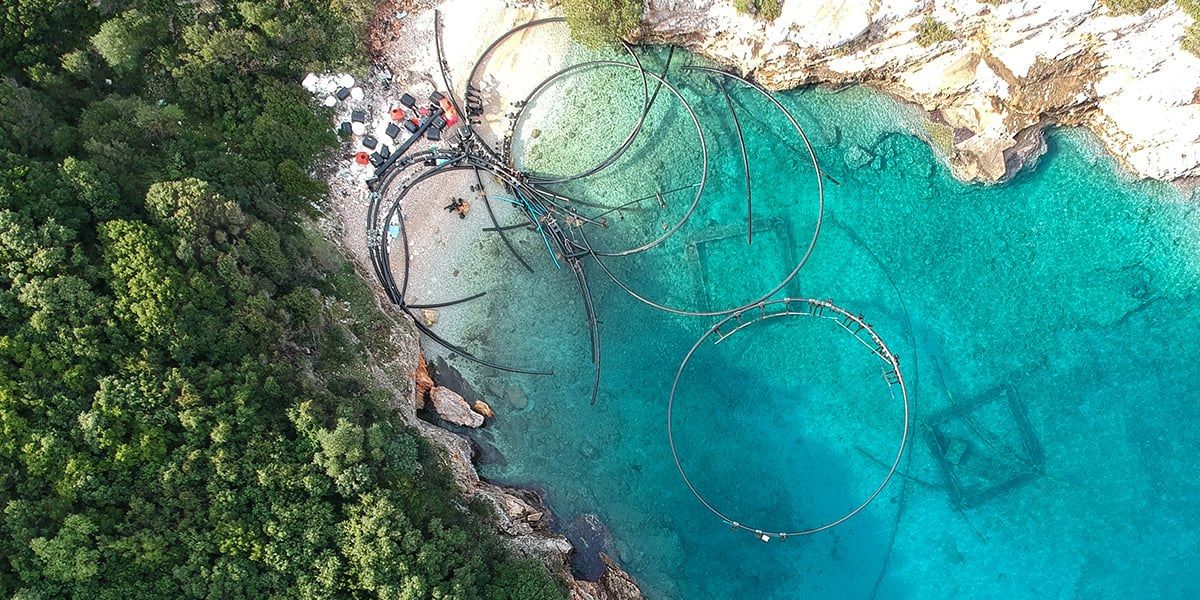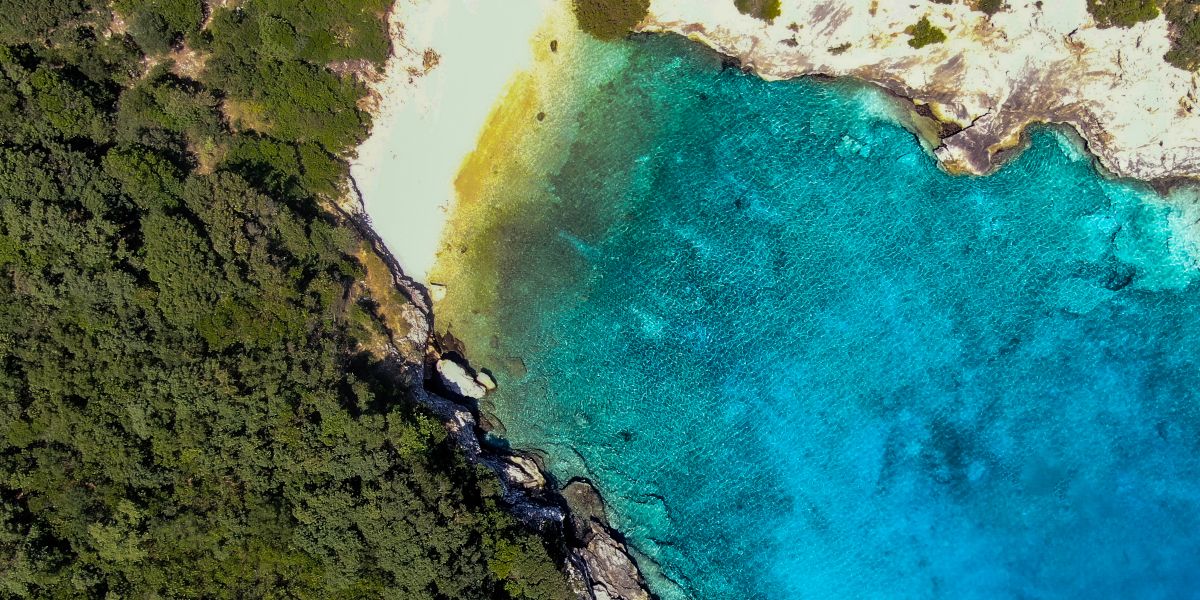 Move the slider to see what an impact the partnership between Hyundai and Healthy Seas has made.
BBC Documentary: Saving Ithaca's Seas.
BBC was there to document the project, telling the story of the clean-up, its impact on the environment, and the collaboration by the many partners involved. You can watch a 7-minute version of documentary here by clicking play below.
Clearing Ithaca's seas of lost fishing nets and gear.
The team recovered 76 tonnes of debris from the sea, coastline, and beaches. In addition to removing the waste, divers from the Ghost Diving organisation – including Erik Wurz, marine biologist at Wageningen University – conducted scientific research to assess the impact of the pollution on the local environment. Overall, it represented the biggest ocean clean-up in the history of Healthy Seas.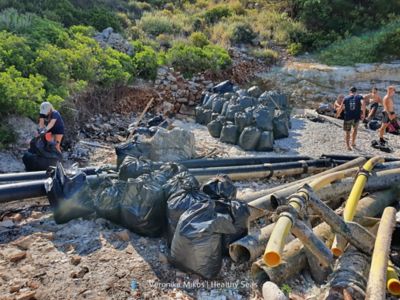 Photo credits: Veronika Mikos | Healthy Seas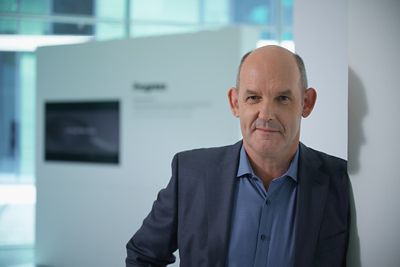 As a purpose-driven company, Hyundai understands that recycling and sustainability aren't trends, but rather a need for our society. Beyond providing zero-emission mobility solutions on land, we also care about protecting fragile ecosystems at sea and we are confident that with our partner Healthy Seas we will manage to have a big impact.
From waste to wear: recycled nylon yarn used by Hyundai.
Working with a network of partners, Healthy Seas helps recycle plastic waste into new materials in a circular economy. Reclaimed fishing nets and other nylon waste becomes ECONYL®, a regenerated nylon yarn that is used to make new products. This is important for Hyundai, as we plan to use it in our cars. A 1st step was made with the IONIQ 5, which can be ordered with floor mats made of ECONYL®.
Recovering plastic waste.

Cleaning the seas to save marine life. Volunteer divers recover ghost nets from reefs and shipwrecks – hotspots for marine biodiversity. Millions of marine animals are injured and killed by ghost nets.

ECONYL, regenerated nylon yarn.

Recovered fish nets are cleaned, sorted and processed by Aquafil. Together with other nylon waste, they are regenerated into ECONYL® yarn, which is used to create new products in a circular economy.

Creating new products.

Nylon waste, otherwise polluting the Earth's oceans, is transformed into ECONYL® regenerated nylon, which is in turn turned into new products like the like floor mats for the new Hyundai IONIQ 5.
Future projects with Healthy Seas and Hyundai.
Healthy Seas, with the support of Hyundai Motor Europe, are expanding operations to do even more. The challenge is huge and the risks are real, but their mission is clear; to rid the world's oceans of ghost gear and provide value to the waste. Here's a look at some projects that are planned for the near future.