Electrify your drive.
Smooth, silent and super zippy when you press the pedal, electric vehicles are a pleasure to drive. They are typically also roomier on the inside than conventional cars due to the fact the centre tunnel for the transmission is not needed.
Driving Experience
Nobody said that electric mobility had to be boring.
Lightning-quick off the line thanks instant torque delivered by the electric motor, electric vehicles (EV) accelerate quickly and run quietly for a very dynamic driving experience. EVs are typically equipped with a single-speed reduction gear, so there's no more shifting. As a result, the ride is smooth, silent and the response is almost instantaneous.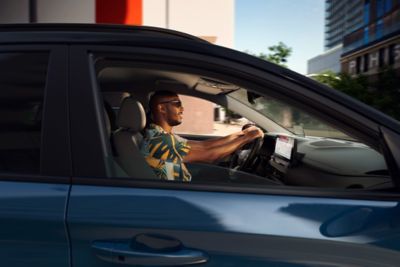 Just because you don't have a 6 cylinder turbocharged petrol engine on board doesn't mean that electric vehicles are slow. EVs are quick off the line and deliver smooth and quick acceleration. When it all comes down to it, an EV is still an automobile. There is nothing scary or difficult about driving one, the big difference is that you have to charge the battery as opposed to fill the tank with fuel.
0-100 km/h
Electric vs. petrol – who accelerates faster from 0 to 100 km/h?
IONIQ 5 vs. KONA N.

IONIQ 5 (4WD with 77.4 kWh, 325 PS) = 5.1 sec.

KONA N (2.0 T-GDI, N DCT, 280 PS) = 5.5 sec.

KONA Electric vs. KONA ICE.

KONA EV (204 PS) = 7.9 sec.

KONA ICE (DCT, 198 PS) = 7.7 sec.

IONIQ 5 vs. i30 N.

IONIQ 5 (4WD with 58 kWh, 235 PS) = 6.1 sec.

i30 N (2.0 T-GDI, MT, 250 PS) = 6.4 sec.

IONIQ 5 vs. TUCSON Mild Hybrid.

IONIQ 5 (RWD with 58 kWh, 170 PS) = 8.5 sec.

TUCSON (1.6 T-GDI, iMT, 48V-Mild Hybrid 180 PS) = 9.4 sec.
Space & Comfort
Enjoy more interior space and more comfort.
In general, fully electric vehicles have more interior space because lots of parts which are needed for a combustion engine are not needed. For example, inside the IONIQ 5, our new EV platform lets us re-create the interior as a whole new in-car experience. The flat floor allows front and back seats to be arranged in numerous ways to accommodate lunch breaks and road trips and anything else you'd like to do.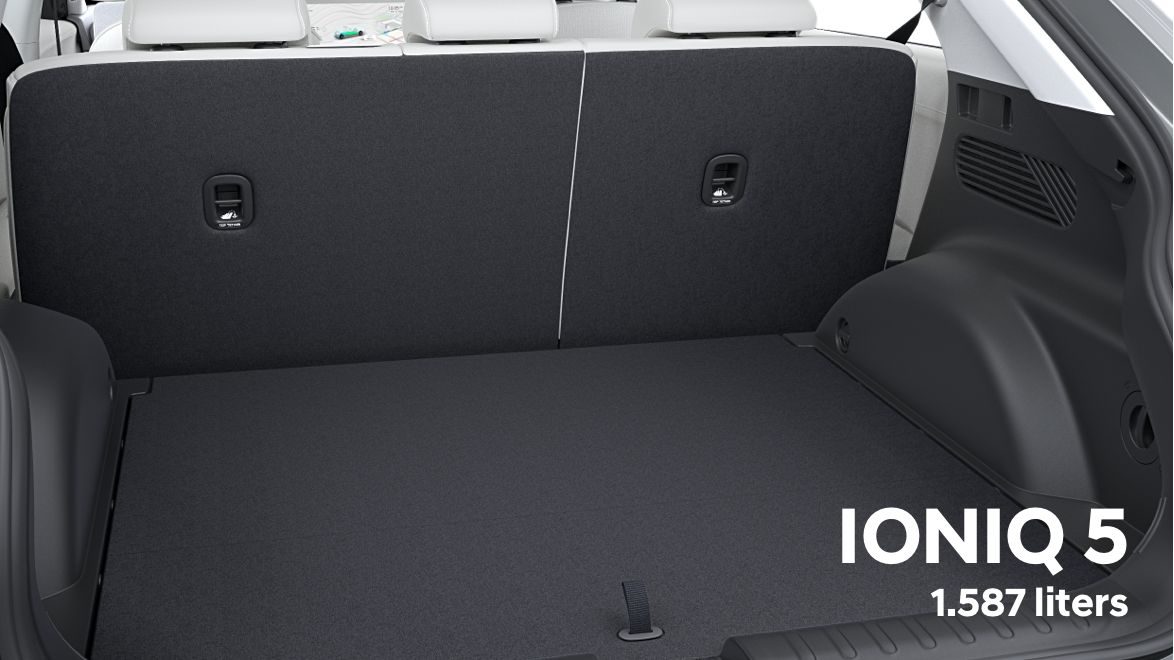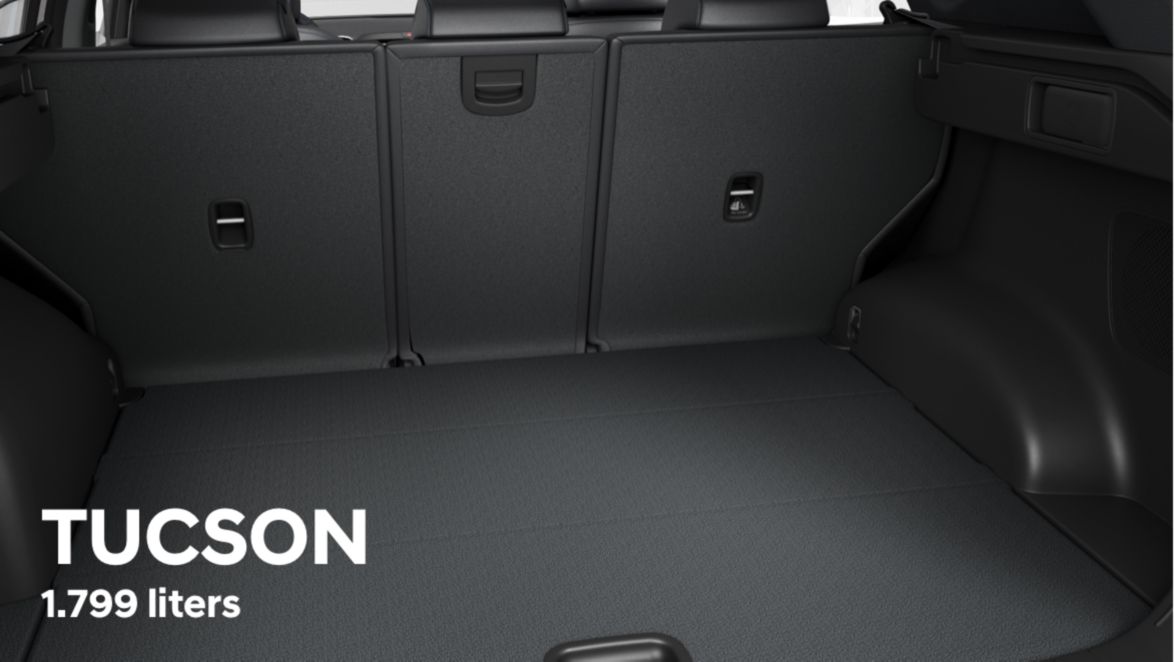 IONIQ 5 provides 527 liters of trunk space, which increases up to 1,587 liters when the second-row seats are fully folded. On top of that, we took the space where the petrol engine would normally be located – and made some extra space for your stuff, like the charging cable. This second boot in the front provides up to 57 litres of additional cargo space putting IONIQ 5's total storage space at 1,644 liters max.
In the TUCSON, boot space has been increased and depending on the chosen trim and powertrain, you'll enjoy up to 620 litres overall for luggage with the seats up – and up to 1,799 litres with the second-row seats fully folded.
Sound & Noise
Quieter cabins for a relaxing driving experience.
Although fast and powerful, EVs drive very quietly thanks to the low noise levels emitted by an electric motor vs. an internal combustion engine. This results in a peaceful and relaxing driving experience.
Different frequencies. Less noise.

The noise produced by the electric engine and its gearbox is on higher frequencies than a traditional combustion engine. The higher frequencies can be blocked more efficiently with insulation e.g., so you can enjoy a quieter ride in your EV.
Tyre noise.

The noise from the road and the tyres will be very similar to the noise levels from a combustion engine car. However, tyres for EVs are optimised for rolling and might therefore create a different noise levels through different vibrations. But overall, noise levels emitted by electric vehicles are generally much lower.
Wind noise is a factor.

Since EVs are optimised for driving range, their wind resistance is usually less than that of combustion engined cars. But wind noise still remains the dominant noise at high speed. In the future, replacing the side mirrors with cameras will result in a result in a reduction in aerodynamic drag and noise.
Other sounds are noticeable.

Interestingly, because there is no loud engine and exhaust pipes, you will tend to hear more other "sounds" in a fully electric vehicle. The sound of the windshield wipers or the fans for heating and air-conditioning become more prominent for example. 
E-Active Sound Design + BOSE inside the IONIQ 6.
The new sound of electric driving. Enjoy a more emotionally charged driving experience with e-Active Sound Design. This Hyundai first feature produces a virtual driving sound through dedicated controllers and the BOSE premium audio system for a more engaging driving experience. The optimum sound is tailored to the cabin considering variables such as speed, torque and the driver's acceleration.
Acceleration

Deceleration
Quieter city streets - EVs can help reduce noise.
Noise pollution in cities is a major health concern according to the World Health Organisation – and electric vehicles can play a substantial role in bringing down the noise. In addition to emitting zero tailpipe emissions, fully electric vehicles are also much quieter than their diesel and petrol cousins. 
Speed from 0 - 30 km/h.

In general, at constant low speed EVs are about 2-5 dB quieter than similar vehicles with internal combustion engines. If electric vehicles use warning sounds to improve the security of pedestrians, the difference is around 1 dB less. 
Speeds higher than 30 km/h.

At higher speeds starting at about 30 km/h, the noise difference between EV and combustion-engined vehicles decreases. This is because at higher speeds, wind noise as well as tire and road noise become more dominant than engine noise.
Noise reduction for other vehicles.

It is commercial vehicles like heavy lorries, delivery vans and waste collection vehicles that hold the biggest potential to reduce urban noise. These types of electric vehicles are significantly quieter across the entire speed spectrum in city traffic. The same goes for motorcycles and motor scooters.
In conclusion:
It is fair to say that electric vehicles offer a quieter cabin atmosphere than their diesel and petrol cousins. And when it comes to the outside environment, electric cars are quieter in urban areas at lower speeds when compared to cars with internal combustion engines. And with the number of low speed zones in cities on the rise, EVs can bring down noise levels and tailpipe emissions in the speed range of 0 to 30 km/h substantially. Furthermore, heavier vehicles like vans, lorries and buses with fully electric powertrains are significantly quieter across the entire speed spectrum in city traffic and offer an even higher potential for reducing noise levels and and tailpipe emission in cities.
Discover more about our electric vehicles.
Discover our electrified vehicles.
*Range shown is according to WLTP combined cycle. Driving range may vary slightly depending on road conditions, your driving style and the temperature. It is also is dependent on the type of tyres equipped. Technical data not final.
** Charging time is based on charging with on 32A wallbox and 3.3 kW OBC.  Charging times  may vary depending on available charging conditions, including charger type and condition, battery temperature and ambient temperature at point of use.