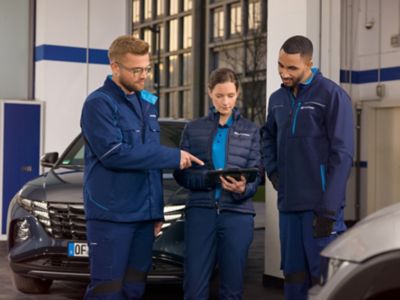 Hyundai Quality Service.
Experience expert service for your Hyundai.
Your Hyundai is in best hands here.
Our passion for quality knows no limits. That's why we only give our very best in our service to ensure that you can always rely on your Hyundai.
Battery check.

Get off to a powerful start. Our Hyundai Service experts can assess the charging performance and overall condition of your battery, determining the risk of failure and offering a variety of solutions if necessary.
Hyundai brake check .

It is important to check your brakes regularly. Braking performance decreases with each use of the pedal and it may be too late before you notice. Our brake check gives you the assurance that your brakes will perform at their best.

 
And there's so much more Hyundai service!
Relax, we've got your back. Your Hyundai service team is there for you every step of the way. From free map updates for your Hyundai navigation system to our comprehensive Hyundai Roadside Assistance – you can enjoy the peace of mind that you can always get where you need to go. Find out more below.