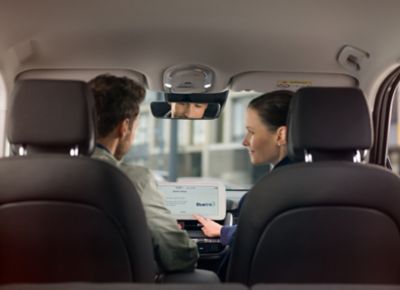 Hyundai EV Service.
Your experts for electric vehicle maintenance.
Service that electrifies.
Our Hyundai Service experts ensure that you can enjoy many years of worry-free driving pleasure with your Hyundai EV. They are your first point of contact when it comes to maintenance or repair.
Air conditioning check.

Keep your electric vehicle interior air fresh and clean, come to the Hyundai air conditioning check. A Hyundai technician will check and disinfect your air conditioning while replacing your interior air filter with a premium cabin filter for optimal filtration and pollen protection.
Tyre change.

Is it time for a wheel change? The Hyundai service experts are looking forward to seeing you. We offer wheels and tyres that have been specially developed and optimized for electric vehicles. For your safety and for a perfect look.
Brake check.

Thanks to regenerative braking, electric car brakes require about half as much maintenance as those on a conventional car. Nonetheless, in order to be on the safe side, you should have your brakes checked regularly and have brake pads and discs changed if necessary. Especially for safety-relevant components, always rely on Hyundai Genuine Parts – and on the expertise of Hyundai service experts.
Hyundai Genuine Accessories for more possibilities.
You have big plans - your Hyundai EV does everything. Add more practicability and a personal touch to your EV with Hyundai Genuine Accessories. You benefit from the highest quality and suitability as well as optimal performance that you can rely on in any situation.

Hyundai Genuine wheels.

Our Genuine wheels uniquely meet the special requirements of your Hyundai EV. This means that they all have the necessary load-bearing capacity and they all deliver highly efficient aerodynamic performance. And last, but not least, all of our wheels look great, whichever design you choose.
Charging cable, Mode 3.

The charging cable, Mode 3 is equipped with Type 2 plugs at both ends and can be used for the day today charging at public and domestic charging points that provide Type 2 sockets.
Bike carrier for all tow bars.

On day cycle trips or biking holidays, this carrier takes all the hassle out of loading and unloading. Compact and theft-resistant, you can even open the tailgate with your bikes on the back!
Trunk liner and Trunk liner extension.

This semi-rigid, anti-slip and waterproof liner with raised edges will keep your trunk clean and the backs of your folded rear seats in top condition with the trunk liner extension.