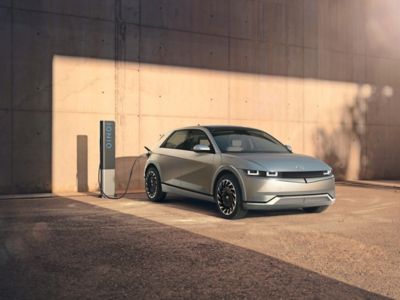 IONIQ 5.
Power your world.
This model is not yet available for sale. Official electricity consumption, emission and range data of this model have not yet been determined.
The beauty of electric innovation.
Breathtakingly beautiful and amazingly advanced, the IONIQ 5 is redefining the way people look at electric cars. Featuring innovative concept car design and an astonishing array of smart tech, it has been created to take you farther – with faster charging and sleeker style.
Highlights
The future of electric mobility is here.
Featuring breath-taking design and driving dynamics, as well as an 800-volt battery system for ultra-fast charging, this ground-breaking electric CUV delivers thrilling performance – built on a cutting-edge new platform that is nothing less than a technological milestone in this era of EV expansion.
Exterior
Distinctive. Iconic. Pure. Concept car design in series.
The IONIQ 5's pure design is a refreshing take on electric vehicles, stripping away complexity to celebrate clean lines and minimalistic structures. The unique clamshell hood spans the entire width of the car, minimizing panel gaps for a clean, high-tech look. The LED lighting showcases its signature Parametric Pixels – unique jewel-like design elements that will feature on the exterior of all future IONIQ models.

360°
Interior
Live, drive, work, relax.
Inside the IONIQ 5, the lines between living space and moving space are being blurred. Our new EV platform gave us the opportunity to re-create the interior as a whole new in-car experience. A larger flat floor, highly adjustable front seats that can be fully reclined, and a flexible centre console that can be moved throughout the cabin, make for an extraordinary experience.
Innovative use of environmentally friendly materials.
Environmentally friendly materials are used extensively in the IONIQ 5, like eco-processed leather and recycled yarn. What's more, raw materials extracted from sugar cane are used on the headliner, carpet and seat covers. A solution that is both recyclable and beautiful. The innovative use of natural materials is another contribution to sustainability in our manufacturing processes, making the IONIQ 5 less reliant on oil-based products.
EV Platform
Leading the charge into the electric era with E-GMP.
IONIQ 5 is the first vehicle built on Hyundai's new Electric-Global Modular Platform (E-GMP). This dedicated battery electric vehicle platform enables faster charging, increased driving range, more interior space and better handling. The battery pack's position within the wheelbase ensures ideal weight distribution between the front and rear and a low centre of gravity for improved handling performance.
A modular concept.

E-GMP accommodates a wide range of vehicle types, driving distances, and lifestyles through a standardized battery system equipped with technology optimized for EVs.
Electric Performance.

In the space freed up by removing the internal combustion engine, we have mounted the driving motor low down. The battery is also placed low down within the chassis allowing ideal weight distribution between front and rear and a low center of gravity for improved handling performance and a more stable high-speed experience.
Designed for safety.

E-GMP embraces unique EV design characteristics such as short overhangs and a long wheelbase with collision safety, maximised passenger space, and battery safety.
More room for passengers.

E-GMP enables the creation of innovative interiors designed uniquely for EVs to provide a new electrified mobility experience for our customers. The space-consuming AC system has been moved from inside the car to the extra space created by replacing the engine with an electric motor – leaving more room for passengers in the front.

More legroom.

The low-mounted battery and the flat floor from removal of the centre tunnel result in much more legroom for passengers.

Flexible seat arrangements.

The flat floor also allows front and back seats to be arranged in numerous ways to accommodate lunch breaks and road trips and anything else you'd like to do – providing an innovative electrified experience.
Charging
Enjoy a wide range of flexible charging options.
Charge at home overnight or top up at a fast charging station on the road in just minutes. Depending on your grid connection at home or the type of charging station you have access to, the IONIQ 5 gives you a range of flexible charging possibilities. Equipped with an innovative 800V battery system for some of the fastest charging times possible today, it is also compatible for 400V charging and AC charging.
How long is your daily commute?
Calculate the number of commute days between charges for the IONIQ 5.
IONIQ 5
days
between
charges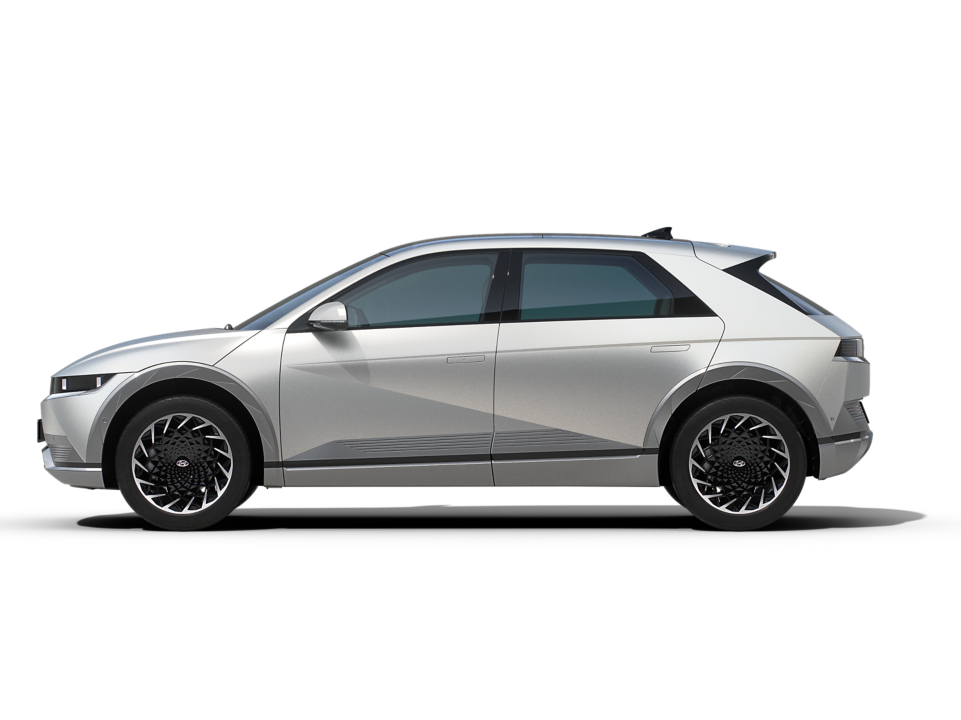 Just as there is a range of factors that affect the fuel efficiency of an internal combustion engine (ICE), the total electric driving range will be affected by the size of the battery, your driving style, the outside temperature, any passengers you are carrying and more.
---
Safety
Cutting-edge safety and driver assist features.
Enjoy a maximum of safety and convenience with the highest level of safety and driver assistance features in the Hyundai line-up. With Hyundai SmartSense, our cutting-edge Advanced Driver Assistance Systems, the IONIQ 5 has been equipped with the very latest safety and driving assist features for added peace of mind. It is also the first Hyundai to feature Level 2 autonomous safety technology.
Advanced head-up display.

With its 44" advanced head-up display, your windshield guides you safely through the world. It projects virtual information like directions or Lane Departure Warnings directly onto your view of the lane in front of you.

Level 2 autonomous driving.

With Highway Driving Assist II, IONIQ 5 is the first Hyundai model to feature Level 2 autonomous safety technology, which controls speed and distance and assists the driver when changing lanes.

Enhanced safety with 7-airbags.

Designed to protect you and your passengers, the IONIQ 5 features enhanced safety with 7-airbags including a driver's seat centre-side airbag to diminish head injuries caused by passengers colliding.

Safe exit assist with child lock.

This clever feature prevents accidents by detecting vehicles approaching from behind and temporarily locking the rear child lock doors, so that passengers can only exit the car when it is safe to do so.
Connectivity
Making life as connected as you want to be.
The IONIQ 5 is equipped with a stellar range of intuitive smart tech to make life inside as connected as you want to be. Cutting-edge connectivity features like our Bluelink® Connected Car Services, let you control your car from your smartphone – or with your voice. A free five-year subscription to Hyundai's LIVE Services is also included with the navigation system.
Convenience
More space. More clever convenience.
IONIQ 5 features a three-metre wheelbase, resulting in outstanding proportions and unheard of spaciousness. And taking advantage of all that space, we have created a range of clever convenience features for you and your passengers.
Warranty
5-Year Unlimited Mileage Warranty.
Like every Hyundai, the IONIQ 5 is built to the highest possible quality standards. And we back that quality up with a 5-Year Unlimited Mileage Warranty so you can enjoy the things you love in life, without having to worry about your car. On top of that, the high-performance lithium-ion polymer battery is warranty protected for 8 years or 160,000 km, whichever comes first. Enjoy the extra peace of mind that one of the industry's best warranties gives you – standard.
Tyre information.
Below you will find the information about the tyres which may come with your Hyundai IONIQ 5.