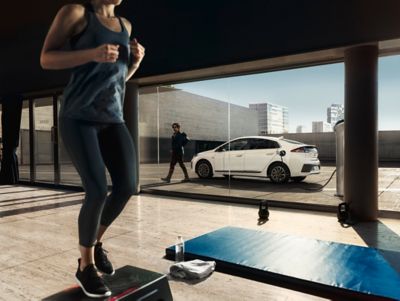 Features.
Explore the features of the new Hyundai IONIQ Electric.
A winning electric combination.
Specially equipped with features to make electric driving easier, the new IONIQ Electric delivers a winning combination of space, style and refinement matched with the very latest in connectivity and technology.
Technology
Bluelink® Connected Car Services.
Control your car from phone – or with your voice. Bluelink brings seamless connectivity directly into the new IONIQ Electric with online voice recognition and a range of features to make your drive more convenient and enjoyable. Enjoy free access to Hyundai LIVE Services with real-time traffic, on & off-street parking, live fuel price information and POI information.
Get there faster with real-time services.
Enjoy everything you need to make driving less stressful – and to get you there faster. A free 5-year subscription to Hyundai's LIVE Services is included with the 10.25" AVN system. Access real-time information on petrol station locations and prices, traffic, weather and POI, as well as on & off-street parking and Hyundai dealerships – and even speed camera alerts where allowed by law.
Charging stations.

Never worry about running out of battery: The IONIQ Electric shows you real-time charging station information such as location, connector types and availability.

On & off-street parking.

Find a parking spot faster – and enjoy more efficient and stress-free parking. This feature helps you find and compare real time parking options in garages and parking lots, as well as on-street parking spots. 

Weather forecast.

Want to know what kind of weather is heading your way? With the live weather service, you can always monitor the latest weather information of your current location, destination or favourite cities.

Speed camera alert.

A comprehensive service with alerts for both fixed and mobile speed cameras.* So you can focus on a safe, confident and relaxing drive.

Real time traffic information.

Get there faster. With Hyundai's real-time traffic information, you get the best routes according to the prevailing conditions – as well as the most precise time of arrival estimates.

Live Point of Interest.

Searching for an address, POI (point of interest) or a combination of both has never been so easy. Thanks to the free text search, you can always find the place you are looking for.
Charging
Enjoy fast and flexible charging.
At home or on the road: charging the IONIQ Electric's battery is easy. Depending on your grid connection at home or the type of fast charging station you have access to, the IONIQ Electric gives you a range of flexible possibilities with various cable sets and plugs available for all kinds of charging.
Programmable charging.

The advanced battery management system gives you complete control. Personalise your charging times to best fit your schedule and budget. A few taps is all it takes to save money. Use the Charging Time Reservation function to program start and stop charging times to make the most of off-peak electricity rates and wake up to a fully charged battery.
Fast charging. 

Need a charge on the road? No worries – Hyundai's LIVE Services will guide you to EV charging stations on your route. For the fastest possible recharging, IONIQ Electric can be charged at direct current (DC) fast-charger stations.  Charging time @100kW station: 54 minutes (80% state of charge SOC). Charging time @ 50kW (80%SOC): 57 minutes* (Charging time may vary per region)
Normal charging. 

Charge at home using a home wall box or a public AC charging station. Depending upon the service provider, public AC chargers can have a range of outputs. For home charging, many drivers of electric vehicles choose to have a wall mounted charging point installed at home for faster charging vs. a normal wall socket.

Normal charging. 

Charging Time @ 7,2kW: 6h 5min *  You can also connect to any regular household power socket using the ICCB-cable (in-cable control box) for a charging time of 35h 30min*.  IONIQ Electric is equipped with a 7.2 kW on-board charger, which converts AC power from domestic wall sockets to DC power that charges the battery in the vehicle. *May vary per region
Performance
Never stop for petrol again.
With its upgraded electric powertrain and more powerful battery, the new IONIQ Electric delivers 311 km range with zero tailpipe emissions*. The 100 kW electric motor is now powered by 38.3 kWh lithium-ion polymer battery. And thanks to an on-board-charger that has been upgraded to 7.2kW, the battery only takes about 54 minutes to charge to 80% state of charge at a 100 kW DC fast charger station.
Paddle shifters for regenerative braking.

Maximise range and maintain a healthy state of charge by adjusting regenerative braking with the steering wheel-mounted paddle shifters. 4 levels of deceleration and charging strength can be selected.

Smart Regenerative Braking.

Regenerative braking charges the battery by using the electric motor to slow the car. Smart Regenerative Braking uses radar sensors to automatically control braking in traffic, slowing you down accordingly.

Three drive modes.

Choose from 3 drive modes to match your mood. COMFORT is an excellent balance between efficiency and power, ECO mode maximizes energy efficiency, and SPORT gives you extra torque for better acceleration.
Convenience
Clever, convenient and connected.
Enjoy the seamless connectivity you expect and innovative tech that makes life easier. Designed to make every journey a good one, the new IONIQ Electric offers wide range of clever features and systems that provide more comfort and convenience for everyone on board.
Wireless charging.

Charge your smartphone the easy way. The wireless charging tray conveniently located in the centre console lets you easily charge a compatible Qi-enabled smartphone without the use of cables.

Heated and ventilated seats.

Enjoy the comfort of an available 8-way adjustable power driver seat with 2-way lumbar support. A heated and ventilated version is also available. A heated option is available in the back as well.

Heated steering wheel.

Enjoy warm hands on cold days. The heated steering wheel with its D-cut design and silver-accented spokes features ergonomically positioned controls so you can stay connected and operate car systems while driving safely.

Electronic Parking Brake (EPB).

Enjoy finger-tip control. The Electronic Parking Brake also features Auto Hold, which keeps your IONIQ Electric at a complete stop without you having to keep your foot on the brake pedal.

Driving Rear-View Monitor (DRM).

The visibility offered by the rear view mirror is limited sometimes. With the DRM, a camera provides clear video of exactly what's going on behind – for a safer and more comfortable driving experience.
Discover more of the Hyundai IONIQ Electric.
Tyre information.
Below you will find the information about the tyres which may come with your Hyundai IONIQ Electric.