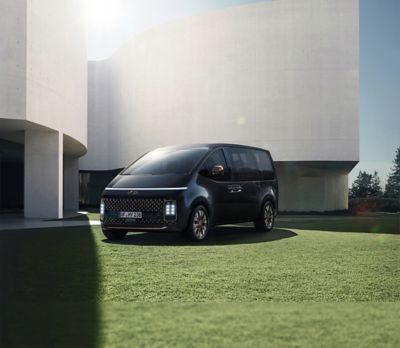 The all-new STARIA.
Next level multi-purpose vehicle.
Step into space.
In this space, the possibilities are unlimited. Step into the all-new STARIA and experience exceptional comfort and versatility supported by the highest levels of safety and connectivity. It's one small step for Hyundai and one giant leap into the future of MPV mobility.
STARIA Wagon: comfort for 9 with 1,303 litres of cargo.
The iconic good looks of the STARIA Wagon are just half the story. Every centimetre of this stylish 9-seater makes optimal use of cabin space so that everyone on board can enjoy living room comfort. So, no matter if you're taking the family on a road trip or heading to the airport with clients – with nine seats and 1,303 litres of cargo space, it's the perfect choice for roominess and versatility.
STARIA Premium: elevating 7-seater mobility to luxury level.
Elegantly futuristic, the STARIA Premium does more than just establish a new design aesthetic: it is redefining the luxury MPV segment to stand in a class of its own. Upgrade to executive class with this luxuriously appointed 7-seater – and experience a new level of comfort. The Premium Relaxation Seats in the second row recline electronically and slide for easy reach or maximised cargo space.
3-Year Unlimited Mileage Warranty.
Like every Hyundai, the all-new STARIA is built to the highest possible quality standards. And we back that quality up with a 3-Year Unlimited Mileage Warranty so you can enjoy the things you love in life, without having to worry about your car. Enjoy the extra peace of mind that one of the industry's best warranties gives you – standard.
Explore more of the all-new STARIA.