Game changing technology.
Elegantly combining amazing performance with an astonishing array of smart tech, a striking design and 800V charging technology. This all-electric midzise CUV is a game changer, designed to take you further with a driving range of up to 315 miles. 2
Performance
The future of electric mobility is here.
Featuring breath-taking design and driving dynamics, as well as an 800-volt battery system for ultra-fast charging, this ground-breaking CUV delivers thrilling performance – built on a cutting-edge new platform that is nothing less than a technological milestone in this era of electric vehicle expansion. 3
All-wheel drive.

In the all-wheel drive version, IONIQ 5 is propelled by two electric motors integrated with the front and rear axles, providing 325PS (239 kW) and 605 Nm of instant torque.

Power : 74 kW Front / 165 kW Rear

Torque: 255 Nm Front / 350 Nm Rear

Only available coupled with the 77.4 kWh battery.

Two-wheel drive.

In the two-wheel drive/ long range battery version, IONIQ 5 is propelled by a 168 kW electric motor integrated in the rear axle, providing 229PS and 350 Nm of instant torque.

Power: 168 kW Rear

Torque: 350 Nm

 
Two-wheel drive.

In the two-wheel drive/ standard range battery version, IONIQ 5 is propelled by a 125 kW electric motor integrated in the rear axle, providing 170 PS and 350 Nm of instant torque.

Power: 125 kW

Torque: 350 Nm

Acceleration 0-62 mph: 8.5 seconds
EV Platform
Leading the charge into the electric era with E-GMP.
IONIQ 5 was the first vehicle built on Hyundai's new Electric-Global Modular Platform (E-GMP). This dedicated battery electric vehicle platform enables faster charging, increased driving range, more interior space and better handling. The battery pack's position within the wheelbase ensures ideal weight distribution between the front and rear and a low centre of gravity for improved handling performance.
A modular concept.

E-GMP accommodates a wide range of vehicle types, driving distances, and lifestyles through a standardised battery system equipped with technology optimised for electric vehicles.
Electric Performance.

In the space freed up by removing the internal combustion engine, we have mounted the driving motor low down. The battery is also placed low down within the chassis allowing ideal weight distribution between front and rear and a low centre of gravity for improved handling performance and a more stable high-speed experience.
Designed for safety.

E-GMP embraces unique electric vehicle design characteristics such as short overhangs and a long wheelbase with collision safety, maximised passenger space, and battery safety.
Flexible seat arrangements.

The flat floor also allows front and back seats to be arranged in numerous ways to accommodate lunch breaks and road trips and anything else you'd like to do – providing an innovative electrified experience.

More legroom.

The low-mounted battery and the flat floor from the removal of the centre tunnel result in much more legroom for passengers.

More room for passengers.

E-GMP enables the creation of innovative interiors designed uniquely for electric vehicles to provide a new electrified mobility experience for our customers. The space-consuming AC system has been moved from inside the car to the extra space created by replacing the engine with an electric motor – leaving more room for passengers in the front.
Charging
Excellent charging performance.
Charge at home overnight or top up at a fast charging station on the road. Depending on your grid connection at home or the type of charging station you have access to, the IONIQ 5 gives you a range of flexible charging possibilities. Equipped with an innovative 800V battery system for some of the fastest charging times possible today, it is also compatible with 400V charging and AC charging.
How often do you need to charge your IONIQ 5?
Move the scroll to see how many days you can travel between charges based on your average daily mileage (58 and 77.4 kWh battery capacity).
77.4 kWh
days
between
charges
58 kWh
days
between
charges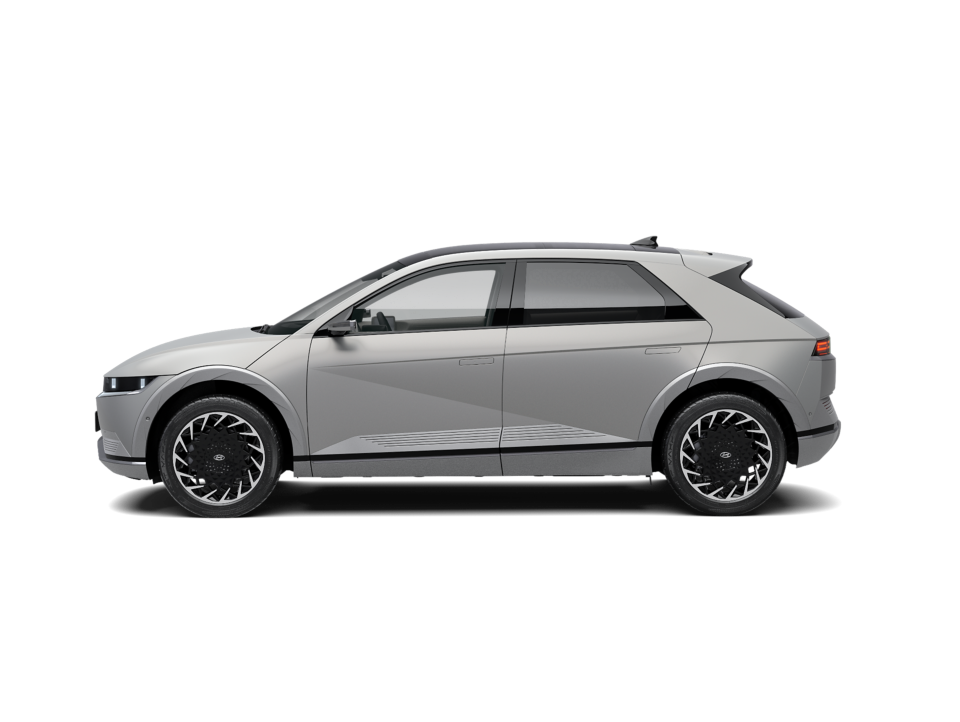 Just as there is a range of factors that affect the fuel efficiency of an internal combustion engine (ICE),the total electric driving range will be affected by the size of the battery, your driving style, the outside temperature, your comfort settings, the number of passengers and cargo weight.
---
800V Charging Technology
With faster charging and a striking design, IONIQ 5 was designed to take you further. IONIQ 5 is equipped with a choice of two battery sizes 77.4 kWh and 58 kWh achieving a maximum electric range between 238 and 315 miles2. The larger 77.4 kWh battery is available in rear-wheel drive and all-wheel drive, the 58 kWh is available in rear-wheel drive only. All powertrains come with 800V charging technology, as standard, this allows you to benefit from ultra-fast charging3 at public stations making driving an electric vehicle easier than ever.

Convenience
Comfortable commuting combined with exquisite power.
IONIQ 5 is redefining mobility with its wide array of high-tech convenience features that are as unique as they are smart and a pleasure to use. IONIQ 5 also supports a sustainable electric mobility lifestyle with its innovative Vehicle-to-Load tehcnology (V2L), which lets you freely use or charge any electric device, such as electric bicycles, scooters or camping equipment – while on the move or on location.
Automatic dual zone air-conditioning.

As you like it. Both driver and front passenger can set their preferred temperatures individually. Just select the desired temperature and the system does the rest.

Highly adjustable electric seats.

Get comfy. The front seats are 8-way adjustable – and fold flat for a power nap with one click. When fully reclined, calf support pops up for relaxing leg support. The rear seats are also electrically adjustable. 

Front & rear cargo spaces.

We took the space where the petrol engine would normally be located – and made some extra space for your stuff. A second boot in the front provides up to 57 litres of additional cargo space. 

This applies to rear-wheel drive (RWD) vehicles, and cargo space will be 24 litres for all-wheel drive (AWD) vehicles.

Generous cargo space.

IONIQ 5 provides 527 litres of boot space, which increases up to almost 1,600 litres when the second-row seats are fully folded. For added versatility, the second-row seats can slide forward up to 135 mm and also fold in a 6:4 ratio.

Power tailgate – hands free.

The power tailgate opens automatically when the proximity of the smart key is detected for 3 seconds – which is especially practical when you have both hands full coming out of the shops.

Rear air vents / heated seats.

On the road, your rear seat passengers will appreciate the cosy comfort of their own dedicated rear vents. 

On a chilly day, passengers can enjoy the comfort of the heated seats in the rear to keep them warm. 
Connectivity
Making life as connected as you want to be.
The IONIQ 5 is equipped with a stellar range of intuitive smart tech to make life inside as connected as you want to be. Cutting-edge connectivity features like our Bluelink® Connected Car Services, let you control your car from your smartphone – or with your voice. A free three-year subscription to Hyundai's LIVE Services is also included with the navigation system.
Clever visibility with digital mirrors.
The DSM (Digital Side Mirror) systems features as standard on the Namsan Edition and utilises two side mounted, low profile high definition cameras in the traditional side mirror locations, as well as two interior, door card mounted screens.
Bluelink® Connected Car Services.
Hyundai's connected car app, Bluelink® keeps you connected to your car. A whole suite of services has been designed to make driving safer, easier, and more fun. They are available through the Bluelink® smartphone app and your Hyundai's touchscreen display. You can check IONIQ 5 level of charge, set the ideal cabin temperature, and enjoy connected routing giving real-time information when you travel thanks to Hyundai Live services, Bluelink® will even take you to your precise destination once you have parked your car.
Connected Routing.

With the help of the Bluelink® cloud, you can enjoy a stress-free driving experience! Its intelligent server calculates the best driving routes for you, giving you reliable traffic forecasts, accurate arrival times, and dependable route updates along the way.

Charging station finder.

Our navigation database has been increased to show more charging stations on the map, showing availability and estimated charging time. Simply click on the station icon to see what kind of charging is available.

Live Parking Services.

Find a parking spot faster – and enjoy more efficient and stress-free parking. This feature helps you find and compare real time parking options in car parks as well as on-street parking spaces.

User profiles.

Save everything just how you like it. Now you can save your infotainment preferences, such as language, Bluetooth and navigation settings.

Voice recognition.

Activate and control features such as climate settings, heated seats, infotainment controls, radio settings, phone calls and more via voice command.
Discover more of the IONIQ 5.