Hyundai Help for Kids, Hyundai Australia's charitable arm, partner with Ronald McDonald House Charities Australia on a national road-trip bringing to life a children's story book written and illustrated through RMHCA's Learning Program.
YouTube Storybook Animation Link. Watch here.
Facebook Road-trip Highlights Video Link. Watch here.
Considering how dearly beloved they are by children, and how much time they spend pretending to be one, it's surprising that all of our super heroes have been created, and morphed into money-spinning megastars, by grown-ups. Until now.
Ethan Wyllie, 14, from Devonport in Tasmania, has broken the mould in spectacular style by creating a unique and inspiring comic-book super hero - Harry Hy-Undies, a flying car with a bright-red cape, Calvin Klein boxers and various kid-thrilling powers - only to see his crayon drawings turned into full-sized reality by the team at Hyundai Help for Kids.
As incredible as this whole story is, it all starts with Ethan, a boy - just 12 at the time - who reached out to say thank you for all the help and care he'd received while staying at Ronald McDonald House in Parkville, Melbourne, when he was having treatment. It was a big, colourful thank you - so big that plenty of other kids joined in - and one filled with imagination and humour, but it was also one that touched plenty of hearts.
As Ellenore Ibrahim, CSR Manager at Hyundai Motor Company Australia, explained, the Hyundai Help for Kids program, in addition to providing funding to RMHCA, also provide cars to help families get to and from airports and hospital appointments, among other transport requirements.
"We didn't realise how much they were of value until we received the most beautiful gift from the children benefiting from RMHCA's learning program - which allows children to be tutored while they are undergoing treatment, and which Ethan was a part of," Ibrahim explains.
"They wrote and illustrated a story book called Harry Hyundai, the Super Cool Car, as a thank you for our vehicle-assistance program.
"We were so touched by this thoughtful gesture we decided to bring Harry to life and embark on a national road-trip, visiting Ronald McDonald Houses throughout Australia and replicating his adventures.
"On behalf of Hyundai Help for Kids, the Harry Hy-Undies National Road-Trip would be our thank you gift to them."
While the experience of seeing his creation writ large - complete with crayon-style paint left Ethan with a smile as wide as the big brown land his cartoons depicted Harry flying across, it also brought plenty of joy to hundreds of other children staying at Ronald McDonald Houses around Australia, who were visited by Mr. Hy-Undies himself. The original book was bound and reproduced, to be read aloud at every occasion, and there's even an animated version of his tale living on YouTube.
Watch here.
As the story's introduction explains, the mild-mannered Harry Hyundai - in typical superhero style - can transform when he is called upon for help.

"Harry Hyundai, the Super Cool Car.
"He likes helping families wherever they are.
"A call for help will make him dash.
"He turns into Harry Hy-Undies in a flash."
His various adventures, which always feature helping out a child in need of adventure or entertainment, include flying to see horse races in Sydney, seeking out art galleries in Perth, taking a family from Wagga Wagga all the way to the beach, and taking Ethan himself to grab a friend from Geelong for a day out featuring water slides and footy. In one story, Harry Hy-Undies even manages to spray vinegar out of his headlights to soothe the wound of a Dad who's been stung by a jellyfish in Queensland, while in another he super-inflates his tyres to turn himself into a floating barge and save the day. In the metallic flesh, Harry Hy-Undies, complete with high-flying red cape and a big set of boxers on his rear, is undoubtedly the most unique Hyundai Elantra ever to hit the road.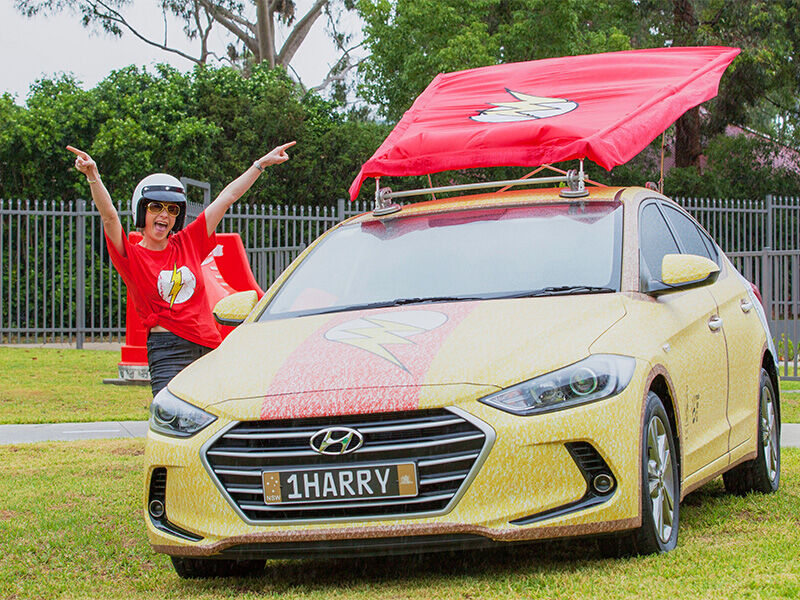 Part of the idea of the Harry Hyundai National Road-trip was inspired by Barbara Ryan, CEO of RHMCA, who made a presentation mapping out her organisation's Mission 2020, which was to "Think Nationally and Act Locally".
The goal of the road-trip therefore was to develop a real connection between the Ronald McDonald Houses around the country and Hyundai's regional staff, Hyundai Dealers, and their communities.
The Road-trip, which concluded at the end of 2019, covered more than 12,500km, visited eight different locations - from Perth to Adelaide, Canberra, Sydney, Melbourne and South East Queensland - and featured players from both the Carlton and Brisbane Lions Football Clubs turning up to give the kids an extra thrill.
Some 58 volunteers, all Hyundai employees or Dealer staff, turned up to help prepare more than 600 meals for the kids, and their families during Harry's visits.
The whole journey was kicked off at the Ronald McDonald House in Greater Western Sydney, where Harry was unveiled, along with a new bike path and village donated by Hyundai Help for Kids funding.
Right from the start, the dedicated staff organising the trip were counting down to visiting the House where it all began; the facility in Parkville, Victoria, where Ethan Wyllie and his family had been invited back, all the way from Tasmania, to see Harry in his Hy-Undies brought to life, just as Ethan had imagined him.
"They've made it awesome," an awe-struck Ethan enthused. "I coloured all this with crayons, which they've actually done for real, I drew the cape, put the Flash symbol on it so it goes fast. It was just a crazy idea and it's come to reality, and it looks really cool."
Barbara Ryan, the CEO of RMHCA, said the genius and warmth of the Harry Hy-Undies national tour of joy-bringing was typical of the relationship between her charity and Hyundai Help for Kids.
"The five-year partnership that we've had together with the national Hyundai Dealer Network and, of course, Hyundai Help for Kids, is incredible," Ryan said.
"Harry Hyundai was a wonderful story about this super car that travelled around the country and met with sick kids and brought cheer to those children."
To see the impact this bespoke collaboration with Hyundai Help for Kids & Ronald McDonald House Charities Australia has had on the children and their families residing at these homes away from home you needn't look beyond some of these beaming little faces:
Road-trip Highlights Video Link. Watch here.
Hyundai Help for Kids is part of Hyundai Australia's dedicated corporate social responsibility program and has been changing the lives of some children in need, and their families, since its inception in 2014.
It is a joint initiative of Hyundai Motor Company Australia and the 170+ strong Hyundai National Dealer Network, whereby a contribution from every new vehicle sold goes towards assisting children and their families in areas of medical, community and vehicle assistance. So, in effect, every Hyundai owner joins the family of not-for-profit organisations supporting Australians under the age of 18. Hyundai Help for Kids has raised contributions totaling more than $8 million dollars*.
* Does not include company car, govt. or rental car sales