Kicking more goals for kids.
In its second year running, Hyundai Australia have teamed up with Carlton Football Club to kick some much-needed goals for Hyundai Help for Kids partner, Ronald McDonald House Charities Australia.
During the match held on Sunday, April 17, in Round 5 of the 2022 AFL Season, Carlton Football Club and Hyundai Australia donated $250 each for every 'major' goal scored, resulting in an outstanding $7,000 to directly support the children and families of the Vic/Tas Chapter.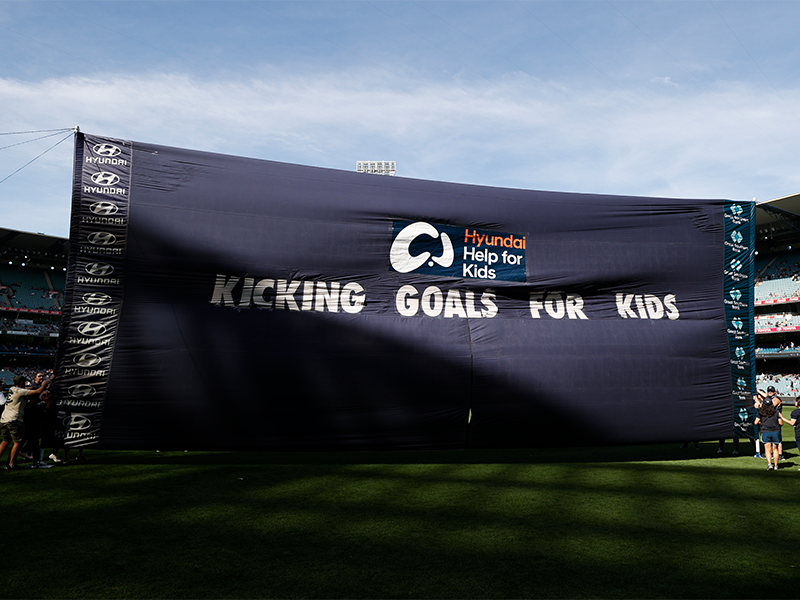 Ronald McDonald House Charities exists to provide a home away from home for seriously ill children and their families. Something Mieka (12 years old) sadly has experience firsthand. Mieka was first diagnosed with Rhabdomyosarcoma in 2018 after her left eye began drooping. It was at Melbourne's Royal Children's Hospital that this rare type of cancer which affects muscle tissue was confirmed and the embryonal tumour was removed. The prognosis at that stage was good. After the removal of the tumour, Mieka went back to her life of schooling and friends' sleepovers, just like any other child her age..
Learn more
During a routine scan in September 2021, it was detected the tumour, now sitting under Meika's eye, was back and in an aggressive mutation. This heartbreaking news meant Mieka was to start more chemotherapy and have her left eye removed. During Mieka's treatment, Mieka and her family stayed at one of the 18 Ronald McDonald Houses across Australia and were able to continue being a family unit and maintain some sort of normalcy, when there was anything but normal about their situation. It also allowed Mieka to receive the care and treatments she continued to need.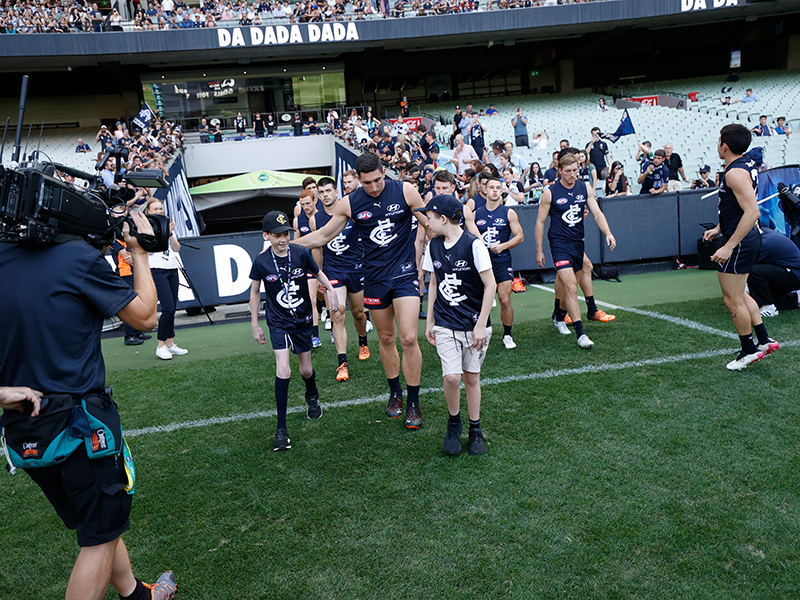 Hearing of Mieka's resilience, we were so privileged to have Mieka toss the coin at the start of this very special match. Along with our other special guests from RMHC Vic/Tas like junior mascots Caleb and Riley, and together with their families formed the Guard of Honour and treated to a host of special activities on the day. From being out on the field with Carlton players to their very own guernseys, it was a day they will never forget. To see more of Mieka's courageous resilience, please visit her Facebook page here: https://www.facebook.com/meikagordo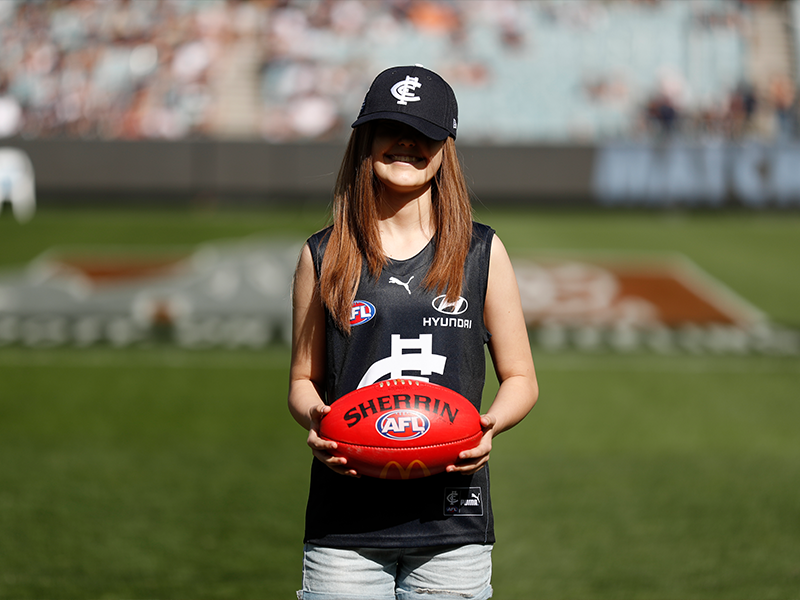 Beyond the footy field, Carlton Football Club then paid a visit to Ronald McDonald House, Parkville. Players Caleb Marchbank and Matt Owies were joined by the ever-popular Blues mascots Captain Carlton & Navy Nina at the house, providing some entertainment and laugher to the kids and families at the house. A very welcome distraction to their day.
Thank you to our Hyundai Sponsorships team & Carlton Football Club, for yet another amazing money can't buy experience and fundraising efforts in support our wonderful Hyundai Help for Kids partner, Ronald McDonald House Charities Australia.
See More photos
Ready to take the next step?