Professor imagines a world in which you don't just treat childhood cancer, but prevent it.
Professor Glenn Marshall recognised with a five-year, Leadership 2 National Health and Medical Research Council (NHMRC) Investigator Grant of $900,000
Hyundai Help for Kids partnership with Steven Walter Children's Cancer Foundation fund SIOPEN Neuroblastoma Clinical Trials in Australia and New Zealand
Professor Glenn Marshall doesn't want you to think about him and the long nights worrying over the kids he's trying to save from the cruel threat of cancer, or the even longer days he spends at the bedside or laboratory bench hoping for positive results about one of his young patients. He doesn't want you to think about him, because he's not the story. Childhood cancer, and fighting it, is the only story he wants to talk about.
What keeps Professor Marshall going through the hours, days, weeks and months is not our thoughts, well-wishes or admiration - which is the overwhelming emotion you feel when speaking to him. It is his patients - the children - who find a way to laugh and smile, despite the terrible ordeals they are enduring.
"Just seeing the kids every day is what keeps me going, meeting the families and just trying to help them," he says, in his quiet, humble way. "There's still so much work to do. One in six kids with cancer are still dying, and that's too many. That's what gets me out of bed every day. I want every single kid to make it."
When Professor Marshall, the Head of Translational Research and Molecular Carcinogenesis at the Children's Cancer Institute (CCI), says that, it doesn't sound like just a mission statement. It's spoken with the deep, personal passion of someone who has seen children lost to cancer, grieved with their families and come away determined to do more.
He doesn't do this work alone, of course, and for several years he's been receiving financial assistance from our Hyundai Help for Kids partnership with Steven Walter Children's Cancer Foundation which has a very similar mantra to Professor Marshall - "improving outcomes for children with cancer through targeted treatments and prevention."
To speak to the Professor is not only to be awed and inspired, however, it is to be educated. To discover that almost half of all childhood cancers have set their destructive course while a baby is still in the womb. Or that scientists can now use animal models to help create treatments - giving the specific cancer found in one patient to a mouse model, testing drugs for efficacy before they are given to a child.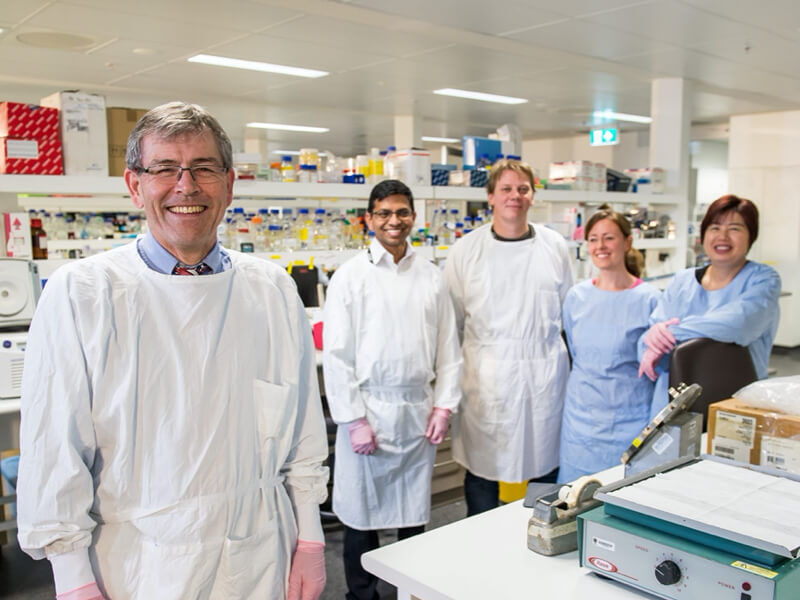 Many people use the word "driven" to describe their approach to work, but for Professor Marshall, it takes on a different level of meaning. Professor Marshall has published more than 200 original research articles on various biological and clinical aspects of child cancer and finds it difficult to list the many research projects and clinical efforts he is involved in at any one time. His remarkable body of work was recently recognised with a five-year, Leadership 2 National Health and Medical Research Council (NHMRC) Investigator Grant of $900,000, which he describes as not only an honour, but "a sign that the system trusts you".
The Professor and his teams at the CCI will be using the funds in several ways, including a new, inter-related, Clinical Trial Program into Acute Lymphoblastic Leukaemia (ALL), which was set up with the support of the Steven Walter Children's Cancer Foundation. Also, as part of the Zero Childhood Cancer Program which is precision medicine for high risk childhood cancer, involving experimental modelling and screening to define how best to treat with individual anticancer drugs and importantly combination anti-cancer drugs.
"There's a lot of information out there about individual drugs but there's no real effective way to predict which drug combinations might work," Professor Marshall explains. "And the fact is that combination therapy might well be better, it's an idea borne out by any clinician you talk to. A combination of drugs is always more successful than one drug alone against cancer cells."
As he points out, cancer has an infinite ability to mutate and change when treated with just one drug - in much the same way that bacteria do when exposed to antibiotics.
"We want to be able to bring all this information together so that every child can get individualised, combined treatments, with fewer side effects," he adds. "It's all about the individualisation of cancer care. One-size-fits-all treatment may be cost effective, but it's certainly not curing everyone."
The second and more surprising approach is his goal of reaching a molecular understanding of childhood cancer.
"Probably half of all childhood cancers begin in the womb, in utero, so we're looking at that, and also environmental factors," he says.
The Professor dares to imagine a world in which we could prevent kids from ever having to go through it.
"One in ten kids who come to us with cancer have a genetic predisposition, and that opens up a whole new realm of activity around potential prevention," he says. "We're researching whether we can perform surveillance scanning on children and young people with a genetic predisposition to detect cancers very early at a more treatable stage."
Yet another recent project he and colleague Dr Toby Trahair are involved in are a series of European SIOPEN Neuroblastoma Clinical Trials in Australia and New Zealand currently under way and funded in part by the Hyundai Help for Kids and Steven Walter Children's Cancer Foundation partnership.
Professor Marshall explains that neuroblastoma is a nerve cancer that usually strikes children less than two years old and has a cure rate of just fifty percent, as opposed to a far more hopeful eighty-five percent with other cancers. To treat this, one of the incredible methods they are using is "animal models".
"We can now treat a mouse carrying the child's cancer with experimental anticancer drugs to determine sensitivity to drugs not normally used in neuroblastoma, or new drugs with limited availability, and so provide evidence the drug might be trialed in the child with the disease," Professor Marshall says.
It's the kind of incredible high-tech, world-leading work that will be taking place on an even larger scale once the new, and vital, Comprehensive Children's Cancer Centre (CCCC) facility is built in Sydney in 2025, at a cost of more than $400 million.
"The Federal and State Governments as well as several philanthropic organisations have decided to invest in improving child cancer outcomes by bringing cancer scientists and doctors under the same roof to provide better solutions to the problems facing children with cancer," Professor Marshall enthuses.
The CCCC will be the first of its kind in the southern hemisphere and one of only a few similar institutions internationally.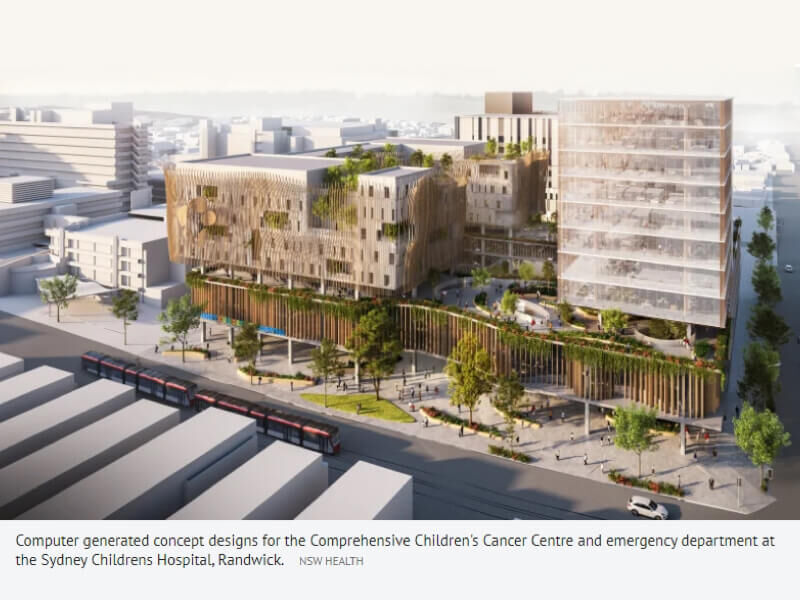 "While childhood cancer is a relatively rare disease it needs to be realised that a child with leukaemia at age five, would be expected to live to 85, and so the impact across our community is enormous when one child does not survive their cancer," he explains.
With the help of HHFK, and SWCCF, important research programs continue to be funded. And despite having so much going on, Professor Marshall also finds time to support fundraising for research, such as the Snowy Ride for motorcyclists, held by Steven Walter Children's Cancer Foundation every year (it's going to be a virtual event this year due to COVID), despite not being a rider himself.
September is Childhood Cancer Awareness Month - and fundraising is something Professor Marshall is always keen to help with, and not just for the obvious reasons.
"I always say when talking to fundraising teams, if you walked out in the street and said to 10 people, 'Please give us $10 to support research into childhood cancer,' there's not a single person who wouldn't give you $10. But if you said to those people, 'Do you know about childhood cancer, as a societal problem?' that's not so widely known," he points out."So I think events like the Snowy Ride, and Hyundai's support for us, are really raising community awareness and, even more than the money, that is really, really important."
Professor Marshall wants to do more and will do anything he can to help the cause, but he doesn't want any credit for the part he plays. The last thing he tells us, before going back to work, is typical: "Don't make the story about me, make it about the problem."
About Steven Walter Children's Cancer Foundation
Steven Walter Children's Cancer Foundation (SWCCF) originated in 2001 as the Steven Walter Fund and was incorporated in March 2008 as part of a strategic plan to develop a significant long-term fundraising capacity to benefit childhood cancer research in Australia. The origins of SWCCF lay in the wishes of Steven Walter, a young man who died in 2000 at the age of 19 after an 8-year fight against cancer. In his final days Steven wrote a powerful letter to his family and friends asking them to raise money for childhood cancer research"so that one day no other kid would have to go through what I've been through".
Vision - "100% survival for all children with cancer and prevention of their suffering."
Mission - To make a difference for children with cancer by raising philanthropic funds for childhood cancer research which can impact on the current clinical standards of care for children with cancer, reduce side effects and improve survival rates.
About Hyundai Help for Kids
Hyundai Help for Kids is the charitable arm of Hyundai Australia's dedicated corporate social responsibility program and has been changing the lives of children in need, and their families, since its inception in 2014.
It is a joint initiative of Hyundai Motor Company Australia and the 170+ strong Hyundai National Dealer Network, whereby a contribution from every new vehicle sold goes towards assisting children and their families in areas of medical, community and vehicle assistance with contributions totaling more than $8.6 million dollars to date.
For more information about Hyundai Help for Kids please visit: hyundaihelpforkids.com.au