Towing the line - Strongman pulls 16 cars towards Guinness World Record.
Strongman pulls 25,000 tonnes worth of Hyundais and humans, but gets tough brake.
GoFundMe appeal for Little Wings, Sydney Children's Hospitals Foundation and Ronald McDonald House Charities Australia.
Attempting to break a world record by dragging 16 cars along a runway obviously involves a lot of perspiration, but it's just as much about inspiration, according to Aussie strongman Troy Conley, who attempted to do just that at Bankstown Airport yesterday as part of the fundraiser Car Pull for Kids.
Conley's first attempt at pulling 16 brand-new Hyundais over a distance of five metres had been unfortunately halted by someone mistakenly putting their foot on the brake in one of the vehicles.
That first effort left him "too gassed" to get through a second attempt, but then Conley found himself staring at Ava, who had come to watch his brave effort to raise money for kids just like her.
The goal of Car Pull for Kids was to raise a much-needed $30,000 for Hyundai Help for Kids partners; Little Wings, Sydney Children's Hospitals Foundation and Ronald McDonald House Charities Australia.
"That third attempt only happened because Ava was there - I spent 10 minutes just looking at her, and thinking the strength kids like her have to show day in, day out, when they're sick or injured just to keep fighting, it's so much harder than what I was trying to do, and the least I could do was to give it one more go, and get it done" Conley explained.
Chaining himself up again to the 16 vehicles, each one with a driver on board to make sure they steered straight behind him, which all added up to more than 25 tonnes of weight, Conley somehow managed to break the moment of inertia and get them rolling.
With his veins and eyes popping and his chest bursting, he just kept his eyes on Ava, and kept pushing.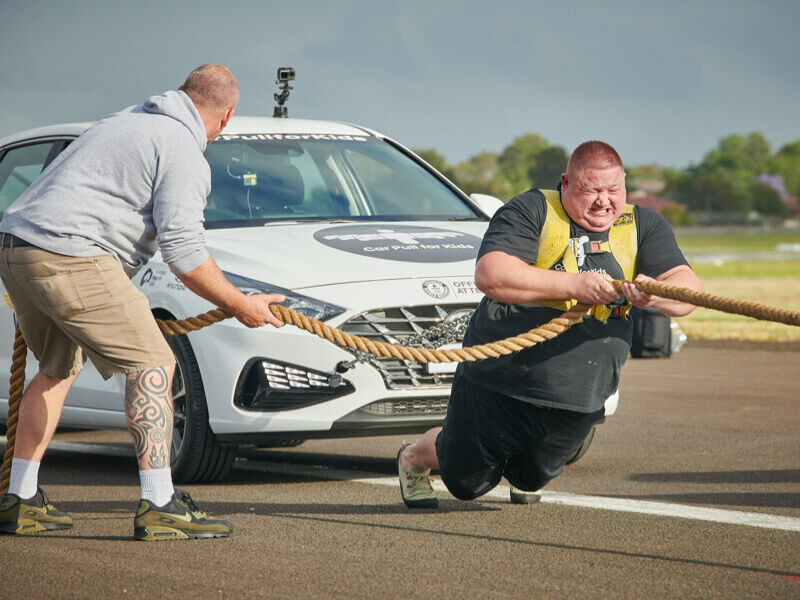 Ava had been a typical bubbly and happy three-year-old girl, living in Western NSW when she was diagnosed with acute lymphoblastic leukaemia, which was found to be in 98 per cent of her bone marrow.
Alongside the doctors and the oncology wards, her treatment was made possible at The Children's Hospital at Westmead with Little Wings, a not-for-profit organisation that provides equal healthcare opportunities for sick children in rural NSW by providing free, professional and safe flight and ground transport services for those who need to attend hospitals in major cities.
Throughout her treatment and all the time away from her family Ava found refuge at Ronald McDonald House Westmead.
"If The Children's Hospital at Westmead saved our daughter's life then Little Wings & Ronald McDonald House Charities saved our family. There is no way we would have coped without them all and for that our family will be forever grateful," says Ava's mother Kathy, who was also in attendance.
Conley - was inspired to take on the enormous fund-raising and record-breaking Car Pull for Kids by his own experiences at the Children's Hospital, after rupturing his kidney when he was four – he had heard Ava's story, but he only met her for the first time yesterday, and was humbled by the experience.
"That third attempt, I threw everything at it and it was amazing, watching Ava the whole time; it was about 90 seconds of huge effort, but it only felt like about 30 seconds, and I was able to pull that hard for that long because of her, and at least I could walk away at the end saying I gave it 100 per cent," Conley says.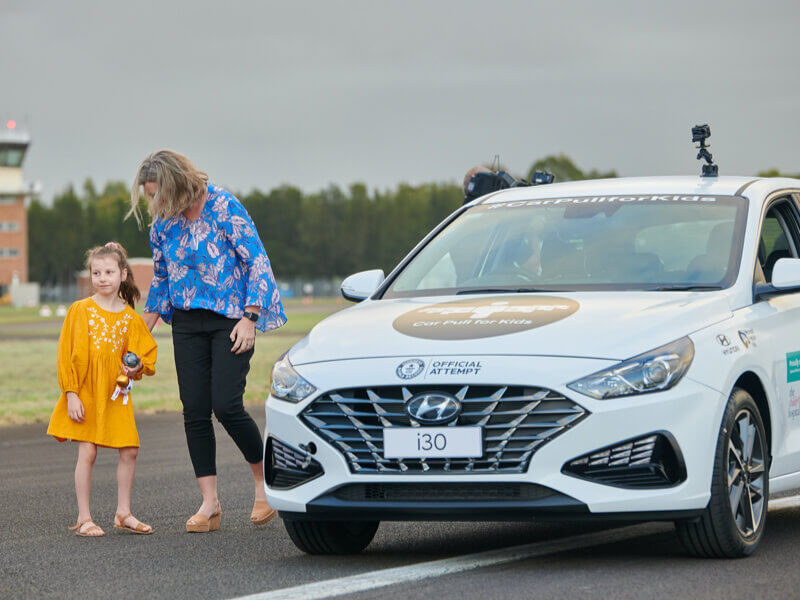 While dragging the cars more than 40cm, as he did, is a feat beyond imagining for most of us, it wasn't quite the five metres needed to establish a Guinness World Record.
"The record would have been nice, and it was an honour to kick off Global Guinness World Record Day, but it wasn't just about the record today, it's about the cause, it was about raising money for Hyundai Help for Kids partners, Little Wings, Ronald McDonald House Charities Australia and Sydney Children's Hospitals Foundation, and about raising some awareness for them, and we did that."
"We've raised several thousand dollars already, but the GoFundMe page is still open and we're hoping to get to $30,000."
In typical Strongman style, Conley then finished off the day by setting an unofficial record for pulling a plane, barefoot. Someone mentioned that the Little Wings plane that had been wheeled in for the event needed moving and joked to Troy that perhaps he could do it, so he hooked himself up to it and dragged it along as if it was merely a large billy cart.
"Is there anything more Australian than doing it barefoot? I don't think so," Conley chortled, before admitting that he was feeling quite sore after his efforts, and predicting that he'll be even more in pain tomorrow, not that it will stop him from turning up to work as normal.
Little Wings CEO Clare Pearson was left blown away, and just a little bit heart sick for Troy, after watching his efforts.
"It was just awesome to see him drag that plane so effortlessly, but all those cars, wow, it was just a huge effort to see him even attempt to do that," she said.
"But it was incredible to be there, to partner with Hyundai Help for Kids and to see so many people come together for the greater good. I must admit I was a little bit heartbroken for Troy, not getting the record, because I know just how much work he put into achieving it."
It should surprise no-one, of course, that Conley is determined to get back into training and give the World Record another crack, and Hyundai Australia spokesman Bill Thomas said the company was keen to help again.
"While it was a shame Troy couldn't quite get the record, clearly the main thing is that he tried, and did so much for a good cause in the process, but we still believe he can do it and when he's ready to have another go, we'll be there," he said.
You can still donate to the Car Pull for Kids GoFundMe page here.
About Hyundai Help for Kids
The charitable arm of Hyundai Australia's dedicated corporate social responsibility program and has been changing the lives of children in need, and their families, since its inception in 2014.
It is a joint initiative of Hyundai Motor Company Australia and the 170+ strong Hyundai National Dealer Network, whereby a contribution from every new vehicle sold goes towards assisting children and their families in areas of medical, community and vehicle assistance with contributions totaling more than $8.8 million dollars to date.
https://hyundaihelpforkids.com.au/