Five reasons why electric cars are the future of fleets.
With a growing range of models, improving affordability and a charging network quickly spanning the country, going EV is becoming a clearer choice for progressive Australian fleets.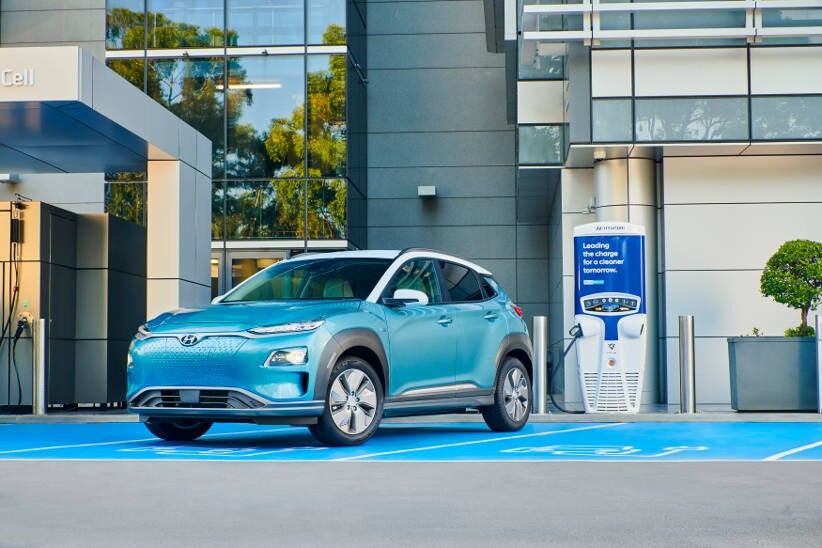 A Hyundai Kona charging at our Sydney headquarters.
Only about 17,000 electric cars were on the world's roads in 2010. By 2019, that number had swelled to an incredible 7.2 million.
According to the International Energy Agency, global EV sales topped 2.1 million in 2019, a 40% increase from 2018. As technological progress continues and the world looks towards cleaner transport options, this number is only set to rise.
While coming off a low base, Australia has similarly seen some meteoric growth in EV sales. Data from the Electric Vehicle Council shows 6,718 fully electric and plug-in hybrid cars were sold in Australia in 2019, more than triple the 2,216 sold over the preceding 12 months.
With Australian fleets some of the earliest adopters of EVs there are a good range of reasons why these organisations are increasingly going electric.
We take a look at some of the leading arguments for why making the strategic switch to EV makes sense for fleets.
1. An economical choice.
While EVs currently have a higher purchase price compared to their internal combustion engine counterparts, they do have substantially lower running costs over the life of the vehicle and therefore, may already be the lower cost option for some drivers.
Electric Vehicle Council analysis shows that an EV owner could potentially save around $6,500 in fuel costs over five years compared to owning an internal combustion engine vehicle for the same period.
The cost of recharging an electric vehicle is significantly less per kilometre than the cost of refuelling with petrol, even during periods of high electricity prices and low petrol prices. Electricity prices are also more stable from week to week, compared to petrol prices which fluctuate daily.
In the ACT and Victoria, EV purchasers can also access stamp duty and registration concessions bringing down their upfront and ongoing costs.
Finally, in terms of sticker price, three EVs currently available in Australia sit under $50,000, including our IONIQ, meaning going electric is becoming a more affordable choice.
2. Meeting emission reduction commitments.
With every Australian state and territory government now committing to a net zero climate target, over 120 local councils pledging to climate and energy actions, and a growing number of companies targeting reduced emissions through their CSR initiatives, the momentum to reduce our CO₂ footprint is stronger than ever.
With the transport sector representing the third largest source of greenhouse gas pollution in Australia, inevitably each of these entities will look at the emissions intensity of their own vehicle fleets.
Switching to an electric fleet results in immediate CO₂ savings with zero emissions from the tail pipe helping environmentally focussed organisations reach their carbon emission reduction targets and sustainability goals sooner.
3. Charging infrastructure is multiplying.
Over recent years we've seen some enormous jumps in charging stations across Australia. Between 2018 and 2019 we witnessed an increase of 140% and an incredible 400% since 2017. The national network now comprises over 1,900 stations meaning charging an EV is more convenient than ever.
With Australian governments continuing to get on board, including most recently the NSW Government announcing their support for 20 fast chargers across the state to be rolled out with NRMA, a nationwide connected network is quickly becoming a reality.
4. An expanding range of vehicle choices.
Model range just keep getting better for EVs in Australia. There's over 20 EVs available in the market today from small cars to SUVs and more than 30 models are expected by the end of 2020 meaning fleet operators have more choice than ever.
Hyundai is leading the charge with the widest range of EVs on offer in Australia. From our IONIQ range featuring fully electric, plug in electric and hybrid to the Kona battery electric as well as our NEXO fuel cell electric SUV, we've got every eco vehicle segment covered.
5. A better driver experience.
With less noise and fumes, EVs are an enjoyable drive and could even reduce stress. A great benefit for fleet operators focused on delivering the best employee driving experience possible.
A brain monitoring study conducted by the University of York in the UK found that the quieter driving environment of an EV can have significant mental health benefits.
The study, which compared taxi drivers driving both diesel and EV vehicles, even claim that their results indicate that the drivers were more focused, calmer and happier when driving the electric version of the taxi.
The benefits of EVs are numerous, but from a fleet perspective, they're an increasingly smart option from an operational, cost and environmental perspective. At Hyundai, we're excited to continuing working with fleets around Australia to make the switch to electric.