Government fleet strategy: what Australian states are doing to drive the eco transition.
With a growing emphasis on showing leadership through electrifying their fleets, we look at how each Australian state and territory is approaching their vehicle emissions footprint.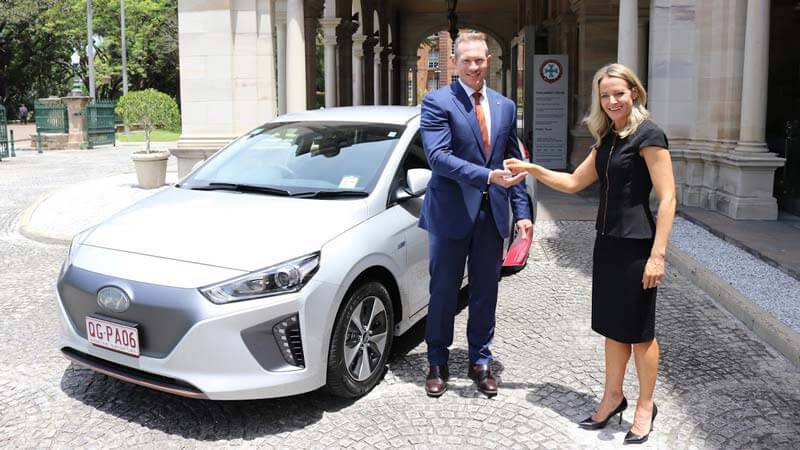 Queensland Minister De Brenni accepting keys for the Hyundai IONIQ.
With state and territory governments representing some of the biggest fleets in Australia, they can make a real impact in setting vehicle trends and driving new technologies.
When it comes to electric vehicles, these governments are increasingly looking at what they can do to encourage the switch to zero emissions and their own fleets are often a starting point.
As an important group in the transition to electric, we take a look at the current status of each state and territory's procurement approach and Hyundai's role in working with them to achieve their green fleet goals.
Australian Capital Territory.
The pioneer of the eco fleet movement in Australia, the ACT leads the pack with its commitments to introduce cleaner vehicles into its fleet.
The Government launched its ambitious action plan in 2018 and became the first Australian jurisdiction to announce a target of 100% of its passenger fleet being zero emissions from 2020-21 (where fit for purpose).
The ACT has taken a technology neutral approach to reaching its zero emission goals adopting both battery electric and hydrogen fuel cell electric vehicles into its fleet to date.
Hyundai has been assisting the ACT on both fronts, including through the upcoming deployment of 20 of our hydrogen NEXO SUV. Taking delivery in the coming months, the ACT Government will become the first fleet in Australia to go fuel cell.
New South Wales.
In 2019, as part of its Electric and Hybrid Vehicle plan, the NSW Government set itself a target of at least 10% of its fleet being either hybrid or all-electric models by 2020-21.
Having met this goal early, the government is now ramping up its efforts and recently announced it will 'lead by example' and increase its target to 30% of its fleet being new hybrid or all-electric vehicles by 2023 with a least 10% being full electric.
Importantly, as one of the biggest fleets in Australia, this will see the NSW government purchase around 900 new hybrid or electric vehicles annually, with around 300 of these vehicles being all-electric models.
At Hyundai, we've been pleased to work with the NSW Government to meet their eco fleet ambitions through the supply of our Kona and IONIQ range.
Northern Territory.
With its small, widely dispersed population, with many remote communities, the NT does have some additional challenges in going electric relative to other states and territories, yet the government is looking to build upon its EV fleet which sat at 10 vehicles in 2019.
After releasing its EV discussion paper last year, the government is now preparing a strategy and implementation plan to support greater uptake in the territory. Timing of the plan's release has not been announced, but it could mark the start of a greater transition to electric for the government and community.
With its rich solar resources and goal to be carbon neutral by 2050, the NT could be a prime location for Australia's EV movement, including hydrogen vehicles off the back of their Renewable Hydrogen Strategy released in July.
Queensland.
Similarly targeting net-zero emissions by 2050, the Queensland Government is making substantial headways in the electric vehicle transition with its own fleet front of mind.
The release of its state-wide EV strategy in 2017 followed by the government fleet focused QFleet Electric Vehicle Transition Strategy in 2018 made it loud and clear that Queensland was serious about electrification.
Notably, the Queensland Government has committed to double the number of electric vehicles in its fleet each year over four years (2018-22), increasing from 18 to 288. This will be achieved by the following:
Introducing electric vehicles into car sharing pools
Introducing battery electric vehicles to match existing lease vehicle replacements
Incentivising agencies to take up electric vehicles
Introducing electric vehicle evaluations
The government has also recognised that transitioning their fleet is a cost-effective way to create an electric car market and will sell their vehicles to the general public after 3-4 years.
Hyundai delivered the very first battery electric vehicle to QFleet in 2018 and has been working with the government since on expanding their fleet of eco cars, and will lease the first zero-emission hydrogen-powered fuel cell electric vehicle, the Hyundai Nexo, as part of the $19 million Queensland Hydrogen Industry Strategy in the foreseeable future.
The cars will be refuelled with green hydrogen at a station currently being built in Brisbane in what is set to be the country's second public hydrogen station after the ACT.
South Australia.
The South Australians are leading the way when it comes to getting more renewables into their energy system and now have more solar per capita than any other major grid. That makes it a prime location for electric vehicles, which we hope to see more of in the state over the coming years.
With a discussion paper released in mid-2019, the South Australian Government has flagged an upcoming electric vehicle strategy which as of writing has yet to be released.
The strategy will look at lowering the state's transport emissions and solving some of the key challenges of its high renewables grid. As indicated in the discussion paper, the strategy may also consider how the South Australian Government's fleet can play a role in this.
Hyundai has delivered a small number of its eco vehicles to the government to date and we look forward to continuing to work together to help them reach their emissions objectives.
Tasmania.
In early 2019, the Tasmanian Premier announced the state will take a 'leadership role' in the use of low emissions vehicles and will begin to transition its fleet which currently has around 3% in the low emissions category.
The government has however had its own fleet transition on its radar since 2018 when it set up an electric vehicle working group looking at priority areas to support electric vehicle uptake, including within its fleet.
More recently, with the release of its Renewable Hydrogen Action Plan in March, the government did flag it will explore opportunities to trial hydrogen vehicles to act as a potential catalyst for broader uptake across the private sector.
Hyundai has delivered a small number of our eco vehicles to the Tasmanian Government to date and we are pleased to be a part of the state's fleet transition.
Victoria.
VicRoads was the first government agency in Victoria to introduce full battery electric vehicles into its fleet in early 2019 (which we are proud to say was a Hyundai IONIQ). Since this milestone, the government has been busily putting a wider electric vehicle strategy in place.
As part of its commitment to transition to net zero emissions by 2050, the government is planning for electric vehicles, including within its own fleet.
Off the back of its public consultation in late 2019, the government is currently preparing a zero-emissions vehicle roadmap, to be released in mid-2020.
The Victorian Government has recognised that its own fleet can help increase demand and encourage vehicle manufacturers to identify Victoria and Australia as a serious market for zero emission vehicles.
They also acknowledge that the relatively short turnover of fleet vehicles can create a greater volume for the second-hand vehicle market enabling more Victorians access to these vehicles. Based on this, we expect to see more activity from Victoria over the coming years.
Western Australia.
The Western Australian Government formed an electric vehicle working group in 2018 with one of its focus areas being developing an action plan to increase the share of electric vehicles in fleets.
The plan is yet to be released, yet a government commissioned report published in early 2020 did recommend that all major government contract fleets and electricity utilities introduce a substantive EV fleet target policy, e.g. 25%.
The Western Australian government owned water utility, WA Water Corporation is getting more ambitious however committing to transitioning at least 40% of its vehicle fleet to electric alternatives, as the vehicles in the existing fleet come up for renewal.
WA Water officially kicked off its transition with the purchase of two of our fully electric Kona's in May.
Combined, these commitments from state and territories are all helping to give the electric vehicle transition the boost it needs to go mainstream.
At Hyundai, we're pleased to see the number of governments leading by example and look forward to working closely with fleets across Australia to ensure going electric couldn't be easier!