A successful partnership since 1999.
At Hyundai , we love football. That's why we're teaming up with FIFA again for the FIFA World Cup™, read on to find out more about our longstanding partnership and how we're joining forces to score the Goal of the Century.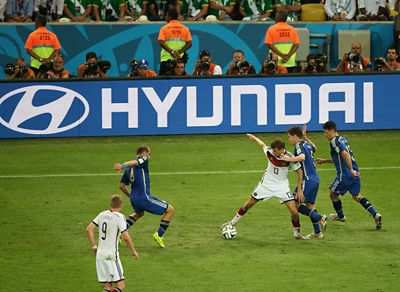 A shared love for football.
There's really nothing like the dedicated passion and comradeship in football and the way that football brings fans together from different nations! Over the years, our enthusiasm for football has led to countless partnerships with football clubs, players, and associations around the globe. In turn, these valuable partnerships have helped us to deliver the excitement of the planet's most popular game to football fans around the world. This year, together with FIFA, we're going one big step further and using the power of football to push us all towards a great goal for our planet!
A shared goal for sustainability.
For the past 23 years, Hyundai has been an official automotive partner of FIFA and a top-tier partner. This year, as a partner to make a sustainable FIFA World Cup™, Hyundai is joining FIFA on a shared journey towards building a more sustainable world.
Sustainable mobility for the FIFA World Cup 2022™.
In our new position as a sustainability partner, we will also be providing a fleet of vehicles for the tournament. In total, we will be providing 592 official vehicles!