Fueling our sustainable future.
Hyundai became a global first-mover in hydrogen fuel cell technology with the launch of the ix35 Fuel Cell Electric Vehicle (FCEV), the world's first mass produced car powered by Hydrogen. Since then, we have introduced next-generation FCEVs, commercial FCEVs, and even future mobility solutions.
Why we need Hydrogen energy.
Attention on Hydrogen as a sustainable and effective energy source is growing, as our cities and societies continue to move toward alternative methods of energy production and storage. As one of the most abundant elements in the universe, hydrogen offers a long-lasting solution to the issues facing the energy sector today. The future of Hydrogen has never been more promising.
Green Hydrogen
Progress with positive energy.
Currently, most hydrogen is produced through an extraction method, which uses natural gas composed of carbon and hydrogen. This is cheaper than any other way but indeed emits greenhouse gas during the process. "Green" hydrogen lives up to the zero-emission promise and has been hailed "the fuel of the future."
Fuel Cell Vehicles
Coming together for an emission-free future.
In 2013 Hyundai launched the ix35 Fuel Cell, the first commercially mass-produced hydrogen fuel cell vehicle in the world. The vehicle's quick refueling time and long driving range, combined with its environmental conservation, provide greater benefits for all. Since then, Hyundai has launched the second generation, NEXO, and XCIENT, our fuel cell heavy-duty commercial truck.
How it works.
Understand the technology that drives hydrogen fuel cell vehicles.
Committed to hydrogen in all modes of transportation.
Zero-emission commercial transport is already a reality in Switzerland. Hyundai is taking a two-pronged approach by putting fuel cell electric vehicles (FCEVs) on the road while working with local partners towards supporting the expansion of a hydrogen refueling infrastructure.
5 million km in two years.
Starting in 2020, the company exported 47 units of the hydrogen-powered, zero-emission commercial trucks to 23 Swiss companies, which are using them for logistics, distribution and supermarket fulfillment. Now, in 2022, XCIENT Fuel Cell is the world's first heavy-duty fuel cell truck to achieve 5 million km of cumulative driving in real-life customer operation.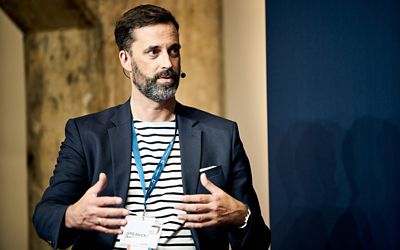 The experience we've gained and the milestone we've achieved in Switzerland will provide good insights to many countries that are preparing to transition to a sustainable hydrogen society.
How we achieved it.

In 2019 Hyundai Motor established Hyundai Hydrogen Mobility (HHM) in partnership with Swiss company H2 Energy which partnered with H2 Mobility Switzerland Association, a hydrogen fueling network builder and XCIENT customer, and green hydrogen production company Hydrospider. Hyundai Motor is playing a crucial role in creating an emission-free, green hydrogen fuel cell heavy-duty truck ecosystem where vehicle supply, hydrogen fueling, and green hydrogen production are organically connected.
The engine.

The XCIENT Fuel Cell is equipped with a 180-kW hydrogen fuel cell system with two 90-kW fuel cell stacks. The system's durability and the vehicle's overall fuel efficiency are tailored to the demands of commercial fleet customers. The 350-kW e-motor with maximum torque of 2,237 Nm enables dynamic driving performance.
The fuel tanks.

Its seven large hydrogen tanks offer a combined storage capacity of around 31 kg of fuel, while a 72-kWh-powered set of three batteries supports the performance. The driving range is over 400 km per charge in real world conditions. Refueling a full tank of hydrogen takes about 8 to 20 minutes, depending on the ambient temperature.
A glimpse into the future.