Made to protect.
When creating a model, Hyundai's engineers pay particular attention to how it handles a collision. The vehicle's design ensures that it acts as a first line of defense and ensures you and your passengers always remain safe.
Construction
Safety built in.
Each vehicle is made to withstand impacts and to protect its passengers–no matter which seat they're in.
Airbags
Broad collision protection.
Each model contains at least six airbags (two front, two side and two curtain airbags) to protect you from all angles. Advanced frontal airbags determine when and how to deploy pressure in an accident by sensing the position of each occupant, seat belt use and the severity of the crash. Some models are also available with an enhanced 7-airbag system. This system is equipped with an additional first row centre side airbag.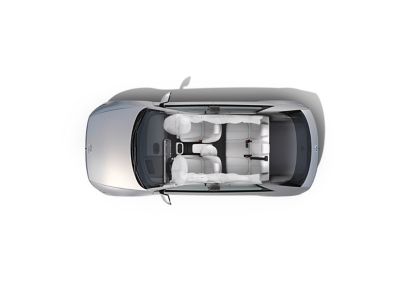 eCall
Automatically alert emergency services.
In case of an accident, this automatic service not only notifies the emergency services, it also transmits information about the exact location of the vehicle, the time of the accident and details about the vehicle such as its fuel type.
Explore the safety features.