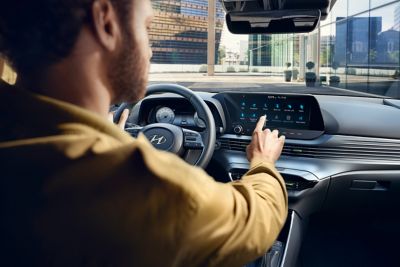 Features.
Explore the features of the i20.
Top-of-the-line features for unbeatable fun.
The i20 comes with top-of-the-line features in every major category: State-of-the-art efficiency and performance go hand in hand with a level of convenience that makes this car a true standout in its segment.
Performance
More powertrain choices. More efficiency.
Choose from 4 unique engine configurations: At the top of the range, a 1.0 T-GDi petrol engine is available with 100 PS or 120 PS. It can be equipped with a 48-volt mild hybrid system, either as an option with the 100 PS or as standard with the 120 PS. The mild hybrid system contributes to a 3-4% reduction of fuel consumption and CO2 emissions. A 1.2-litre MPi petrol engine is also available with 84 PS.
Fuel consumption (combined test cycle) for the Hyundai i20 1.0 T-GDi 100 PS with 6MT in l/100 km: 5.6 - 5.1; CO2 emissions (combined test cycle) in g/km: 127 - 117 (WLTP). Fuel consumption (combined test cycle) for the Hyundai i20 1.0 T-GDi 100 PS with 7DCT in l/100 km: 5.8 - 5.3; CO2 emissions (combined test cycle) in g/km: 131 - 120 (WLTP). All WLTP-Values here.

1.0 litre T-GDi petrol engine.

Our three cylinder, 998cc Turbo GDI engine is designed to take the i20's sporty personality to the road. With up to 120 PS and our new 48v mild hybrid technology available, this low-key powerhouse makes the car just as fun to drive as it looks.
Fuel consumption (combined test cycle) for the Hyundai i20 1.2 MPi in l/100 km: 5.6 - 5.2; CO2 emissions (combined test cycle) in g/km: 127 - 117 (WLTP). All WLTP-Values here.

1.2 litre MPi petrol engine.

With 1197 cc of engine displacement and 4 cylinders, our 84 PS entry engine is a gentle force to be reckoned with. Coupled with a 5-speed manual transmission, this power unit offers offers both full control and pleasant torque delivery.
The new 48V mild hybrid powertrain.
Save fuel and reduce emissions with the i20's 48V mild hybrid system. It supports the combustion engine with additional torque during acceleration.
Comfort start.

The mild hybrid system has particular advantages in city traffic, with the MHSG supporting the combustion engine when re-starting after traffic stops. This action supports a faster and smoother engine start with supplemental torque, drawing on energy from the 48V battery. The MHSG assists the combustion engine during take-off by compensating with torque and power.
Acceleration.

 Under acceleration, the MHSG supports the combustion engine with compensatory 4 to 10 kW of power, depending on the battery system's state of charge and the degree of accelerator input from the driver. Once the required speed is reached, the MHSG shifts to neutral mode, delivering no power. As a result CO2 emissions, as well as fuel consumption, can be reduced by up to 11 per cent.* (*NEDC 2.0)
Constant driving.

At a constant speed, the MHSG either is at idle or acts as a generator charging the 48V battery, depending on the battery state of charge.
Recuperation.

In active braking or overrun phases, the rotating crankshaft powers the MHSG, which then acts as a generator with a maximum recuperation output of 10 to 12 kW. The generator converts the kinetic braking energy into electricity, and feeds it back into the 48V battery. In these phases, the combustion engine remains switched on and clutch kept closed to be able to transfer the power from the wheels over the transmission and the engine to the MHSG. 
Extended start-stop.

When coasting at low speeds, the start-stop function already activates at 30 km/h. Under deceleration between 30 and 0 km/h, and with the clutch disengaged, the engine is switched off completely.
7-speed dual clutch transmission.
Enjoy top performance and as much control as you prefer with the i20's 7DCT option available with the 1.0 litre turbo engine, granting you a dynamic driving experience as well as superior fuel efficiency all at once. The dual clutch system allows for lightning fast gear changes, whether you use the convenient automatic mode or choose to go hands-on to shift through the gears manually.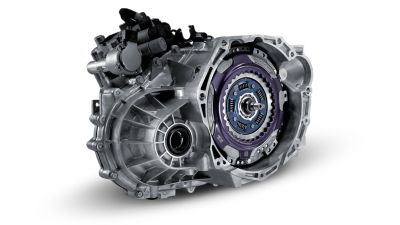 Energy Regeneration System (ERS).
Idle Stop & Go (ISG), Alternator Management System (AMS) and low rolling resistance tyres are complemented by our Energy Regeneration System (ERS): when the car is moving in gear but with a closed throttle, the braking effect of the engine generates kinetic energy that is converted into electricity and stored in the battery. This reduces both fuel consumption and exhaust emissions.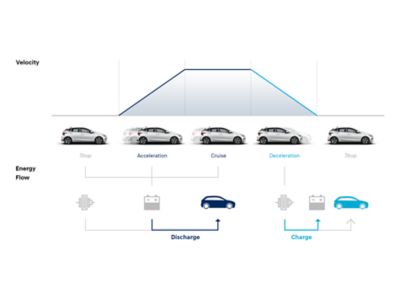 More performance. Less emissions. CVVD Engine Technology.
Hyundai has developed the world's first Continuously Variable Valve Duration (CVVD) technology. It optimizes engine performance and fuel efficiency while also being eco-friendly. The valve control technology regulates the duration of valve opening and closing according to driving conditions.
Convenience
More space. Premium sound system. Full wireless connectivity.
Bigger and better – the i20 comes with more of everything: More convenience thanks to wireless phone screen mirroring for the 8" touchscreen and wireless smartphone charging for all touchscreen options. More boot space means you can take more of anything you want with you. And the eight-speaker Bose sound system makes for more fun when you just want to turn it up and sing along.
Premium Bose® sound system.
Enjoy an amazing audio experience with the i20's high-end Bose® sound system. With eight speakers including a subwoofer it is designed to keep up with the car's sporty style, providing a sonic experience that feels every bit as dynamic as driving the i20 is.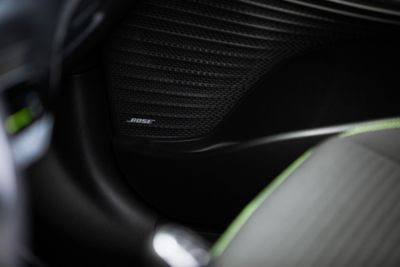 Connectivity
Best-in-class connectivity features.
Enjoy state-of-the-art smart tech with dual 10.25" visually combined big screens with split-screen functionality. And with Bluelink Connected Car Services, you can control your car from your smartphone – or with your voice. It brings seamless connectivity directly into the i20 with online voice recognition and features to make your drive more convenient and enjoyable.
Bluelink® Connected Car Services.
Bluelink, Hyundai's Connected Car System, uses embedded telematics to offer state-of-the-art Hyundai Live Services, such as Live Traffic or On/Off Street Parking. With the Bluelink app, you can lock and unlock your i20 remotely, or find your car when you don't remember where exactly it's parked. The app will also send you an alarm if someone should try to break in. And if you want to know if the tyre pressure is okay, it will tell you that, too.
Live fuel price information.

Find fuel fast and at a nice price – the continually updated fuel service coverage gives current fuel prices and location information – just tap the screen to set your choice as a destination.

On & off-street parking.

Find a parking spot faster – and enjoy more efficient and stress-free parking. This feature helps you find and compare real time parking options in garages and parking lots, as well as on-street parking spots. 

Weather forecast.

Want to know what kind of weather is heading your way? With the live weather service, you can always monitor the latest weather information of your current location, destination or favourite cities.

Speed camera alert.

A comprehensive service with alerts for both fixed and mobile speed cameras. So you can focus on a safe, confident and relaxing drive.

Traffic information.

Get there faster. With Hyundai's real-time traffic information, you get the best routes according to the prevailing conditions – as well as the most precise time of arrival estimates.

Live Point of Interest.

Searching for an address, POI (point of interest) or a combination of both has never been so easy. Thanks to the free text search, you can always find the place you are looking for.
Safety
Most comprehensive safety package.
With Hyundai Smart Sense, our cutting-edge Advanced Driver Assistance Systems, the i20 offers the most comprehensive active safety technology packages in its class – built to provide you with more safety and peace of mind. Many of the features available would not be expected to found in cars of this segment.
Tyre information.
Below you will find the information about the tyres which may come with your Hyundai i20.