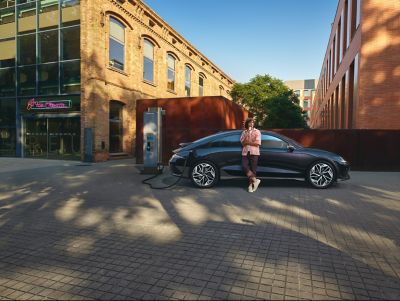 IONIQ 6.
Awaken Your World.
This model is not yet available for sale. Official technical data and range of this model are pending final homologation.
Electrified streamliner.
Sleek and unmistakably unique, the all-new IONIQ 6 is the silhouette of the new era of electric mobility. Its streamliner design and mindful cocoon-like interior have been created to provide you with a personalised and flexible space that is redefining the in-car experience.
The World Premiere of the all-new Hyundai IONIQ 6.
On July 14, IONIQ 6 was introduced to the world in spectacular fashion. Check out the video of the World Premiere event here.
Design
Inside out. Interior first design for more space.
Human-centric from the start, IONIQ 6's interior space was developed simultaneously with the exterior form. This integrated approach is an unconventional way of designing a car, but has yielded an exceptional result: a cocoon-like cabin that lets passengers freely enjoy in-car life. Interior space has been maximized, stretching it at the front and rear – resulting in the unique streamliner silhouette and spacious interior.
Discover the essence of streamlined simplicity.
The clean, rounded lines and streamlined design of IONIQ 6 exude elegant simplicity. Aerodynamic and emotional, the sweeping curves and smooth lines pay homage to the iconic streamlined vehicles of the 1920's and 30's – reimagined for today's sustainable mobility.
IONIQ 6 has its roots in the Prophecy Concept EV.
The name says it all. When we unveiled the "Prophecy" Concept EV in 2020, we were very clear about one thing. Rather than being a pure concept, its name refers to the fact that this vehicle is a proving ground for ideas and features that will soon find their way into production vehicles. And two years later, IONIQ 6 is that prophecy come true.
Sensous Sportiness.

The application of Hyundai's Sensuous Sportiness design philosophy is evident in the voluptuous side section. It is cut by a clean and simple One Curve streamline which extends from front to rear with minimalist restraint. The dynamic, elegant boat-tail line created by the rear quarter panels appear to propel the form forward even when it is standing still.
Spacious interior.

The interior of Prophecy underlines the advantages of using the stretched cabin of an EV platform, which we see today with the full flat floor in IONIQ 6. Instead of a conventional automotive interior, a lifestyle space of refinement and comfort provides customers with a warm welcome.
Features
The future of electric mobility is here.
Featuring breath-taking design and driving dynamics, as well as an 800V battery system for ultra-fast charging, this ground-breaking sedan delivers thrilling performance – built on a cutting-edge new platform that is nothing less than a technological milestone in this era of EV expansion.
Performance
Performance through high-tech.
Elegantly combining amazing performance with an astonishing array of smart tech and delivering a driving range of over 610 km – this all-electric four-door sedan is a game changer. It has been created to take you farther – with faster charging and sleeker style. 1
All wheel-drive.

In the all-wheel drive version, IONIQ 6 is propelled by two electric motors integrated with the front and rear axles, providing 325 PS (239 kW) and 605 Nm of instant torque (only available together with the long range 77.4 kWh battery).

1

Rear wheel drive.

In the 53 kWh battery version, IONIQ 6 is propelled by an electric motor integrated in the rear axle, providing 151 PS (111 kW).

1
Long range 77.4 kWh.

The long range battery pack provides an all-electric range of over 610 km (WLTP) in the single motor rear wheel drive variant.  It delivers 228 PS (168 kW) of power. In the all-wheel drive dual motor variant it provides an all-electric range of 570 km (WLTP) and delivers 325 PS (239 kW) of power.

1
Cutting-edge EV technology for better performance.
Featuring an astonishing array of smart tech and innovative electric vehicle systems, IONIQ 6 has been created to take you farther – with faster charging and more range.
Over 610 km range.

Thanks to Hyundai's cutting-edge smart tech and an aerodynamic drag coefficient of 0.21, IONIQ 6 delivers an all-electric range over 610 kilometres when equipped with rear wheel drive and the long range 77.4 kWh battery. 

1
The speed of ultra-fast charging.

Hyundai's world's first patented technology can support both 400V and 800V charging infrastructure without additional components or adapters. IONIQ 6's 800V battery system can add 100 km of range in 5 minutes! It supports charging at up to 220 kW at a DC ultra-fast charging station – charging from 10 to 80% in 18 min.
Vehicle-to-Load technology (V2L).

With IONIQ 6, you can power any device and charge electric bikes, scooters or camping equipment – on the move or at your favourite outdoor location. There's an on-board 230V plug in the spacious cabin. And using a converter that plugs into the bidirectional exterior charging port, you can power devices up to 3.6 kW even when the vehicle is turned off.
Leading the charge into the electric era with E-GMP.
IONIQ 6 is built on Hyundai's Electric-Global Modular Platform (E-GMP). Created with proprietary technologies developed by Hyundai, this dedicated battery electric vehicle platform enables faster charging, increased driving range, more interior space and better handling.
Modular for flexibility.

E-GMP accommodates a wide range of vehicle types, driving distances, and lifestyles through a standardised battery system equipped with technology optimised for electric vehicles.

Electric performance.

Removing the petrol engine gave us space to mount the electric motor and battery down low for ideal weight distribution between front and rear and a low centre of gravity for improved handling performance.

More room for passengers.

E-GMP frees up space that enables the creation of innovative roomy interiors designed uniquely for electric vehicles – which allows us to provide a new electrified mobility experience for our customers.
Sustainability
Innovative use of environmentally friendly materials.
Our designers have applied sustainable materials extensively throughout IONIQ 6. On the exterior this includes recycled pigment paint from end-of-life tires and bamboo charcoal pigment paint. The interior features eco-process leather, recycled PET fabric and recycled fishing net carpet as well as raw materials extracted from sugar cane.
Eco-friendly leather.

We expect that the eco-friendly leather dyeing process with flaxseed oil will reduce Biochemical Oxygen Demand (BOD) and Chemical Oxygen Demand (COD) in wastewater. Residual flaxseed oil is biodegradable.

Recycled ocean waste carpet.

The carpet utilises nylon yarn made from recycled ocean waste fishing nets.

Bio paint.

The doors are painted with bio polyurethane paint that includes oil extracted from plants, which helps improve air quality in our plants and reduce CO2 in the production process.

Recycled PET fabric.

The seats in IONIQ 6 include eco-friendly fabric made with recycled PET plastic yarn.

Dashboard with bio-materials.

The dashboard is covered in a soft skin PE plastic which contains bio-materials extracted from natural sugar cane.

Bio PET fabric.

The headlining includes fabric made with bio PET yarn, which contains ingredients extracted from sugar cane.
Warranty
5-Year Unlimited Mileage Warranty.
Like every Hyundai, the IONIQ 6 is built to the highest possible quality standards. And we back that quality up with a 5-Year Unlimited Mileage Warranty so you can enjoy the things you love in life, without having to worry about your car. Enjoy the extra peace of mind that one of the industry's best warranties gives you – standard.