Fuel cell electric powertrains.
Mature and futuristic.
Fuel cell cars are technically electric vehicles that create their own electricity from oxygen and hydrogen. Hyundai was first in mass-producing fuel-cell vehicles and continues to be a leader in sustainable motoring technology.
Leave cleaner air behind.
Aside from water, fuel cell electric vehicles (FCEV) have zero tailpipe emissions. They even improve air quality as they drive: Since the fuel cell stack requires purified air, the air filter removes micro-particulates and expels unused air — leaving the outside cleaner than before. Watch Olympic champion Mireia Belmonte train inside a bubble connected to the exhaust pipe of a Hyundai NEXO.
How it works.
When hydrogen stored in the tanks enters the fuel cell stack, it is broken down into protons and electrons. The flow of electrons created in the fuel cell provides electricity that drives the electric motor, and the protons react with oxygen molecules from the air, generating heat and water – the only emission.
The heart of an FCEV.

Fuel cell systems that generate the electricity needed to drive are also called a 'tertiary battery'. To convert thermal energy into electrical energy the system needs four parts: a fuel cell stack, a fuel processing system, an air processing system, and a thermal management system.

1. The fuel cell stack.

This is where the chemical reaction between stored hydrogen and atmospheric oxygen takes place. Fuel cell stacks consist of hundreds of cells, and each cell consists of an electrolyte membrane, separator and catalyst, a fuel electrode and an air electrode.

2. The fuel processing system.

Here, hydrogen is safely transferred from the high-pressure hydrogen tanks to the low-pressure fuel cell stack.

3. The air processing system.

The oxygen necessary to react with the hydrogen is drawn from the atmosphere. To keep the fuel cell stack free from pollutants, the indrawn air passes through a purification system that cleans it of any particulates. This is why FCEVs leave cleaner air behind.

4. The thermal management system.

High heat would curb the optimal performance and lifespan of the fuel cell stack. The thermal management system prevents the electrolyte membrane from being exposed to such high temperatures.
Safe and reliable.

Our hydrogen tanks are made of carbon fibre reinforced plastics, and the inner surface consists of a thin polyamide liner (nylon). Our engineers put great efforts into building reliable high-pressure hydrogen storage. With meticulous testing, they achieved maximum safety for Hyundai FCEV.
Converting energy.

A motor then converts the electricity produced in the fuel cell stacks and stored in the high-voltage battery to kinetic energy. Just like in hybrid and battery electric cars, a regenerative braking system moves electricity back to the battery when the driver uses the brakes, improving fuel economy.
Fueling is quick, safe, and convenient.
Fueling is as simple as fueling a traditional petrol-powered car and can be done in 3 to 5 minutes. More and more fueling stations are coming online each year and Hyundai supports a pan-European initiative to grow this network.
Building a hydrogen society.
Hydrogen is an infinite substance that makes up more than 90% of the molecules in the universe. The McKinsey report 'Hydrogen meets digital' predicted that around 2050, about 18% of the energy used in the world will be hydrogen. This includes FCEVs on the road, as well as the energy required for power generation, cooling and heating buildings, as well as operating industrial facilities.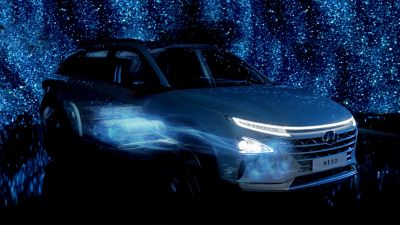 Xcient
Committed to hydrogen in all modes of transportation.
Hyundai plans to expand its XCIENT Fuel Cell heavy-duty commercial trucks sales in Europe, the U.S. and China as demand for clean transport solutions grows. To support a growing hydrogen ecosystem, Hyundai built a business case for more than 100 hydrogen fueling stations in Switzerland, which would be enough to support not only commercial fuel cell electric vehicles but personal ones, as well.
Coming together for an emission-free future.
Hyundai Motor Company and H2Energy, together with the 'H2 Mobility Association', have set the course for a sustainable fleet of heavy fuel cell trucks in Switzerland. This ecosystem will only be possible through the cooperation of hydrogen producers, filling station operators, logistic companies and Hyundai.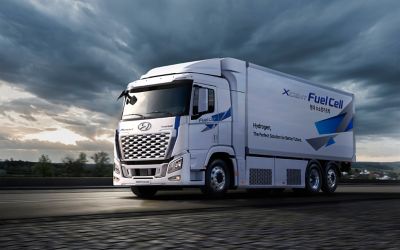 Discover more Hyundai powertrains.