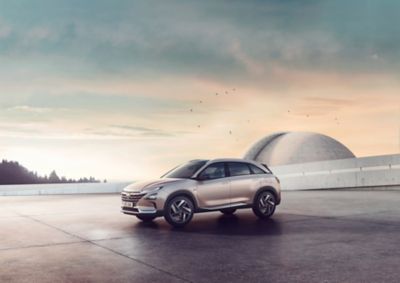 The all-new NEXO.
Because of #You.
Driving to a cleaner future.
The all-new NEXO not only embodies Hyundai's commitment to advanced eco-friendly vehicle development – it also reinforces the company's leadership in Fuel Cell Electric Vehicles (FCEV).
NEXO awarded maximum 5-star rating by Green NCAP.
NEXO, Hyundai's second-generation fuel cell electric vehicle, has received a maximum five-star rating from Green NCAP, the independent organisation that ranks vehicles based on their energy efficiency and emissions. The award is a further testament to NEXO's quality, once again proving that fuel cell mobility is a mature technology and a viable transportation solution.
We're proud to announce that NEXO is the latest Hyundai model to have been awarded a five-star Green NCAP rating, joining the ranks of IONIQ and KONA Electric. This is further proof that we are achieving our goal of making high-quality, eco-friendly mobility solutions available to all. Our flagship fuel cell electric vehicle has been recognised not just for being an environmentally-friendly zero-emission vehicle, but also a strong product with very high energy efficiency.
Designed for beauty – but created for efficiency.
The all-new NEXO is a truly one-of-a-kind hydrogen fuel cell SUV that combines cutting-edge technology and futuristic design with fantastic driving range.
It purifies the air.
Aside from water, the all-new NEXO has zero tailpipe emissions. It even improves air quality as it drives: Since the fuel cell stack requires purified air, the all-new NEXO's air filter removes micro-particulates and expels unused air — leaving the outside cleaner than before. The touch-screen displays the amount of air purification and CO2 reduction that is achieved.
5-Year Unlimited Mileage Warranty.
Like every Hyundai, the all-new NEXO is built to the highest possible quality standards. And we back that quality up with a 5-Year Unlimited Mileage Warranty so you can enjoy the things you love in life, without having to worry about your car. Enjoy the extra peace of mind that one of the industry's best warranties gives you – standard.