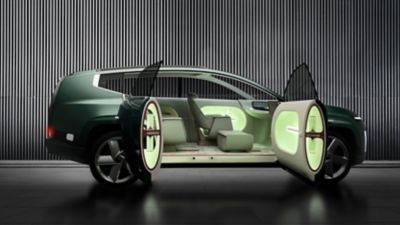 SEVEN – new electric SUEV concept.
A new chapter of electric mobility.
SEVEN, the new sport utility electric vehicle concept, was revealed to the world in November at AutoMobility LA. This category-bending sport utility electric vehicle (SUEV) concept is a glimpse at the future of Hyundai's innovations – and a clear hint at a new SUEV model coming to the IONIQ family.
Design
Redefining the SUV with minimal forms and pure design.
Form follows function – SEVEN has an aerodynamically pure silhouette that sets it apart from typical SUV design. The low, leading edge of the hood, a single, streamlined roofline and elongated wheelbase communicate a clear break from traditional SUVs powered by internal combustion engines. The pure volume of SEVEN's minimal forms contrasts with the powerful stance and commanding, rugged presence.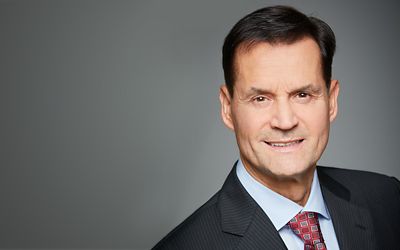 SEVEN represents our commitment to a human-centered approach to redefining everyday experiences.
Aerodynamic form. Powerful design.

A new chapter begins here – Hyundai's designers have created a SUEV with an aerodynamically pure silhouette and powerful presence that dares to diverge from the traditions of the internal combustion engine era. Built on our Electric-Global Modular Platform (E-GMP) – this dedicated BEV architecture has enabled a completely new kind of mobility experience.
Active Air Flaps.

Big and bold, SEVEN's powerful road presence is highlighted by wheels that feature integrated Active Air Flaps, which deploy or retract depending on brake-cooling or low-drag requirements.
Parametric Pixel lights.

Even in the darkness of night, SEVEN is a unique presence with IONIQ's signature Parametric Pixel lights. The Parametric Pixels provide a common design thread, linking digital style with analog emotions, a reminder that our designers considered every aspect of SEVEN's design – right down to single pixels.
A flexible high-tech lounge on wheels.
With its flexible seating, next-level smart tech and relaxed lounge ambience –  SEVEN's interior is taking the space innovation launched with IONIQ 5 to the next level. Featuring swiveling lounge chairs and a curved bench seat in the rear, SEVEN gives you possibility to create the ideal space to relax – by yourself – or sitting face to face with friends and family.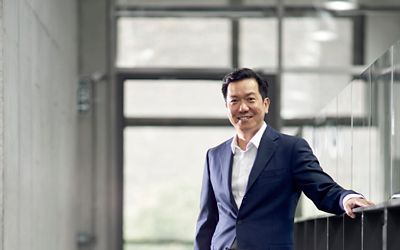 SEVEN dares to break from the beaten path. The interior opens up a new dimension of space that cares for its passenger as a family living space.
A whole new interior experience.

Our new EV platform gave us the opportunity to re-create the interior as a whole new in-car experience. We created a more fluid interior layout that doesn't utilize traditional row-based seat arrangements.

Pillarless Coach Doors.

Open wide and say ahh. The unique Pillarless Coach Doors offer a grand entrance to an oasis of comfort. Enjoy easy access to a completely new dimension of space.

Customizable seating arrangements.

Turn to the side and put your feet up – or swivel to face the kids in the back. SEVEN lets you customise how you sit, depending on if you are driving yourself or have activated an autonomous driving mode.

Vision roof and panoramic screen.

Sit back and relax. The vision roof features a 77" panoramic screen that lets you display your favourite content and mood visuals – transforming the interior atmosphere for maximum relaxation.
Sustainability
Next-level hygienic features and sustainable materials.
Hyundai Motor is focused on developing vehicles that ensure safe and healthy travel experiences. SEVEN uses various eco-friendly materials while offering segment-leading hygienic features, such as our Hygiene Airflow System and UVC sterilisation. Extensive use of copper and hygienically treated fabric with proven antibacterial functions ensure that the surfaces inside remain clean at all times.
E-GMP
Outstanding driving range and ultra-fast charging.
Thanks to our versatile, dedicated EV platform, SEVEN will be able to provide outstanding driving range and ultra-fast charging capabilities. With a 350-kW charger, SEVEN is capable of charging the long range vision from 10 percent to 80 percent in about 20 minutes. The concept is also engineered to achieve a target range of over 480 km.
Podcast on SEVEN
Take deep dive into the design of the SEVEN concept.
Simon Loasby, Head of Hyundai Styling at Hyundai Motor Company, sits down with the "Are we there yet?" podcast host Suzi Perry to talk about automotive design. Simon gives Suzi a deep dive into the SEVEN concept, looking at hygiene consciousness, sustainability, and premium lounge interior space that will pave the way to fully autonomous driving in this segment-busting SUEV.
Explore our concept cars.