45 – electric concept car.
Unveiled to an overfill crowd at the 2019 Frankfurt Motor Show, Hyundai's latest concept model is a look at the future of electric mobility. Simply named 45, this new electric design concept pays homage to one of the most iconic vehicles in Hyundai's history. The progressive 45 puts a twist on a 45-year-old icon, the Hyundai Pony Coupe Concept, to introduce an entirely new in-car experience for the self-driving vehicles of tomorrow. 45 foreshadows a new era of Hyundai's automotive design focused on electrification, autonomous technologies and intelligent design.
Pony
An icon from the past.
The Hyundai Forty-Five launched at the IAA 2019, pays homage to our heritage, the first challenger spirit, 45 years ago in 1974. And this same challenger spirit still lives in us today and will inspire the next 45 and a new era of electric car design.
Pony Coupe.

Designed by Italian designer Giogetto Giugiaro for the 1974 Turin Motor Show, the Hyundai Pony Coupe concept was meant to be pure and timeliness, and it became the icon for the brand. From its pure mass and geometric lines, akin to Origami, this distinctive sporty character was born.

45.

From its pure mass and geometric lines akin to the interesting surfaces of Origami, a distinctive sporty character of Hyundai was born. The 45 pays homage to our heritage, the first challenger spirit seen 45 years ago. This challenger spirit is about being progressive and it is with confidence that we launch a new era of electric car design with the 45.

IONIQ 5.

The Pony Coupe, 45 and IONIQ 5 were all designed to deliver breakthrough customer experiences. Where the Pony delivered style and convenience to a massive audience, our latest 45 and IONIQ 5 models update these qualities for the electric age.
Discover IONIQ 5.
Based on Hyundai's '45' EV concept, IONIQ 5 is first model in Hyundai's new IONIQ brand dedicated to battery electric vehicles. IONIQ 5 sets the benchmark to redefine the electric mobility lifestyle with sustainable and innovative features.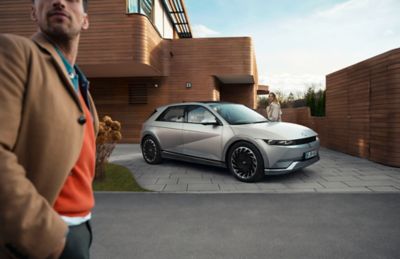 Explore our concept cars.