It has never been easier to charge your Hyundai.
Charge myHyundai is a comprehensive and easy-to-use public charging solution that gives you access to one of the largest public charging networks in Europe, which now feeds 100% green energy back into the grid to balance every charging event in its network.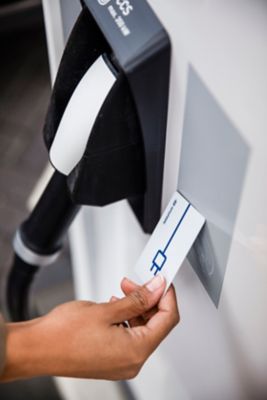 1 App. 1 Card. More than 355,000 Charge Points.
Access to more than 355,000 public charging stations in 29 European countries
Cross border charging with one single contract through e-roaming
All charging sessions & invoices available in the Charge myHyundai web portal & app
Attractive tariff models to fit your needs
Charge myHyundai supports one of the most environmentally friendly ways of generating electricity
Attractive charging tariffs to fit your needs.
Charge myHyundai offers different tariffs so you can find the perfect fit for your driving needs. All tariffs are designed to make charging convenient, efficient and simple, offering easy payment and a single, straightforward monthly bill. Find out more below.
Flex.

Do you usually drive rather short distances and do most of your charging at home? Our most flexible tariff gives you the freedom to charge whenever and wherever you have to – with no monthly subscription fees. Our recommendation for city commuters and plug-in hybrid drivers.
Smart.

Do you charge mainly at public charging stations? Benefit from discounted prices from a wide range of charging providers. The smart choice for long-distance and electric car drivers.
Easy.

Simplify your life with our Easy tariff. Enjoy full price transparency and peace of mind through standardized prices. You pay only one price, based on the charging speed (AC or DC).
Get the app. Find a charger anywhere.
The Charge myHyundai experience can be enhanced through the Charge myHyundai app which is available for iOS and Android. With the app you can search for charge points, apply various filter options (such as plug type, charging speed, access type etc.) and even get real-time updates on charging fees and availability. The Charge myHyundai app also comes with a navigation function.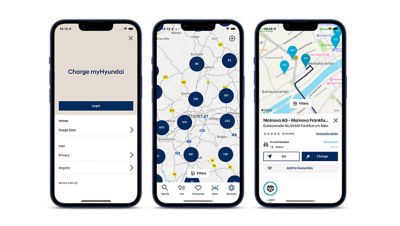 *Range shown is according to WLTP combined cycle. Driving range may vary slightly depending on road conditions, your driving style and the temperature. It is also is dependent on the type of tyres equipped. Technical data not final.
** Charging time is based on charging with on 32A wallbox and 3.3 kW OBC.  Charging times  may vary depending on available charging conditions, including charger type and condition, battery temperature and ambient temperature at point of use.