Saving money by going electric.
While the environmental benefits of zero tailpipe emissions are clear, there's also a financial upside. Although the initial purchase price of an EV is typically higher than a traditional car, you may pay less on charging, maintenance and taxes. Find out more below.
Charging Costs
Charging at home and on the road.
If you're wondering what it will cost to charge your electric vehicle vs. what it would cost to fill up with petrol or diesel – the graph below compares the different fuel and electricity prices per 100 km (in Euro). Comparing a KONA ICE to a KONA EV you can see what it will cost you using petrol or diesel compared to EV charging at home and on the road.
Average costs per 100 km
Compare the different fuel and electricity prices per 100 km (in Euro).a
a Costs based on the following models:
Petrol: KONA 1.6 T-GDI, 7-DCT, 146 kW (198 PS), 4WD with a combined Worldwide Harmonised Light Vehicle Test Procedure (WLTP) consumption of 7,4 l/100km at a fuel price of 1.70 Euro/l
Diesel: KONA 1.6 CRDi, 7-DCT, 100 kW (136 PS), 4WD with a combined WLTP consumption of 5,6 l/100km at a diesel price of 1.50 Euro/l
EV Charging (home): KONA EV 64 kWh battery, 150 kW (204 PS) with a combined WLTP consumption of 14.7 kWh/100km at an average electricity price for european households of 0.2474 Euro/kWh
EV Charging (road): KONA EV 64 kWh battery, 150 kW (204 PS) with a combined WLTP consumption of 14.7 kWh/100 km at an average electricity price of 0.6 Euro/kWh based on IONITY and Charge myHyundai (AC charging: 0.45 Euro/kWh, DC charging: 0.56 Euro/kWh, HPC charging: 0.79 Euro/kWh)
Charging at home.

Like many EV owners, you will likely charge at home at the rates at residential electricity prices. The cost of home charging varies across Europe, ranging from 0,08 Euro in Turkey to 0,34 Euro per kilowatt hour (kWh) in Denmark. The table above compares the average costs per 100 km for EV charging, diesel and petrol.

1
Charging on the road.

Some public charging stations are free, but for most you have to register and pay with a special card or app. But more and more charging stations are also accepting credit cards and digital payment. Generally, charging faster costs more. With Charge myHyundai e.g., the costs per 100 km vary from € 6,50 for AC, € 8 for DC and €12 for super-fast charging.

2
See how the benefits outweigh the price.
Have a look at the financial upside of driving an electric vehicle. You may pay less for charging vs. petrol, need less maintenance and there are government incentives to help make the transition to an electric vehicle easier.
Wallbox
Costs for installing a wallbox.
Generally, more powerful wallboxes cost more. Optional smart features increase the price, such as WiFi monitoring or programmable charging. And of course, the charging station needs to be installed by a professional technician to ensure a correct and safe technical setup.
These are the typical costs for wallbox installation:

Hardware = between 500 and 2500 Euro
Installation = between 800 and 1000 Euro
If that feels like a lot, don't worry many countries and regions have government grants and tax breaks available for private charging-stations.
Maintenance
Maintenance costs.
Although many of us are used to the routine maintenance of a normal car, an EV is in many ways much easier to keep in good condition. While an internal combustion engine contains hundreds of moving parts, an electric motor only needs around half a dozen, significantly reducing the probability of something breaking. There is no need for oil changes, either. That's why maintenance costs for electric cars are about one third lower, on average.
Incentives
Financial incentives for going electric.
Reducing your carbon footprint is probably your biggest incentive for driving an electric car. Or maybe it's their impressive performance. But on top of those two, most European countries and many regional and local governments incentivise your electric choice with grants and benefits. Talk to your local Hyundai dealer and they will explain the benefits that apply to your region.
Purchase incentives.

Most European countries grant incentives to private persons buying an electric car (fully-electric, plug in-hybrid or fuel-cell-powered). These incentives can be as high as 10,000 Euro for battery-electric or fuel-cell-powered cars and 3,750 Euro for plug-in hybrids. The car you are buying has to be on the list of approved models in your country.
Subsidies for a home wallbox.

Many European governments offer financial assistance for installing a wallbox at home – on average around 1100 Euro. Your Hyundai dealer can help you find the best subsidies available.

3
EV tax breaks.

In many European countries, you don't have to pay vehicle tax for up to ten years when you choose a zero tailpipe emissions car like the KONA Electric or the IONIQ 5.  No need to apply for anything, just drive your electric car and enjoy your tax break.
Charging stations and company cars.

Many European countries provide financial support for businesses and organisations towards the up-front costs of installing a charging station in their carpark. To further encourage both businesses and workers to choose low-emission vehicles, some governments have chosen to reduce or even completely waive company-car taxes.
Local benefits.

There are many other small benefits for owners of electric vehicles such as reduced parking or congestion fees. For example, the costly congestion charge that applies to the city centre of London is waived until 2025 for anyone driving a vehicle that emits 75g/km or less of CO2.
Long term savings.
EVs make up for higher initial investment amounts in lower maintenance costs: They are independent of rising fuel prices, have fewer wearing parts, and currently pay less vehicle taxes. In most countries, the resale value of EVs can be higher than that of petrol and diesel cars, depending on local regulations and subsidies. Overall, the total cost of ownership for electric vehicles can be lower than for cars with internal combustion engines. 4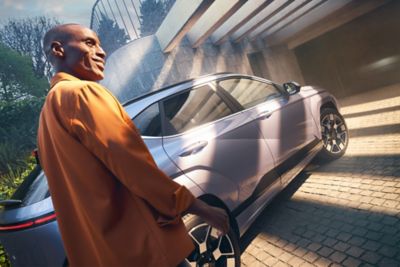 Discover more about our electric vehicles.
Discover our electrified vehicles.
*Range shown is according to WLTP combined cycle. Driving range may vary slightly depending on road conditions, your driving style and the temperature. It is also is dependent on the type of tyres equipped. Technical data not final.
** Charging time is based on charging with on 32A wallbox and 3.3 kW OBC.  Charging times  may vary depending on available charging conditions, including charger type and condition, battery temperature and ambient temperature at point of use.