Welcome to the future of autonomous electromobility.
Self-driving cars used to be the kind of thing we only saw in sci-fi movies – but not anymore. Now we can look forward to riding in self-driving IONIQ 5-based robotaxis in cities around the world – starting in Las Vegas in 2023.
Inspired by humans
Putting people at the heart of the robotaxi experience.
Meet the self-driving IONIQ 5-based robotaxi. Trained to be aware of its surroundings, it can handle challenging situations just like a careful and considerate human driver. Braking for cyclists in a rush, respecting other motorists and yielding to emergency vehicles. All in a day's work.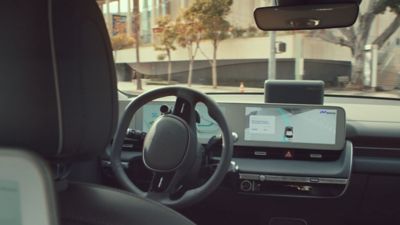 "Hyundai Motor has evolved its IONIQ 5, a battery electric vehicle built on its EV-dedicated platform, into a platform for fully autonomous vehicles." 
Woongjun Jang - Head of the autonomous driving center, Hyundai Motor Company 
Safe autonomous operation.

To make the robotaxi a reality, Hyundai equipped the all-electric IONIQ 5 with an array of software and hardware that includes a combination of cameras, radars, and LiDAR – for safe and secure autonomous operation in diverse driving environments.
Interior

Based on Hyundai's Electric Global Modular Platform (E-GMP), the IONIQ 5 robotaxi's interior provides passengers with a spacious, comfortable place to work, relax or socialise during rides. The interior also features a passenger-focused human-machine interface to allow riders to intuitively interact with the taxi while in transit.
Sustainability
More freedom of mobility. Less congestion & emissions.
We've brought our robotaxi to life in order to address real-world issues that affect us all — namely congestion, traffic accidents, and air pollution — and ultimately realise a greater freedom of mobility for more people.
Reduce traffic congestion.

Considering the rise of mega cities around the world, electric robotaxis will help conserve energy and reduce traffic congestion before it gets worse.

Less accidents.

Autonomous technology will greatly improve the safety of our roads by potentially reducing accidents, in the process helping to save lives.

Less greenhouse gas emissions.

The more all-electric robotaxis like IONIQ 5 are on the road, the more they can absorb the mobility demand in cities, resulting in less tailpipe emissions in urban areas.
Safety
Bringing the best driver behaviors to self-driving. 
The all-electric IONIQ 5-based robotaxi is an SAE (Society of Automotive Engineers) Level 4 autonomous vehicle that can safely operate without a driver. To make the robotaxi a reality, Hyundai partnered with Motional, a pioneer and leader in driverless technology to equip the award-winning IONIQ 5 with an array of hardware and software to ensure safe and secure driverless operation.
Over 30 sensors for safe operation.

IONIQ 5 robotaxi elegantly integrates over 30 sensors, including cameras, radar and LiDAR (Light Detection and Ranging) to provide robust 360-degree perception, high-resolution images and ultra-long range object detection for safe autonomous operation. By making the self-driving technology visible, it says to the world:  "I'm well-equipped to take you where you want to go, safely".
The 5 levels of autonomous driving.

Did you know there are five levels of autonomous driving that have been defined by the Society of Automotive Engineers? The IONIQ 5-based robotaxi has already achieved Level 4.

Level 1 - Driver Assistance. Cruise control & lane departure warnings

Level 2- Partial Automation. Parking & navigating stop-and-go traffic

Level 3- Conditional Automation. Drives autonomously under certain conditions

Level 4 - High automation. Vehicle performs all driving tasks under specific circumstances

Level 5 - Full automation. Vehicle performs all driving tasks under all conditions
Rigorous real-world road testing. 

To prepare for mass commercialisation, we've tested the robotaxi in thousands of challenging and unpredictable scenarios on both closed courses and public roads in Las Vegas, Los Angeles, and Singapore. And, in Las Vegas, we've conducted over 100,000 public rides with overwhelming customer satisfaction and zero at-fault incidents.
Careful driving habits built in.

Think of the way good drivers look out for the safety of pedestrians and cyclists. Or the way conscientious drivers make way for ambulances. And how careful drivers yield to oncoming traffic before turning left and remind you to buckle your seatbelt. All these considerations are integrated into the robotaxi's human-centric operation.
Podcast
Unique insight into the robotaxi's development.
The "Are We There Yet?" podcast takes a deep dive into the story behind the revolutionary new IONIQ 5-based robotaxi. In this edition, Karl Iagnemma, CEO of driverless technology leader Motional and the man behind the robotaxi, tells host Suzi Perry how he plans to make fully autonomous transportation an everyday reality.
More about Hyundai innovations.