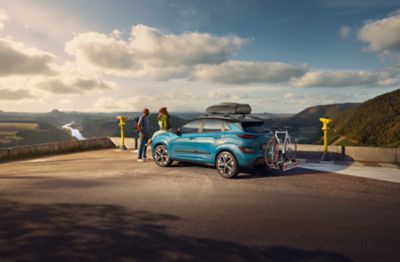 Accessories.
More style. More convenience. More you.
Silent. Sustainable. And now even more convenient.
With a maximum range of 484 km the KONA Electric can handle much more than just short trips around the city, and all with zero-emissions. Take full advantage of this extended range, with Hyundai's sustainably inspired, stylish and practical accessories, that take your electric drive even further.
Charge at home, or on the move.
Need fresh energy for your KONA Electric? With our Genuine Mode 3 AC charging cable, charging your electric vehicle could not be easier, or faster. The Mode 3 charging cable is equipped with Type 2 plugs at both ends and can be used for day-to-day charging at both public and domestic charging points. Thanks to active communication between the car and the charging point, you can monitor the charging status at any time.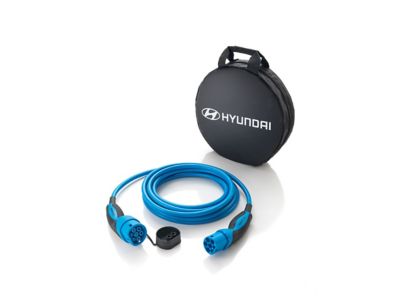 Transport.
Get more space for your adventures. Your KONA Electric is destined for fun outside. So why not extend its range to suit your outdoor needs.
Cross bars.

Our sturdy cross bars are compatible with a wide variety of transportation systems from Hyundai and are purpose-built for the KONA Electric.
Get more space for your adventures.

Hyundai's roof boxes provide a safe and secure place to store additional cargo. Easy to install and robust, they also feature dual side opening for fast loading.
Tow bar.

For those longer tours, you can rely on our corrosion-resistant steel tow bar to transport your cargo securely and efficiently.
Treat yourself to cycling fun.

For even more convenience, our bike carrier for tow bars carries two bikes with a maximum payload of 60 kg.
And there's more!
Hyundai Genuine Accessories have been created to help you enjoy even more fun and versatility with your new KONA Electric. All are precision-made using high quality materials, so that they will fit your car perfectly.