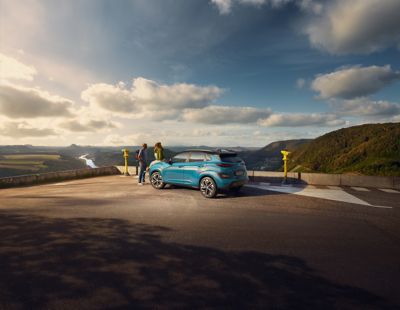 Design.
Explore the design of the KONA Electric.
A new look for an electric bestseller.
Always bold and truly one-of-a-kind, the KONA Electric has now undergone a comprehensive redesign, with sleeker and more refined lines further enhancing its uniquely confident look – setting it apart from every SUV in the class.
Exterior
Sleekly sculpted SUV style.
Sleeker and more refined, the KONA Electric's uniquely confident design has been given an even more streamlined, athletic look – while still keeping its adventurous SUV flair. The redesign is characterised by smooth, aerodynamic shapes and sculpted lines that flow harmoniously into the body colour treatment of the wheel arch claddings and the exclusive new 17" wheels.

360°
Body colour claddings.

One of the more eye-catching design updates are the painted wheel arch claddings, giving the KONA Electric a distinctive, sophisticated look.

Sleek new LED headlamps.

The KONA Electric's unmistakable look is enhanced by distinctive new LED headlamps and slimmer Daylight Running Lights up top, which provide a distinctive, piercing element to the lighting signature.

New 17" alloy wheels.

Confident and unique, the exclusive new 17'' alloy wheels are optimised for aerodynamics, artfully combining efficiency and style.

Rear bumper and skid plate.

The elegant rear bumper flows harmoniously into the body colour treatment of the bold wheel arch claddings. And mirroring the front, the accent lines draw the eye into the completely redesigned skid plate.

Sleek new tail lamps.

The sleek new tail lamps now feature horizontally-stretched graphics, which mirror the unique look of the front end light signature.
Your car. Your colours.
The KONA Electric lets you mix and match its design to fit your personal style. Now available with 9 new exterior colours, you can choose from a total of 17 exterior colours to complement the eye-catching silhouette. On top of that, some body colours are available with the option of a two-tone roof and matching mirror housings in Phantom Black or Chalk White. This allows you to further customize your look to create a car perfectly matched to your taste.
Interior
Roomy, connected and versatile.
Roomy and versatile, KONA Electric doesn't compromise on space – giving you the kind of interior roominess that you wouldn't expect from an electric vehicle. So sit back and relax, there's plenty of space for five adults. But it's also the attention to detail that makes it so special. Discover an exceptional level of comfort with high quality materials throughout for a sensuous and refined feel.
Brilliant 10.25" fully digital cluster.

For an even more high-tech look in the cockpit, the brilliant new fully digital 10.25'" cluster displays essential driving information where you can see it best: front and centre. The right hand dial displays electric powertrain information like the current state of battery charge as well as the current level of power usage.
Change the mode to suit your mood.

Switch drive modes to suit conditions – and your mood! You can instantly adjust the driving dynamics and feel of your KONA Electric – at the push of a button. The colour schemes of the fully digital 10.25" open cluster change depending on which drive mode is selected. Choose from Comfort, Eco or Sport. There is also an additional Cube interface design for a different look.
Fresh new interior colours.
Featuring new colours and materials, the KONA Electric is available with a one-tone black interior with seats in cloth, cloth-leather or full leather; as well as a two-tone grey interior with melange combination cloth-leather seats or full leather seats.
Discover more of the KONA Electric.