Exceptional electric performance.
The KONA Electric delivers exceptional electric performance and a generous driving range of up to 300 miles.
Please note: KONA Electric is available from Stock or Pipeline only and not available to factory order. Please check with your local Hyundai Retailer for availability.
Performance
High power. Excellent range. Thrilling acceleration.
Nobody ever said that electric mobility had to be boring. Lightning-quick off the line thanks to 395 Nm of torque delivered by the all-electric powertrain, this sporty SUV is seriously fun to drive – accelerating from 0 to 60 mph in only 7.9 seconds. Available with two different powertrain versions, you can pick your power and preferred range: the 39.2 kWh battery with up to 180 miles driving range. Or the 64 kWh version that delivers up to 300 miles range on a single charge.
How long is your daily commute?
Calculate the number of commute days between charges for the two battery options (39.2 and 64 kWh battery capacity).
64 kWh
days
between
charges
39.2 kWh
days
between
charges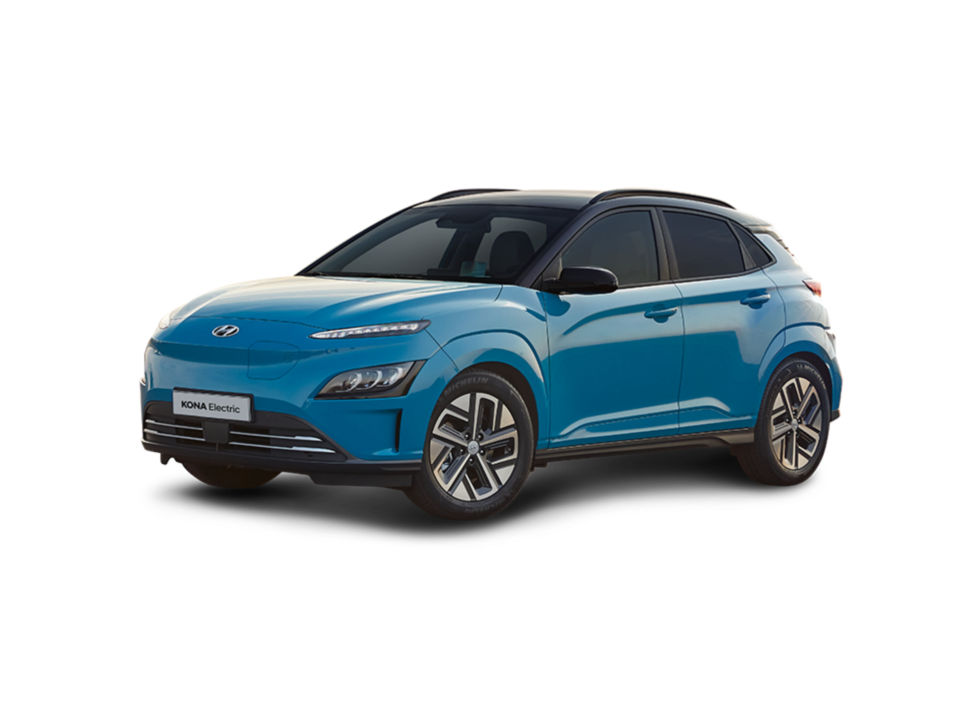 Just as there is a range of factors that affect the fuel efficiency of an internal combustion engine (ICE), the total electric driving range will be affected by the size of the battery, your driving style, the outside temperature, any passengers you are carrying and more.
---
Electric driving technology.
The carefully matched components of the electric powertrain have been engineered to provide excellent driving characteristics and a practical everyday driving range. The specially designed platform enables a space-saving integration of the battery packs without compromising roominess.
Smart technology for intelligent driving.
Maximise your range while driving with KONA Electric's regenerative braking systems which let you charge the battery by using the electric motor to slow the car.
Adjustable regenerative braking.

Braking is optimised to get the most out of the recuperative braking system, helping KONA Electric maintain a healthy state of charge (SOC). The driver can easily adjust the level of regenerative braking through the paddle shifters behind the steering wheel.

Recuperative braking levels.

Level 0: Recuperative braking is not in operation and the battery is not being charged. Level 1 to level 3: With each level higher, the car decelerates more using the electric motor, increasing the charging strength at the same time. The higher the level, the more the car slows and charges the battery when you take your foot off the accelerator.
1-paddle mode.

It is also possible to actively brake the car using the paddle shifter. Simply pull the left paddle shifter and hold. You can slow the car to a complete stop in this way without pressing the conventional brake pedal.

Hold.

Pull the left paddle shifter and hold to activate maximum strength recuperative braking. It is possible to stop the car in this way  – without using the conventional brake pedal. Charging strength is the strongest in this mode.
Smart regenerative braking.

The smart regenerative braking system utilises the on-board radar sensor to automatically control the level of recuperative braking to react to the traffic ahead. Additionally, it also detects if the KONA Electric is driving up or downhill and adjusts accordingly.
Charging
Charge fully over night or top up on the go.
Depending on your grid connection at home or the type of fast charging station you have access to, the KONA Electric offers various possibilities and plug types for charging.
39.2 kWh battery.

KONA Electric's lithium-ion polymer battery doesn't take too long to charge from 10% to 80 % state of charge (SOC) when using a 100 kW direct current (DC) fast-charger station. If connected to a 50 kW station, this charging time is a bit longer. 
39.2 kWh battery.

For the 39.2 kWh battery pack, charging from 10-100% SOC when connected to a home wall box or public AC charging station, takes less time using the 10.5 kW triple phase on-board charger (OBC) than using the 7.2 kW single phase OBC.
Programmable charging.

The KONA Electric's advanced battery management system gives you complete control over when and how you want to charge it. Pick a time that best fits your schedule and budget, with clear overview of remaining charging time.

Charging time reservation.

A few taps is all it takes to save money. Use the Charging Time Reservation function on the centre screen to program start and stop charging times to make the most of off-peak electricity rates and wake up to a fully charged battery.

Charging limit.

Set a Charging Limit – for example 50% – to take advantage of a fast-charger station in the city for the drive home – and then fully charge the battery at home while you're sleep to take advantage of low electricity rates at night.
Convenience
Practical and versatile.
The KONA Electric is designed for maximum practicability and convenience: Take it for a trip and take advantage of the generous boot capacity of 332 litres. Or switch on the optional heated and ventilated seats for more comfort on the road. And clever features like a rear-view monitor and head-up display make getting there safer and less stressful.
Connectivity
The cutting-edge of connected comfort.
The KONA Electric also features all the latest smart tech and cutting edge connectivity features like Bluelink® Connected Car Services, which lets you control your car from your smartphone – or with your voice. A free five-year subscription to Hyundai's LIVE Services is included with the 10.25" big screen navigation system.
10.25" touchscreen navigation.

The 10.25" touchscreen supports Apple CarPlay™ and Android Auto™ so you can connect your phone and have your phone functions right up on the big screen.

KRELL premium sound system.

Stay online in the city or get offline, go off-road and crank the music all the way up. The premium sound system from KRELL delivers a stellar sound performance so you can rock it in style.

eCall.

Automatically calls emergency services if you're in an accident and the airbags deploy. Or push the SOS button for emergency assistance at any time, 365 days a year.

Wireless charging.

The conveniently located wireless charging pad provides quick and easy smartphone charging for Qi standard enabled devices.
Bluelink® Connected Car Services.
Bluelink® Connected Car Services bring seamless connectivity directly into the KONA Electric with online voice recognition and a wide range of features to make your drive more convenient and enjoyable. On top of the many clever features you can control with the Bluelink app, a free five-year subscription to Hyundai's LIVE Services is also included with the navigation system.
Charging stations.

Never worry about running out of battery: The KONA Electric shows you real-time charging station information such as location, connector types and availability.

On & off-street parking.

Find a parking spot faster – and enjoy more efficient and stress-free parking. This feature helps you find and compare real time parking options in garages and parking lots, as well as on-street parking spots.

Weather forecast.

Want to know what kind of weather is heading your way? With the live weather service, you can always monitor the latest weather information of your current location, destination or favourite cities.

Speed camera alert.

A comprehensive service with alerts for both fixed and mobile speed cameras. So you can focus on a safe, confident and relaxing drive.

Traffic information.

Get there faster. With Hyundai's real-time traffic information, you get the best routes according to the prevailing conditions – as well as the most precise time of arrival estimates.

Live Point of Interest.

Searching for an address, POI (point of interest) or a combination of both has never been so easy. Thanks to the free text search, you can always find the place you are looking for.
The Bluelink® Smartphone App.
Control your car from the palm of your hand. The Bluelink app connects you to your car via your smartphone, so you can do everything from lock the doors and check on your battery's charge, or preheat your vehicle on cold days… and much, much more. Read on to discover more below.
Safety
Cutting-edge safety and Advanced Driver Assistance Systems.
Because nothing's more important than the safety of your loved ones, we gave the KONA Electric an upgrade. With Hyundai Smart Sense, our cutting-edge Advanced Driver Assistance Systems, it has been updated with the very latest safety and driving assist features for added peace of mind.
Intelligent Speed Limit Warning (ISLW).

Recognises road speed signs and displays the speed limit and no-passing signs in real-time in both the navigation system display and instrument cluster.

Safe Exit Warning.

This clever feature helps avoid accidents by detecting vehicles approaching from behind and displaying a warning in the cluster and outside mirror as well as sounding an audible warning.

Rear Seat Alert.

The KONA Electric remembers if the rear doors were opened before you drove off. When you finish your drive, a message then pops up in the cluster accompanied by a warning tone to check the rear seat.

Leading Vehicle Departure Alert (LVDA).

This clever feature for city driving alerts the driver when the vehicle in front departs from an idle state, like at a stoplight or in a traffic jam.
Discover more of the KONA Electric.
Tyre information.
Below you will find the information about the tyres which may come with your Hyundai KONA Electric.