Setting new standards.
Featuring an impressive range of smart tech, the TUCSON is setting impressive standards with its impressive range of smart tech. Enjoy the connectivity as well as safety features and advanced driver-assistance systems.

Performance
Range of electrified powertrains.
Developed to reduce emissions without compromising on being fun to drive, the TUCSON offers a range of electrified powertrains. You can choose from the petrol 48V mild hybrid, full hybrid and plug-in hybrid versions.
Smartstream petrol engine.

The 1.6-litre T Smartstream petrol engine is available with 150PS, a six-speed manual transmission two-wheel drive. It is equipped with Hyundai's unique Continuously Variable Valve Duration (CVVD) technology, which optimises engine performance and fuel efficiency while also being eco-friendly.
Mild hybrid petrol engine.

The 1.6-litre T-GDi Smartstream with 48-volt mild hybrid technology delivers 150 PS and is available in two-wheel drive. When it come to smooth shifting transmissions, you can choose either a six-speed Intelligent Manual Transmission (6iMT) or a seven-speed dual clutch transmission (7DCT).
Connectivity
Cutting-edge connectivity to-go.
Enjoy all the tech of the TUCSON like the smartphone mirroring, and connectivity features such as Bluelink® Connected Car Services, which let you control your car from your smartphone – or with your voice.
High-speed wireless charging.

Enjoy high-speed wireless charging for your smartphone, with an integrated cooling function to prevent overheating.

Front and rear USB ports.

Stay charged up. The TUCSON is available with front and rear USB ports to ensure that everyone on board can charge their devices when on the road.

KRELL premium sound system.

The premium KRELL sound system delivers stellar performance with eight high-performance speakers and a subwoofer optimally tuned to deliver startling realism.
Bluelink® Connected Car Services.
Bluelink® Connected Car Services bring seamless connectivity directly into the TUCSON with online voice recognition and a wide range of features to make your drive more convenient and enjoyable. On top of the many clever features you can control with the Bluelink app.
Convenience
Big on comfort and convenience.
Versatile and connected, the TUCSON is also big on comfort and convenience, with a wide range of features available. Features include remote folding seats that make loading cargo quick and easy. Your passengers will also love the heated seats in the front and rear as well as Multi Air Mode with indirect air vents for a more pleasant indoor environment.
Smart power tailgate.
Enjoy easy loading. The tailgate opens automatically when the proximity of the smart key is detected for 3 seconds – which is especially practical when you have both hands full coming out of the shops. What's more, you can set the lift height to different settings according to your preference.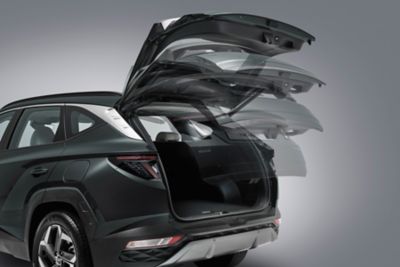 Experience a new level of climate control.
Everyone is different. Some people want it hot, while others prefer it chilly. That's why we included Multi-Air Mode technology in the TUCSON. It diffuses the air through indirect and direct air vents, causing the air to blow more softly while maintaining the same total wind volume. Furthermore, the three-zone climate control allows you to choose various temperatures for the driver, front, and rear seat passengers.
Multi-Air Mode technology.

Maximise your individual comfort. For the first time in a Hyundai vehicle, the TUCSON's hidden type Multi-Air Mode technology consists of a combination of direct and indirect air vents for air conditioning and heating to create a more pleasant indoor environment with more gentle air flow.

Heated and ventilated seats.

Cool in summer. Warm in winter. The driver and front seat passenger will love the optional heated and ventilated seats. And there are also heated rear seats available for the back seat passengers.

Three zone climate control.

Keep everybody happy. The three-zone climate control now caters to passengers in the rear seats in addition to occupants in the front of the vehicle.
Safety
Safety and driving assist package.
With advanced driver-assistance systems and an active safety package with a range of innovative features, the TUCSON delivers even more peace of mind. Equipped with an enhanced seven-airbag system, it features a first row centre side airbag and prevents front row passengers from colliding with one another, minimising the risk of serious injuries.
Highway Drive Assist (HDA).

The TUCSON is equipped with Highway Driving Assist (HDA). The feature is a combination of Lane Following Assist and Navigation Based Smart Cruise Control, utilising sensors and map data to ensure safe operation to ensure safe operation as well as to automatically adjust speed for incoming bends on the motorway or for speed limit recognition. A special button on the steering wheel allows the driver to activate HDA with just one click.
High Beam Assist (HBA).

Detects oncoming vehicles and vehicles in the same lane and automatically switches to low-beam. When no more vehicles are detected, it reactivates the high beams, maximising your range of vision.
Navigation Based Smart Cruise Control (SCC).

More safety and less stress. Maintains a set distance to the vehicle ahead, also controlling the speed for incoming curves as part of Highway Drive Assist (HDA).

Blind Spot View Monitor (BVM).

See the rearward left- and right-hand side views of the TUCSON on a screen in the digital cluster. The cameras are activated by the use of the turn indicator during lane changes.

Lane Following Assist (LFA).

The TUCSON features Lane Following Assist (LFA). When activated, it keeps the car centred in its lane on motorways and city streets.

eCall.

Automatically calls emergency services if you're in an accident and the airbags deploy. Or push the SOS button for emergency assistance at any time, 365 days a year.
Keeping an extra eye on your children's safety.
The TUCSON has an impressive selection of advanced smart technologies that prioritise your safety and enhance your overall driving experience. We've added features for vigilance over your children's well-being during journeys.
Discover more of the Hyundai TUCSON.