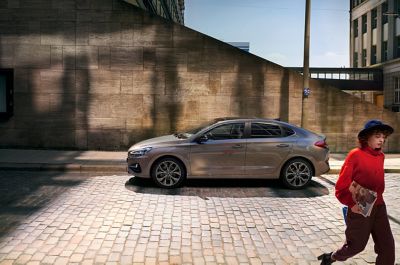 Design.
Explore the design of the i30 Fastback.
Inside sophistication. Outside beauty.
Since its inception, the Hyundai i30 Fastback has been turning heads like no other car in its class. And with its sloping silhouette and gracefully raked roofline, the i30 Fastback is a true beauty to behold.
Exterior
A bold and beautiful style icon – intensified.
The i30 Fastback's iconic silhouette and roofline are underlined by its new distinct front end design, new LED lights, and three new exterior colours. The 16" and 17" alloy wheels have been re-designed, while the 18" are as impressive as ever. All of this is making it even more exciting to look at it and know that this is, indeed, your car.

360°
Your individual style.
Choosing from 9 different body colors, you are in charge of your i30 Fastback.
Interior
Generous elegance – amplified.
With the attention to detail you have come to expect from the Hyundai i30 Fastback, the updated cabin is equally pleasing to the eye as it is to touch. New luxurious seat cover options, more individual colour choices, and the latest in multi-media technology make your driving experience unique. Indulge in a feeling of spaciousness and amenity that is unrivalled in its class.
Brilliant 7" digital cluster.

For an even more high-tech look in the cockpit, the brilliant new 7" digital cluster displays essential driving information where you can see it best: front and centre. You can modify the display to your preference: you can display your speed digitally, the Energy Flow (48V only), navigation information or the active Smart Sense features.
Three drive mode colours.

Change the mode to suit your mood. Depending on the drive mode you select, the digital cluster changes colour and graphics to match. Blue as seen here for Normal, green for Eco and orange for Sport mode.
Seat trims with new colours and materials.

Three new interior colours have been added for your individual expression: Pewter Gray, Ebony Brown and Moss Gray. The seats can be covered in cloth, leather or a combination of both.

Pewter Gray.

One of three new interior colours.

Ebony Brown.

One of three new interior colours.

Moss Gray.

One of three new interior colours.
Discover more of the Hyundai i30 Fastback.