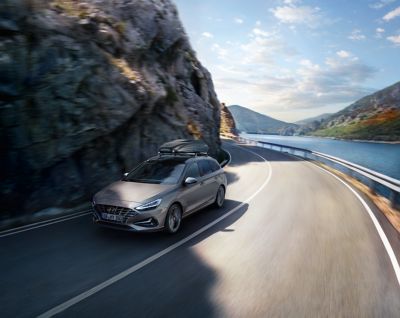 Accessories.
More style. More convenience. More you.
Create your own style.
The new i30 Wagon combines handsome, good looks with all the versatility you need. By adding your choice of Hyundai Genuine Accessories you will express your confident personality and active lifestyle even more.
Styling
Enhancing design.
Complement the confident and timeless design of your new i30 with your choice of accessories that are both stylish and practical.
Entry guards.

Make first impressions count. Welcome passengers to your cabin with these stainless steel entry guards featuring the i30 logo.

LED door projectors, i30 logo.

Groundbreaking, ground-illuminating. These LED door projectors are activated every time your i30 front doors are opened – shining a subtle yet sharp glow on the ground for a uniquely stylish entry, complete with the i30 logo.

LED door projectors, Hyundai logo.

Introduce more finesse into the darkness, by featuring the Hyundai logo on the ground next to your open front doors. Projected with a clear focus and distinct radiance – for a refined touch to every entrance.

Door mirror caps.

Add a touch more urban elegance to your i30 and emphasize its other exterior design features with these high-gloss stainless steel caps.
Wheels
Adding a dynamic accent.
Attractively styled alloy wheels that add a touch of elegance and sportiness.
Transport
Augmenting versatility.
Sturdy accessories that make it so easy to carry your lifestyle with you on all your adventures.
Roof box 330 & 390.

Whatever the reason, whatever the season: when you require additional storage for your i30, these roof boxes give you both quality and quantity. Aerodynamic and sleek, easy to install and robust, it also features dual side opening for fast loading and unloading. Lockable for theft prevention.
Ski & snowboard carrier 400 & 600.

The family-friendly solution to action packed winter holidays. The "Ski & snowboard carrier 400" for up to 4 pairs of skis or 2 snowboards is fast and convenient to fit, and can even be locked to keep your gear secure. For even more storage space you can opt for the "Ski & snowboard carrier 600" that can hold up to 6 pairs of skis or 4 snowboards.
Cargo separator, upper frame.

Fitting perfectly between the rear seatbacks and the roof, this robust product protects vehicle passengers from the movement of items or pets in the trunk. The easy to install grid is designed not to restrict the driver's rearward view. 
Protection
Maintaining quality.
Keeping your new i30 clean and tidy will also help preserve its value and good looks.
And there's more!
And there's more! Hyundai Genuine Accessories have been created to help you enjoy even more fun and versatility with your i30 Wagon. All are precision-made using high-quality materials, so that they will fit your car perfectly.
Discover more of the Hyundai i30 Wagon.