The new Hyundai i30.
Ready for you.
Safety Ready. Connectivity Ready. Efficiency Ready.
The new i30 delivers on all fronts: A bold new design, best-in-class safety features, seamless connectivity, and 48V mild hybrid versions for higher efficiency. Get ready.
Your choice: Regular or N Line trim?
Both have been re-designed and are ready for you in all three body types. Yes, the eye-catching, i30N inspired N Line trim is now available for the wagon, too.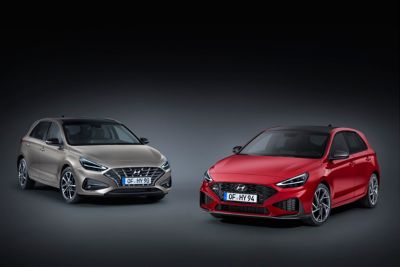 Walk-around
Discover the new Hyundai i30.
Let Richard Haleš, Product Marketing Specialist, take you through the new i30 N Line.
Design
The new exterior: strong, bold, and sleek.
The new i30 is ready to make an impression with a distinct front, a sleek back, redesigned alloy wheels and three new exterior colours. It's letting everybody know that this car is ready to take its driver anywhere in style.
The updated interior: refined, smooth, and comfortable.
Inside the updated cabin, new colours, seat cover options, and the latest multi-media technology invite you to sit back and enjoy the ride.
N Line Design
Now available for the i30 Wagon, too.
Take your i30 experience to another level with the sporty N Line trim level, inspired by the high-performance i30N. Its roots in power and intensity are even more visible now, with the sportier grille, new bumpers and headlamps, new wheel designs, and updated interior trim. And for an even more dynamic ride, the Hatchback and Fastback also feature tuned suspension and steering with the 1.5 Turbo Petrol and the 1.6 Diesel engines.
Click the left or right arrow to navigate to the previous or next slides.
A bolder front.

At the front, the new i30 N Line has a wider central grille and new headlamps. Taking inspiration from the design of aeronautic jets, the lower central grille has increased in size and dominates the bumper area, expressing its strong stance and performance. The side openings feature air floating wings which improve aerodynamic performance.

Exclusive wheels.

The new i30 N Line comes with a new, 17-inch or 18-inch wheel design that adds to the excitement, expressing speed even when standing still.

A dynamic rear bumper.

The new rear bumper design of the i30 Hatchback and Wagon underlines the dynamic N Line character. The wide diffusers make a sporty statement and give the rear an impressive stance. while the repositioned fog lights focus the visual centre of gravity closer to the ground.

N Line steering wheel and shifter.

The N Line steering wheel combines comfort and control with the elegance of perforated leather. The N Line gearshift features metal accents and leather inserts for better grip and motorsport feeling.

N Line sport seats.

The high-performance N Line sport seats keep you in control and comfortable, with power lumbar support and extendable seat cushions. Choose from full cloth or a suede and leather combination.
Connectivity
Ready to connect your phone, your car, and you.
With a new touchscreen and five years of complimentary Bluelink® Connected Car Services, the i30 keeps you connected. Bluelink® lets you control your car with your phone or your voice thanks to online voice recognition. A Hyundai LIVE Services subscription adds traffic information, real-time parking updates, fuel station locations including prices, as well as weather information.
Bluelink® Connected Car Services.
Bluelink, Hyundai's Connected Car System, uses embedded telematics to offer state-of-the-art Hyundai Live Services, such as Live Traffic or On/Off Street Parking. With the Bluelink app, you can lock and unlock your i30 remotely, or find your car when you don't remember where exactly it's parked. The app will also send you an alarm if someone should try to break in. And if you want to know if the tyre pressure is okay, it will tell you that, too.
Safety
New Hyundai Smart Sense Features.
The enhanced Hyundai SmartSense package is now fully integrated into the new i30, providing safety for you and peace of mind for those you love.
Performance
Efficiency and progress: the powertrain lineup.
The new i30 offers unprecedented variety when it comes to powertrain options. The electrified 48V mild hybrid options reduce CO2 emissions by enhancing fuel efficiency. The intelligent manual transmission further reduces fuel consumption. If you prefer automatic, 48V mild hybrid options are available with a 7-speed dual clutch transmission.
Warranty
5-Year Unlimited Mileage Warranty.
Like every Hyundai, the new i30 is built to the highest possible quality standards. And we back that quality up with a 5-Year Unlimited Mileage Warranty so you can enjoy the things you love in life, without having to worry about your car. Enjoy the extra peace of mind that one of the industry's best warranties gives you – standard.