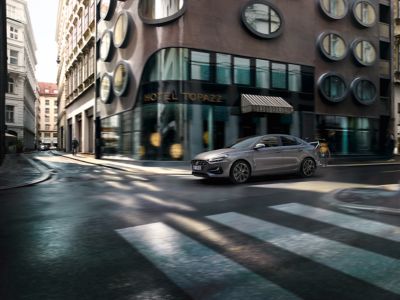 Accessories.
More style. More convenience. More you.
Show that you care.
Your need for individuality and premium design is satisfied by the sleek lines and perfect proportions of the new i30 Fastback. The high quality and meticulous details of Hyundai Genuine Accessories will show your care for the good things in life.
Styling
Enhancing design.
Complement the confident and timeless design of your new i30 with your choice of accessories that are both stylish and practical.
Entry guards.

Make first impressions count. Welcome passengers to your cabin with these stainless steel entry guards featuring the i30 logo.

LED door projectors, i30 logo.

Groundbreaking, ground-illuminating. These LED door projectors are activated every time your i30 front doors are opened – shining a subtle yet sharp glow on the ground for a uniquely stylish entry, complete with the i30 logo.

LED door projectors, Hyundai logo.

Introduce more finesse into the darkness, by featuring the Hyundai logo on the ground next to your open front doors. Projected with a clear focus and distinct radiance – for a refined touch to every entrance.

Door mirror caps.

Add a touch more urban elegance to your i30 and emphasize its other exterior design features with these high-gloss stainless steel caps.
And there's more!
Hyundai Genuine Accessories have been created to help you enjoy even more fun and versatility with your i30 Fastback. All are precision-made using high-quality materials, so that they will fit your car perfectly.
Discover more of the Hyundai i30 Fastback.