Design.
Explore the design of the all-new STARIA.
Welcome to a new level of style.
Sleek and pure, the all-new STARIA's streamlined design is defined by its elegant silhouette and futuristic design elements. Created with a new "inside-out" design methodology for future mobility, we began with interior space and expanded it to the exterior beauty.
Exterior
A star is born – multi-purpose vehicle design reinvented.
Strikingly futuristic, STARIA's sleek exterior design utilises minimalist lines for maximum visual impact. Defined by a single fluid curve running from front to back, it inspired by the halo that illuminates Earth's horizon during sunrise when viewed from space. The spaceship vibe is echoed by its expansive panoramic windows and lower belt lines, underscoring the openness of the interior.

360°
LED headlamps.

STARIA Premium features cube-type, full-LED headlamps framed by a chrome line that perfectly accents the grille's exclusive mesh pattern for an even more futuristic look.

Highly distinctive details.

Framed by the wide, horizontal daytime running lights and unique headlamps, the wide radiator grille features bold mesh patterns, creating an instantly recognizable façade.

Unique LED combination lamps.

Radiating simplicity and high-tech elegance, the rear LED combination lamps of STARIA Premium feature Hyundai's unique Parametric Pixel design for a one-of-a-kind look.

Hidden rear wiper.

The rear wiper is hidden as to not distract from the STARIA's clean, spaceship-inspired lines.
Exterior colours.
Express yourself. You can choose from a total of eight exterior colours to complement the eye-catching silhouette of your STARIA.
Interior
Travel in maximum comfort.
Inspired by cruise ship lounge design, STARIA's interior provides a luxurious feeling and relaxed space, welcoming you with a wonderful feeling of openness and smart technologies that make daily driving a lot easier.
Select your space: the style of STARIA seat configurations.
The choice is yours. More passengers? Or more luxury? STARIA Wagon seats 9. STARIA Premium offers luxurious space for 7. Designed to accommodate a variety of lifestyles, the spacious, wide-open interior layout focuses on the essentials to provide more roominess and flexibility. And with generous legroom that is among the best in its segment, the seats are designed to deliver a feeling of space and comfort.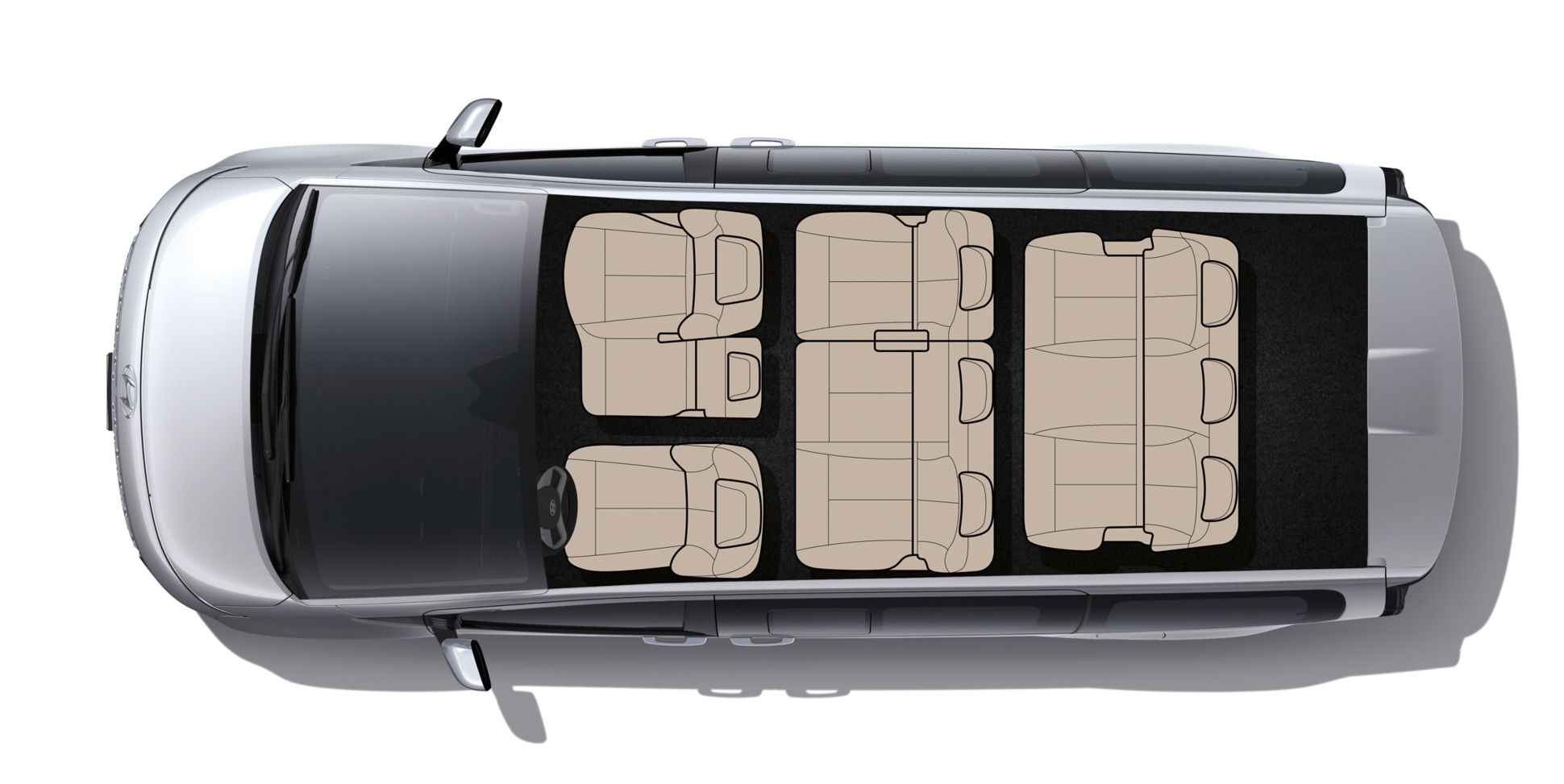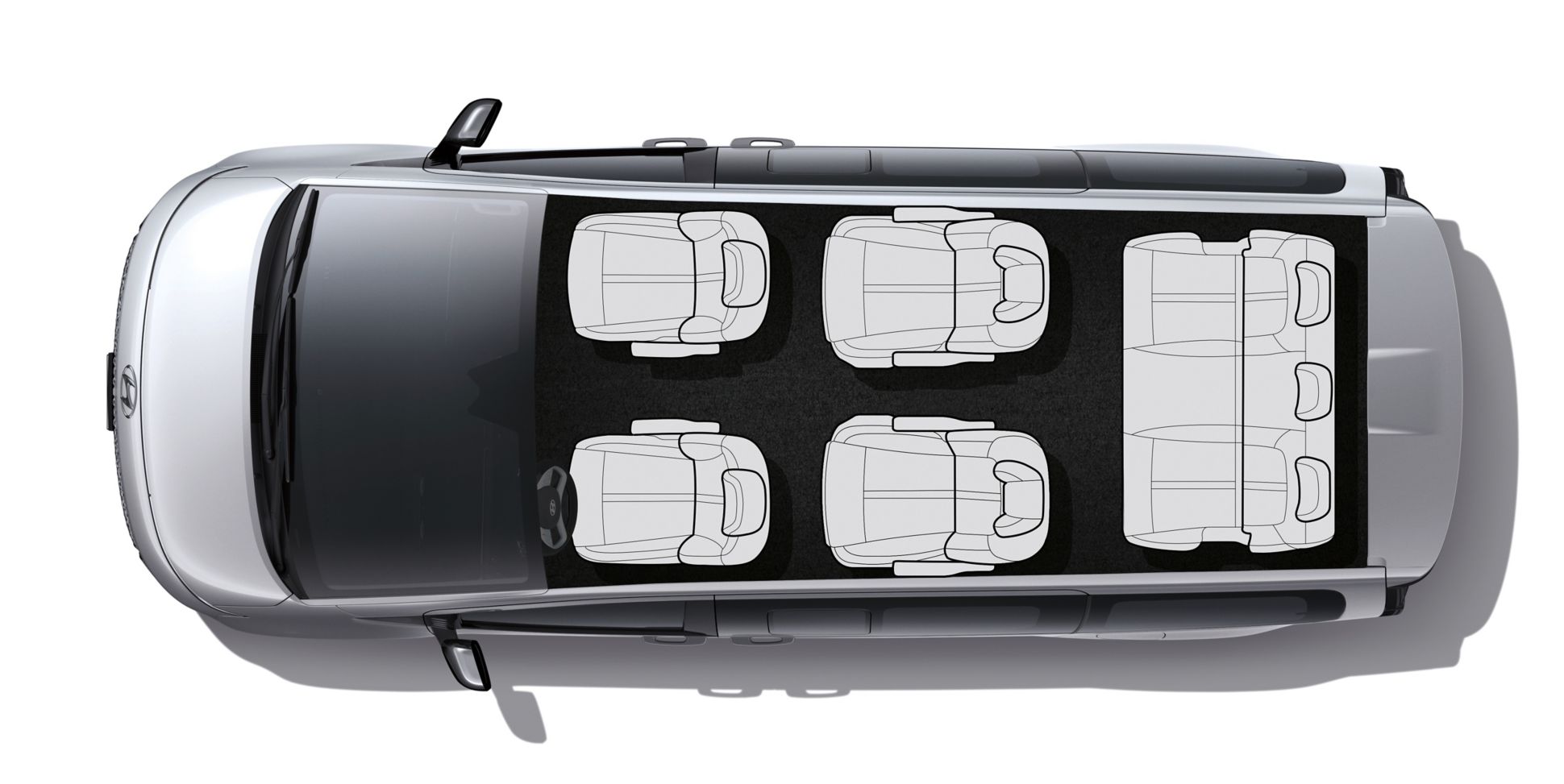 Move the slider to compare the 7- and 9-seater versions of the STARIA
7 seats (2-2-3).

Upgrade to executive class with the luxuriously appointed STARIA Premium. The second row Premium Relaxation Seats recline and slide for maximum comfort. And thanks to the spacious interior layout, there's still enough room for adult passengers to sit comfortably in the third row, even when somebody reclines in front of them.
9 seats (3-3-3).

The STARIA Wagon provides living room comfort for nine – with generous legroom, which is among the best in its segment. And when you need more cargo space, push the seats closer together with the long sliding seat function. Or, for even more room, you can fold all the rear seats into full-flat mode when you go camping or have to load bulky items.
Enjoy the luxury of ingenious versatility.
Next to clever options like a power tailgate and full flat folding seats – STARIA offers plenty of convenient places to put the things we all use in the car: small change, coffee cups, large drinks bottles, smartphones, kids' toys. Storage space is available in the roof tray, on top of the overhead console, bottom of the cluster, and top and bottom of the centre fascia.
Customise your space: with interior colour options.
The all-new Hyundai STARIA interior serves your purpose and your style. Choose from three options for the STARIA Wagon and five for STARIA Premium.
Discover more of the all-new STARIA.