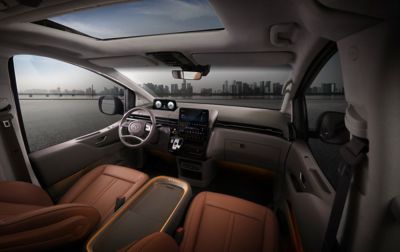 Features.
Explore the features of the STARIA.
Sophisticated tech for more comfort and safety.
STARIA's cutting-edge smart tech gives you the freedom to focus on more important things. Enjoy high levels of connectivity equipment, best-in-class safety and driver assistance features and clever convenience features that redefine in-car travel experiences.
Convenience
A new level of comfort and convenience.
The iconic good looks of the STARIA are just half the story. Just step inside to discover the rest: every cabin detail has been reimagined to make driving life easier, safer, and more convenient. STARIA's smart features give you the freedom to focus on more important things. With the smart key or the smartphone app, the sliding doors open and close automatically.
Power sliding door.

Nice and easy. No hands or button pressing required. The smart door senses your presence and slides open automatically when you have the smart key with you.

Smart power tailgate.

Enjoy hands-free convenience when carrying an armful. This clever standard feature senses the proximity key and automatically opens and closes the tailgate.

Shift-by-wire.

Effortless and intuitive, the shift-by-wire button-type controls really enhance the clean look of the interior, while saving space in the cockpit.

Heated steering wheel.

Enjoy warm hands on cold days. You'll love the quick comfort of the heated steering wheel.
Comfortable seating for an oasis of relaxation.
Created for maximum comfort, all seats inside the STARIA multi-purpose vehicle are equipped with adjustable headrests and 3-point seat belts. Rear headroom, legroom, and shoulder room have been maximized for optimal passenger comfort. Depending on the version and trim level you choose, a wide range of heated and ventilated seat options are available as well.
Connectivity
Stay connected to your car, your phone, and your people.
Fulfilling the needs of families and work situations alike, the STARIA has been upgraded with all the latest smart tech like smartphone mirroring, and cutting edge connectivity features like Bluelink® Connected Car Services, which lets you control your car from your smartphone – or with your voice.
Bluelink® Connected Car Services.
The latest Bluelink upgrade let's you take full advantage of our state-of-the-art Connected Car Services. On top of the many clever features you can control with the Bluelink app, a free five-year subscription to Hyundai's LIVE Services is also included with the navigation system with real-time information on traffic, parking or fuel prices.
Safety
Best-in-class safety features.
With best-in-class advanced driver-assistance systems and an active safety package with a range of innovative features, STARIA Van delivers even more peace of mind. STARIA offers an option to add as many as six airbags, and all seats come with three-point seat belts and headrests.
Performance
Powerful efficiency.
The STARIA gets you where you want to go in powerful efficiency. The diesel engine's high-efficiency, air-cooled turbocharger has an improved compressor and turbine wheel performance for better low-speed torque performance.
Choice of transmissions.
The STARIA is available with 8-speed automatic transmission, an 8-speed shift-by-wire automatic transmission and a 6-speed manual transmission.
Discover more of the STARIA.
Tire information.
Below you will find the information about the tyres which may come with your Hyundai Staria.